Oakleaf High School
Introduction
Oakleaf High school was built and established back in 2010. During this time, the community of Oakleaf was a small but booming community. Before the high school was built, students went through the grade K-8 to only be sent to other local high schools due to the community not having their own. Oakleaf High School is one of the top schools in the county as it has been awarded a variety of academic and athletic awards since its establishment.
Images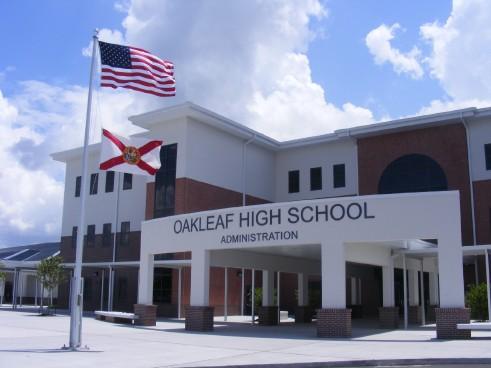 Backstory and Context
Oakleaf High school was created and established in 2010. Due to it's unique structure, Oakleaf High School was the first school in the county to be built with more than one floor, as the school offers students and staff three floors of accessibility. The high school provided the community the opportunity for families to have their children stay within their respected community throughout the school career. As before the school's establishment, the community lacked in a education for students above the 8th grade.
Oakleaf High school offers their students a variety of academic and athletic opportunities throughout their time at the high school. Some of the schools most recognized programs in recent years have been Oakleaf's AICE program, JROTC program, and softball team. Both the AICE and JROTC program offer the students and early start into their pursuing career after high school. Whether that be through college offered by the AICE progranm or a military career through the JROTC program. As well as their academic achievements, Oakleaf has witnessed a variety of athletic achievements as well. One of the most prestigious being the school's softball team ranking in the top 5 in the nation over the course of three consecutive seasons.
Sources
Oakleaf High School, One Clay . Accessed February 28th 2020. https://www.oneclay.net/Domain/242.
The mission of Oakleaf High School is to provide a safe, appropriate,and effective learning environment that will meet the needs of the students and assist the students in accomplishing educational goals that are significant for the world of work and for higher learning pursuits. Oakleaf High School believes that by providing the best education possible, they are giving their students the "armor" to succeed in their lifelong endeavors.
Oakleaf High School, A Worlds Report: U.S. News. Accessed February 28th 2020. https://www.usnews.com/education/best-high-schools/florida/districts/clay/oakleaf-high-school-91851.
Oakleaf High School is ranked 217th within Florida. Students have the opportunity to take Advanced Placement® coursework and exams. The AP® participation rate at Oakleaf High School is 45%. The total minority enrollment is 58%, and 33% of students are economically disadvantaged. Oakleaf High School is 1 of 12 high schools in Clay County. Oakleaf High School is ranked #4,613 in the National Ranking Schools are ranked on their performance on state-required tests, graduation and how well they prepare students for college.