Boston House
Introduction
Also referred to as Cresthaven, Boston House is one of Fort Pierce's grandest historic homes. Located in downtown Fort Pierce, it was built by Florida East Coast Railway engineer (and future county sheriff) William T. Jones in 1909 and is likely the oldest surviving brick building in the city. In terms of architecture, Boston House combines elements of the Georgian Revival and Neoclassical style, which uncommon in southern Florida. The house is also significant for its association with former State Senator John McCarty, who used it for offices beginning in 1949. A law firm currently occupies the old house, which was added to the National Register of Historic Places in 1985.
Images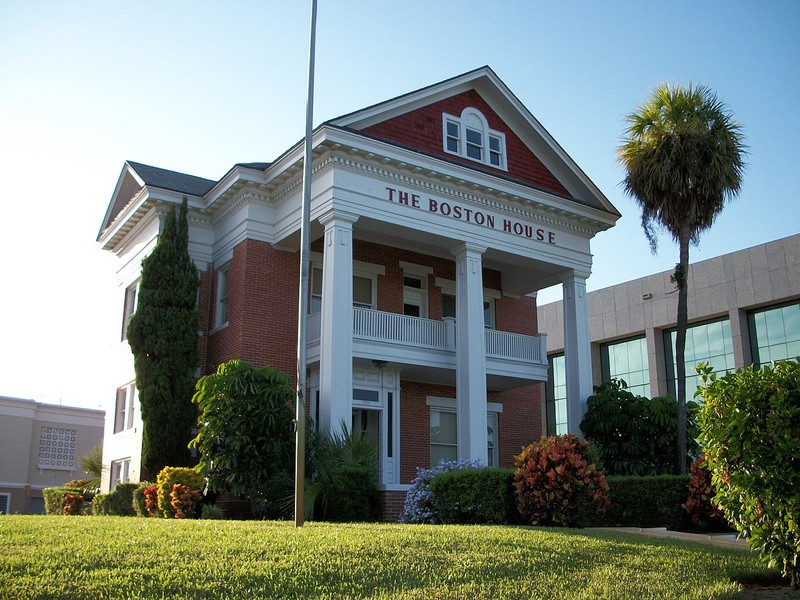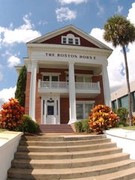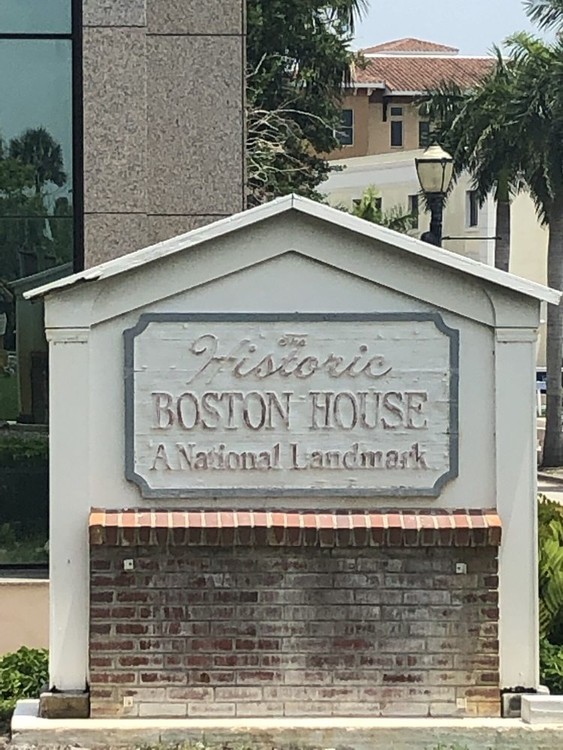 Backstory and Context
William T. Jones came to Fort Pierce in the early 1900s after being injured in a railroad accident. He received a settlement for the incident and used $6,000 of it to build the house, which he named Cresthaven (it appears, however, that the cost was much higher at around $15,000). Jones was a personal friend Henry Flagler, the founder of the East Coast Florida Railway and co-founder of Standard Oil, which at one point was one of the world's largest corporations. This connection Flagler enabled Jones to transport the building materials for the house by rail. The house features a portico with three Ionic columns, a cantilevered balcony, and an entablature with a dentiled cornice (the top part of the exterior walls). These are the primary elements that give the house a Neoclassical appearance.
In 1915, the governor appointed Jones as the second St. Lucie County Sheriff. The first, Dan S. Carlton, was appointed in 1901 and served until he was killed in a shootout. Jones gained the respect of the community as well as outlaws; he even captured a German spy during World War I. Unfortunately, he lost Cresthaven in the mid-1920s when the Florida boom collapsed. Two elderly sisters bought the house and remained until they passed away, presumably, in 1949.
As noted above, John McCarty bought Cresthaven at this time. He was from a prominent family. His father, Dan McCarty, was the 31st governor of Florida. John ran for governor in 1960 but lost. Before that, he served as a circuit and municipal court judge and, from 1957 to 1959, as Judge of the Ninth Judicial Circuit. He served as State Senator in the 1960s. McCarty never lived in the house but he did put a new roof on it.
A law firm bought it in the mid-1960s and renamed it Boston House. The firm made a number of changes including installing air conditioning. The old house was threatened with demolition in the mid-1970s but it was bought and renovated into offices by the next owner. It has remained an office building ever since. It is also believed to be haunted.
Sources
Cresthaven ("The Boston House"). St. Lucie Historical Society. Accessed February 27th 2020. https://www.stluciehistoricalsociety.net/st-lucie-county-history/cresthaven-the-boston-house/.
Janensch, Paul. Historic, Haunted Boston House, WQCS Newsroom. Accessed February 27th 2020. https://news.wqcs.org/post/historic-haunted-boston-house.
Pinchus, J.H. & Zimny, Michael F. "Cresthaven." National Park Service - National Register of Historic Places Nomination Form. April 11, 1985. https://npgallery.nps.gov/GetAsset/96f717e4-1a48-49e4-afb8-fb8cf5730710.
Image Sources
Wikimedia Commons: https://commons.wikimedia.org/wiki/File:BostonHouse.jpg

Eric Hasert/TCPALM

Ariel W.

Additional Information