Kalita Humphreys Theatre
Introduction
The Kalita Humphreys Theatre is a historic performance space located in Dallas, Texas. This space was designed and built by esteemed architect Frank Lloyd Wright. This space was the only theatre that Wright ever created, and is known as one of the last buildings that he ever designed in his career. It was built in 1959 as a performance space for the company Dallas Theatre Center, but since then that company has moved to a new space. It is now the home of Uptown Players, as well as a performance space for any other regional companies that wish to rent out this iconic landmark.
Images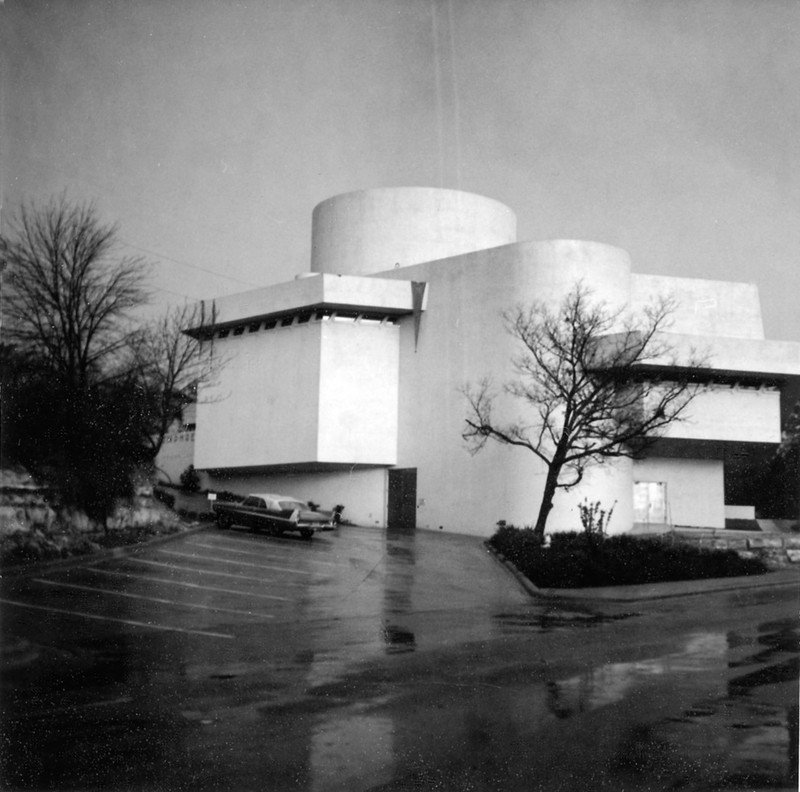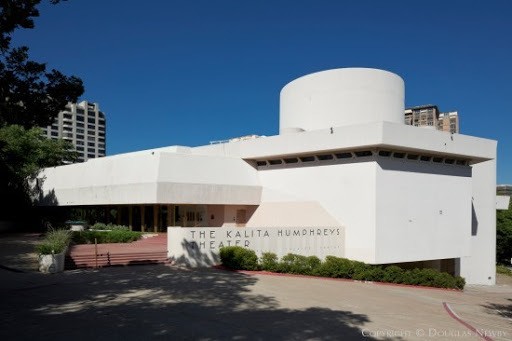 Backstory and Context
The theatre company, Dallas Theatre Center, approached Frank Lloyd Wright in 1955 in hopes to employ this infamous architect to design their home base. Though he had many un-built designs for various theoretical theatrical venues, the Kalita Humphreys would become his first fully constructed and realized theatrical space. A big stylistic feature that distinguished Wrights design, was the dismissal of the traditional proscenium arch, which had become the standard by this point. Instead, Wright opted to join the audience and performers together in "one unified space." This was accomplished through the integration of a circular stage with a revolving center platform, which until now had not been seen in the design of a theatre. The audience would somewhat surround the stage in an intimate layout of only 11 rows of seating. This placed the actors in a much closer proximity to the audience, which was quite atypical for the time, 
            Construction on this historical landmark began in 1955, and took approximately 4 years to complete. Unfortunately, Wright died 9 months before he could see this project be completed. The total cost of this project was just over 1 million dollars. This sounds like a lot, but in comparison to the cost of construction today, is actually quite low. The Kalita Humphreys Theatre officially opened for business on December 27th, 1959. Their first fully-mounted production in their new home was Thomas Wolfe's "Of Time and The River."
            The Kalita Humphreys Theatre got its name from a somewhat tragic set of circumstances. Kalita Humphreys was the name of a young actress that worked with resident director of the Dallas Theatre Center, Paul Baker. Humphreys died in a plane crash in 1954, and 120,000 dollars was donated to fund this theatre as a memorial.  
Sources
"Kalita Humphreys Theater." Frank Lloyd Wright Foundation, franklloydwright.org/site/kalita-humphreys-theater/.
This article was found on The Frank Lloyd Wright Foundation's informational website. Wright was the esteemed architect and designer that was sought out to design the historical Kalita Humphreys Theatre. This website gives a detailed breakdown of the timeline and exchanges that eventually led to Wright's designing of the theatre. This article details the significance and individuality surrounding the fact that Wright designed the space. Wright had never successfully designed a performance venue before, and after his execution of the space, never had the opportunity to build another space again. So not only was this his first theatre, but it was also his last fully realized space in his career. This article paces all of these pieces of information together in a way so that it is easy to comprehend how this historical site came to be, as far as execution is concerned. 
The most interesting part of this collection of information, is reading about Wright's personal devotion to this project. The reader was informed that this design was originally crafted and designed by Wright for a theatrical space in California, but do to extenuating circumstances, never came to fruition. When Wright was approached later on to design this Dallas theatre space, he was re-inspired to finish that previously designed blueprint. Due to this, Wright had a personal stake in the project, on top of the fact that this was his first theatre in general. 
Players, Uptown. "Uptown Players." About | Uptown Players | Dallas Live Performances, Theater, Plays, Broadway Shows, www.uptownplayers.org/about.php?goto=-66.
The lasting effects of the Kalita Humphreys Theatre go far beyond its initial creation and the building itself. The work that has been produced by prolific theatre companies that have called this theatre home over the years play just as much of a part in making this space so iconic, and relevant to the grand scheme of American History. Uptown Players is the current resident theatre company that is housed within this performance venue. This informational website discusses how the location of the theatre is in the predominantly LGBT area of Dallas, and how that has effected the dynamic of the theatre, as well as the theatre's influence on the community. 
As previously mentioned, the current resident theatre company at the Kalita Humphreys, Uptown Players, is located in what is referred to as "the gayborhood" of Dallas, Texas. According to their mission statement featured on this website, they are dedicated to producing and shining a light on LGBT-themed works, and works written by LGBT creatives. While their target audience is the LGBT community, their mission of diversity and inclusion opened this theatre's doors to any and all lovers of art. 
This theatre lays its hands on the peripheral of American History through this special attention given to the LGBT community. Similarly to several minority groups seen throughout our modules in this course, the LGBT community has been discriminated against quite heavily throughout the years. Art has always been a great vehicle for the oppressed to regain some sense of control over their own lives and their own stories. Uptown players has provided the resources for LGBT performers to tell their stories accurately and in their own voice.