Mount Baker Theatre
Introduction
The historic Mount Baker Theatre is significant as one of the last surviving grand movie palaces built in the region. Erected in 1927, its design is also unique. Architect R.C. Reamer, who designed Old Faithful Inn in Yellowstone Park, designed the theatre in the Moorish-Spanish style. It features a concrete and terra cotta exterior, Spanish tiles, a tall octagonal tower with a dome and arches. The design is more elaborate inside, incorporating decorations of French Baroque, Moroccan, Hindu, Mayan, and other cultural styles. The auditorium itself features a large decorated dome, an ornate chandelier, and an 80x30-foot stage, and a functioning Wurlitzer organ. When it opened, the theatre could host vaudeville acts and show movies. Added to the National Register of Historic Places in 1978, it continues to be a popular performance and arts education venue.
Images
Mount Baker Theatre was built in 1927 and is the last movie palace still standing in the Pacific Northwest.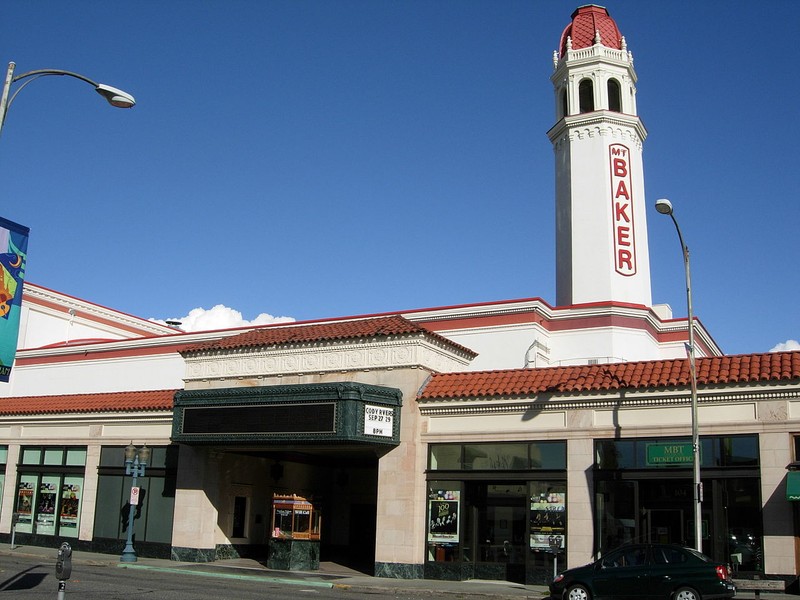 Backstory and Context
By the time Robert C. Reamer was hired to design the theatre, he had solidified his reputation as an accomplished architect, having designed the aforementioned hotel in Yellowstone National Park and many buildings in Seattle's downtown business district. The theatre, like the hundreds of others built around the country during the 1920s, were meant to be "atmospheric," giving visitors a place a sense of immersion and escape from reality. It took workers a year to build the theatre, including skilled craftsmen in stone masonry, carpentry, and plaster casting. It boasted state-of-the art equipment including a flying screen and the Wurlitzer organ.
Eventually, vaudeville shows ended as the popularity of movies increased. The Great Depression also signaled the end of the construction of expensive movie palaces. As a result, Mount Baker Theatre began to only show movies. Once television became popular, movies began to decline in popularity as well. Mount Baker Theatre, however, survived by operating as a performance venue (it remained largely unaltered as well). Nonetheless, it was under threat of demolition in the early 1980s. Fortunately, the community organized to prevent this from happening. The theatre later underwent renovations between 1991-2004 and then again in 2008. The Wurlitzer organ was upgraded in 2013. It is holds the distinction of being one of the best working organs in the country. An organist plays it a few times during the year.
Sources
Vanerway, Richard. "Mount Baker Theatre. "National Park Service - National Register of Historic Places Nomination Form." December 14, 1978. https://npgallery.nps.gov/GetAsset/32862ea0-9847-45da-bc57-6cdb4508c2a8.
Wilde, Lorraine. "Mount Baker Theatre: Better Than Ever." WhatcomTalk. Accessed January 30, 2020. https://www.whatcomtalk.com/2017/10/12/mount-baker-theatre-4.
Image Sources
Wikimedia Commons: https://commons.wikimedia.org/wiki/File:Mount_Baker_Theatre.JPG

Additional Information