Alabama Music Hall of Fame
Introduction
The Alabama Music Hall of Fame offers a variety of exhibits that preserve and share the history of artists from Alabama, ranging from blues to country music. Each of these musicians have had a significant impact upon the music industry and American culture. From musicians to song-writers, management, and publishing, In addition to exhibitions and special programs, the museum offers a Walk of Fame with bronze stars for each of the inductees and an exhibit about the achievements of each member of the Hall of Fame.
Images
With the support of taxpayers, this museum was dedicated on July 26, 1990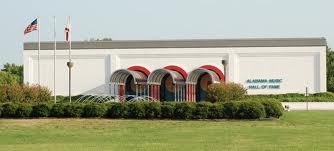 Backstory and Context
Efforts to create the museum began in earnest in 1980, when members of the Muscle Shoals Music Association came together and formed a special board charged with creating a museum to honor Alabama's great musicians. In 1987, Alabama voters approved a special bond which financed much of the museum's construction. A crowd of 35,000 attended the museum's dedication on July 26, 1990, a celebration that included performances by many leading musicians from the state of Alabama.
Additional Information