Gamwell House
Introduction
Constructed in 1892 for the family of Roland Greene Gamwell, this Victorian home remains one of the most elegant houses in Bellingham and has hosted famous guests from President William Howard Taft to Mark Twain. Gamwell (1863-1959) was a prominent local businessman who made his fortune in real estate and insurance. The house is three-stories tall and features a wraparound porch, an observation tower, a hand-carved, three-story solid oak staircase, stained glass windows, and decorative exterior and interior woodwork. Despite its large size, there are only nine rooms in the home but each is spacious. The house is privately owned and not open to visitors but can be viewed from the street. The home was added to the National Register of Historic Places in 1972.
Images
Built in 1892, the Gamwell House is one of the most beautiful homes in Bellingham.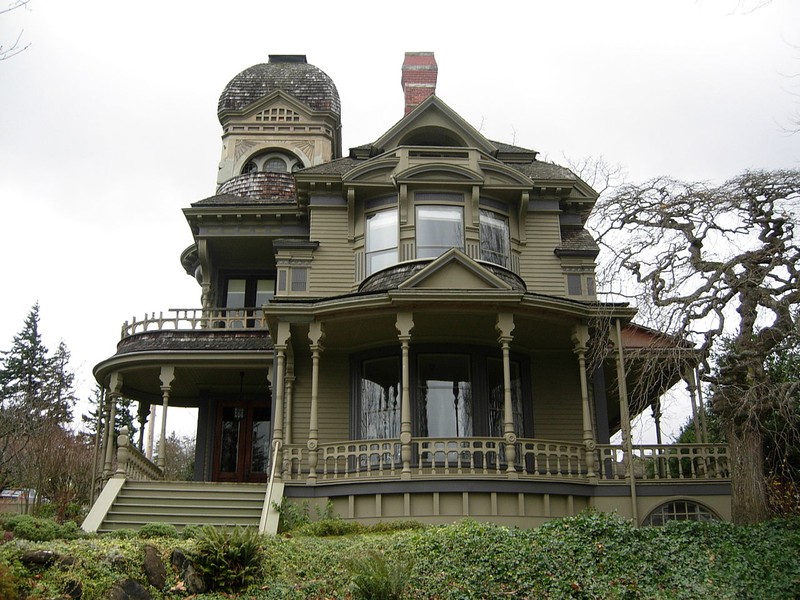 Backstory and Context
Roland Gamwell was born on July 25, 1863 in New England to a prominent family whose descendants can be traced to the establishment of the state of Rhode Island. As a young man, Gamwell studied engineering at the Massachusetts Institute of Technology in 1886. In 1889, he moved to Tacoma, Washington to work as a surveyor to help plan the extension of the interurban rail system around the city. It was there that he met an investor who told him about potential real estate opportunities in Bellingham. Gamwell indeed moved to Bellingham and made a small fortune from his investments.
He hired a pair of Boston architects to design the home and was heavily involved in the process. He chose the best materials and the latest household technology for the time from electricity to gas, heating, and plumbing. During the two years it took to build the house, Gamwell married (he wanted the house built before he got married but grew impatient). The couple lived in a local hotel until the house was finished.
Gamwell and his wife impacted the community in several ways. Gamwell founded the Fairhaven Yacht Club in 1894 as well as men's clubs. He also established the Fairhaven and Bellingham Public Libraries. The Gamwells often hosted notable guests at the house including President William Howard Taft and Mark Twain. In addition, Gamwell was also an avid horticulturalist—he was particularly fond of roses—and operated a nursery at the house.
Gamwell's wife passed away in 1944 and he in 1959 at the age of 96. The house has been a single-family residence every since and has been well-maintained by each of the owners.
Sources
"The Gamwell House." Fairhaven History. September 30, 2019. https://www.fairhavenhistory.com/content/our_neighbors/the_gamwell_house.
"Gamwell, Roland G., House, Fairhaven, WA (1890-1892)." Pacific Coast Architecture Database. http://pcad.lib.washington.edu/building/7517.
"Roland G. Gamwell House (1001 16th Street)." City of Bellingham. Accessed January 29, 2020. https://www.cob.org/services/planning/historic/buildings/Pages/roland-gamwell-house.aspx.
Schneider, Charlotte V. "Gamwell House." National Park Service - National Register of Historic Places Nomination Form. March 16, 1972. https://npgallery.nps.gov/NRHP/GetAsset/NRHP/72001282_text.
Image Sources
Wikimedia Commons: https://en.wikipedia.org/wiki/Gamwell_House#/media/File:Gamwell_Home.JPG

Additional Information