Alabama Museum of Natural History
Introduction
Founded in 1831, the Alabama Museum of Natural History is the oldest museum in the state. It is housed in Smith Hall, which is named after Dr. Eugene Allen Smith, who served a state geologist beginning in 1873 for 40 years. The museum's collections are large in size and vast in scope, encompassing the fields of geology, zoology, mineralogy, paleontology, paleobotany, ethnology, history, and human osteology. Numerous items from these collections are on display in the museum's exhibits. The most impressive one, located in the Grand Gallery, is the replica of a Basilosaurus, an Eocene-era whale that is the state's designated fossil. There is also a skull of a mastodon and the Hodges meteorite, which struck a woman in the town of Sylacauga, Alabama on November 30, 1954.
Images
The replica Basilosaurus hangs in the Grand Gallery.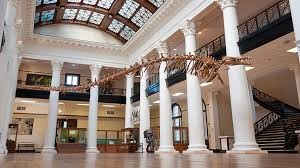 Backstory and Context
Smith Hall was built in 1910 in the Classical Revival style, with its eight Ionic columnns on the west side being the most prominent feature of the building. For a time, the departments of geology and biology were housed in here. Parts of the building, including the basement, are used for classroom and lab space.

Sources
"About the Museum." Alabama Museum of Natural History. Accessed September 11, 2017. http://almnh.ua.edu/about-the-museum.html.
Additional Information