Rochester Armory
Introduction
Built in 1916, this imposing-looking building was once the Rochester Armory. Constructed with dark red bricks, it was designed in the Romanesque Revival style and bears the appearance of a medieval fortress. As a result, it has been known as "the castle" since its construction. It reaches a height of three stories and features a large tower on the northeast corner, crenelations (gaps) along the top of the walls, and a large ballroom on the top floor. When it opened, it housed the National Guard's Rochester Machine Gun Company Third Infantry. Today, the former armory is now an arts, cultural, entertainment, and dining center called Castle Community. It features a bookstore, art gallery, restaurant, cafe, artist studios, yoga studio, theater, and a vinyl record shop.
Images
The historic Rochester Armory is now a food, cultural, and arts center called Castle Community.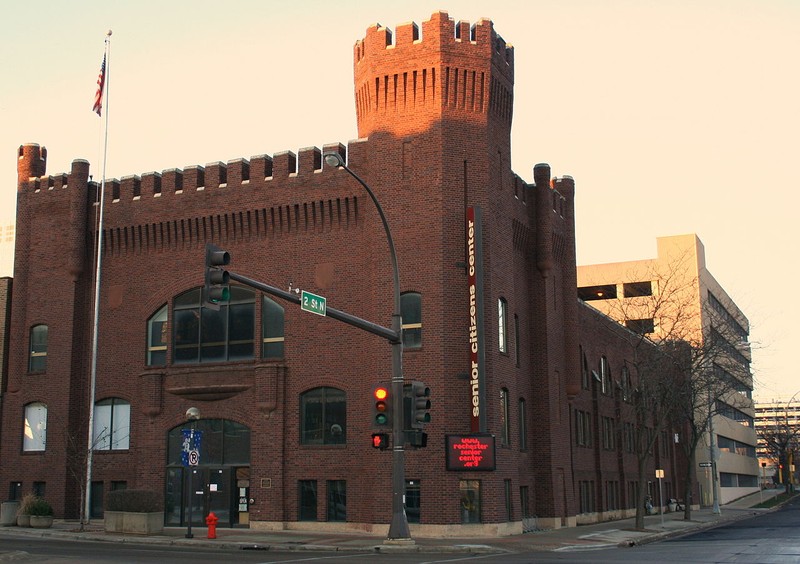 Backstory and Context
The armory opened to great fanfare on February 10, 1916. A dedication ceremony and banquet were held in which 700 guests were in attendance. During World War I, patriotic activities (such as parades and military meetings) at the armory increased and guard members drilled regularly. After the war, the armory became an important community center. A variety of events were held here including dances, concerts, high school graduations, car shows, political speeches and rallies, and even cooking demonstrations.
The National Guard left the armory in the 1970s and the building was converted into a senior residence called the Rochester Senior Citizens Center. The center closed in 2016 and the following year the city sold it to a group of local investors who proceeded to convert it into Castle Community.
Sources
Frame, Robert. "Rochester Armory." National Park Service - National Register of Historic Places Nomination Form. December 2, 1980. https://npgallery.nps.gov/GetAsset/4e3a3868-0a96-4c3f-967b-346f2245fda2.
"Inside the Castle: Creating a new beginning for the Rochester Armory." Destination Medical Center. September 30, 2018. https://dmc.mn/inside-the-castle-creating-a-new-beginning-for-the-rochester-armory.
Richert, Catharine. "Rochester Armory gets a new life as food, cultural center." MPR News. November 24, 2018. https://www.mprnews.org/story/2018/11/24/rochester-armory-new-life-food-cultural-center.
"Rochester Armory, Rochester (Olmstead County)." Minnesota Historical Society. Spring 2018. http://collections.mnhs.org/MNHistoryMagazine/articles/66/v66i01p5.pdf.
Image Sources
Wikimedia Commons: https://commons.wikimedia.org/wiki/File:CastleRochesterMN.JPG

Additional Information