Poisson and Mermaid by Charlotte & Ben Zink
Introduction
"I offer a fluid, feminine sense of design and form to the metal, and Ben works as our solid fabricator and engineer. Sometimes I've sketched and reflected on the subject matter before I begin drawing on the metal, and other times I enjoy letting my unconscious guide the images, shapes and forms that emerge." Charlotte Zink
Images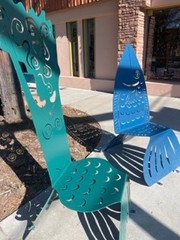 Backstory and Context
"As time goes by I find myself really giving into art more and more, accepting both the challenges and the incredible grace it brings." Charlotte Zink
Poisson and Mermaid are two sculptural chairs that have been placed to welcome visitors into Lyons' downtown district. They capture the whimsical, artistic nature of the Lyons art community and add a splash of color to the historic street. If you are resting on one of these sculptures, you can see Lyons historic Methodist Church which was built in 1908. Looking a block over you can see the Lyons Redstone Museum which is housed in the 1881 Schoolhouse. Zink Metal Art's two aquatic-themed chairs create a place on the corner of Main Street where modern creativity melds with Lyons' history. To learn more about Lyons' historic buildings and downtown, take the Lyons Historic District Walking Tour hosted on this app.
Poisson and Mermaid are just two sculptures that Zink Metal Art has placed in Lyons. The Zinks have been participating in the heARTs of Lyons program for many years. Zink Metal Art is based in Berthoud, Colorado, and is the combined creative effort of Charlotte and her husband Ben.
Charlotte Zink was born and raised in New Orleans, Louisiana. After studying art in Boulder, she decided to make Colorado her home. Drawing has been an important part of her life for as long as she can remember and she uses art to express her inner visions and thoughts. She has worked in watercolor, mask making, and papermaking. Currently, her focus is painting and sculpture.
"Ben cuts most of our designs with a handheld plasma cutter, and we work together on our different finishes. Collaborating on sculpture designs, layouts, finishing, and installation has taught us both so very much about the art process and ourselves. We're proud to have created an extensive body of work these many years; both small and large-scale pieces in private and public collections worldwide."
Zink Metal Art has sculptures in towns across Colorado including Fort Collins, Evergreen, Avon, Castle Rock, Lakewood, and Monument. See their public art portfolio on their website to find out where you can see more of their metal art!
This piece was curated and placed by the Lyons Arts and Humanities Commission.
Sources
http://zinkmetalart.com/
http://www.townoflyons.com/181/Lyons-Arts-Humanities-Commission
Additional Information