Chateau Theatre
Introduction
Located in the heart of downtown Rochester, the historic Chateau Theatre remains one of the city's most important landmarks. Built in 1927, it is historically significant primarily for its architecture. It was also a popular performing arts center for the city for several decades. Today, it is called Chateau Rochester, an educational, entertainment, and cultural hub. It offers traveling exhibitions, live performances, and other events.
Images
The former Chateau Theatre is one of the most important landmarks in Rochester and is now an educational, entertainment, and cultural center.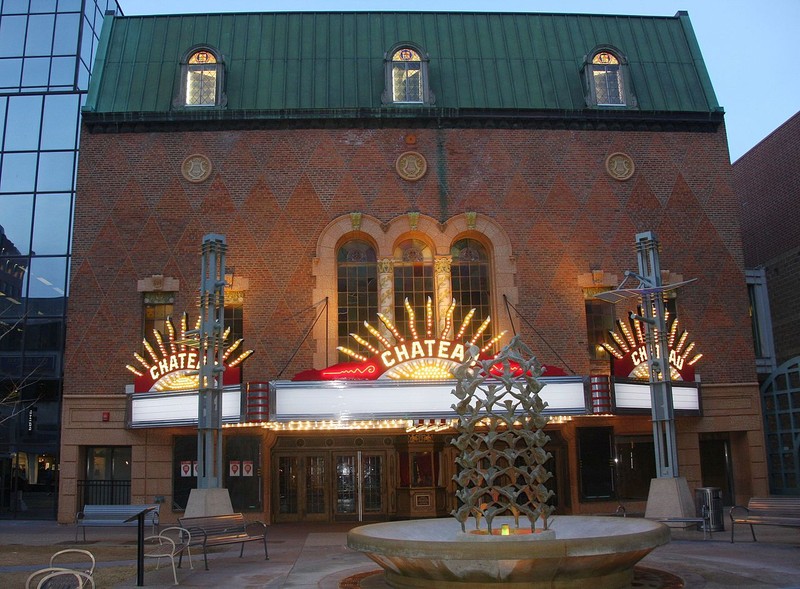 Backstory and Context
Chateau Theatre was designed by St. Paul architecture firm Ellerbe Architects, which also designed the nearby Mayo Clinic Plummer Building. The theatre is four-stories tall and incorporates French and Byzantine influences. The exterior features a diamond-patterned red-brick facade, triple round-arched windows with terra cotta spiral columns, and a large marquee with three sets of lights it the shape of a sunburst. The interior was designed to be "atmospheric," the in that it resembles a medieval castle complete with turrets, balconies, arches, and towers. 
It opened in 1927 as a vaudeville house and operated as such until it eventually became a movie theater. More recently, it was Barnes & Noble bookstore, which closed in 2015. Renovations to convert it into Chateau Rochester within the next few years and were completed in November, 2019.
Sources
Frame III, Robert M. "Chateau Dodge Theatre." National Park Service - National Register of Historic Places Nomination Form. July 17, 1980. https://npgallery.nps.gov/GetAsset/454faa87-eb58-4c93-bcbf-746dad444c24.
Kiger, Jeff. "Curtain falls on Chateau bookstore." Post Bulletin. January 2, 2015. https://www.postbulletin.com/news/local/curtain-falls-on-chateau-bookstore/article_6fbe0d0d-e2d2-58d0-bc8b-8efdb866bcd7.html.
Petersen, Randy. "10 things about the Chateau Theatre." Post Bulletin. November 14, 2019. https://www.postbulletin.com/news/local/things-about-the-chateau-theatre/article_ee6d61c2-05bb-11ea-a1a4-fbb33ed69e6c.html.
"Request for Proposals - Operation and Management of the Historic Chateau Theatre." City of Rochester. November 2018. https://www.rochestermn.gov/home/showdocument?id=23474.
Image Sources
Johnathunder, via Wikimedia Commons

Additional Information