Dr. William J. Mayo House
Introduction
Now called the Mayo Foundation House, the Dr. William J. Mayo House is one of the most elegant historic homes in Rochester. It is significant both for its architecture and its association with its namesake, Dr. William J. Mayo (1861-1939), who was a pioneering physician and a one of the founders of the world-renowned Mayo Clinic. The three-story, 47-room mansion was erected in 1918 and is an excellent example of Tudor architecture. It features a mostly sandstone facade, a five-story tower, decorative stonework, and a covered main entrance adjoining the base of the tower. The interior features elaborate woodwork, an elevator in the tower, a player organ in the reception hall, a large formal living room, an ornate mahogany staircase, and a large hall on the third floor with a stained glass window. Given its association with William J. Mayo and the Mayo Clinic, the house was added to the National Register of Historic Places in 1975. The house is not open to the public and is used for events and meetings.
Images
Built in 1918 and is a great example of Tudor architecture.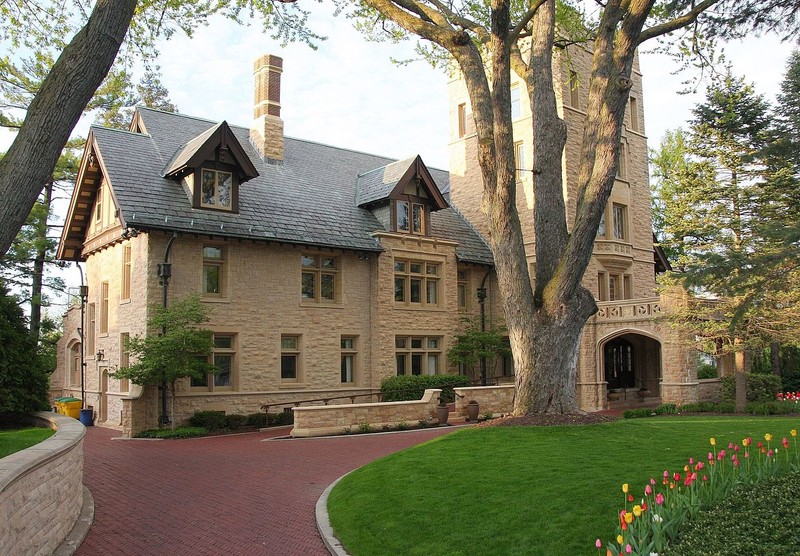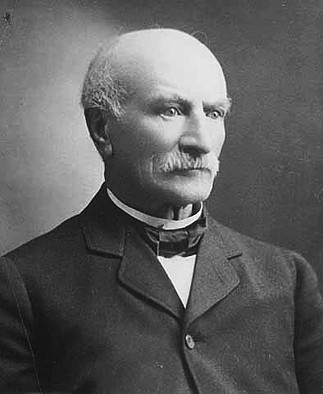 William J. Mayo (1861-1939)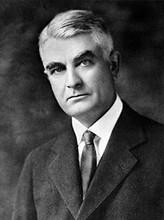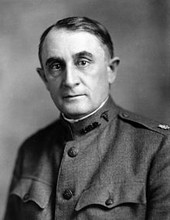 Backstory and Context
William James Mayo was born in 1861 in Le Seur, Minnesota. He would be the eldest sibling of three daughters and one brother, Charles, who became a distinguished doctor in his own right and was a founder of the Mayo Clinic). His father, British-born immigrant W. W. Mayo (1819-1911), was a pioneering doctor who operated a private medical practice here in Rochester. William and Charles started helping their father as young boys and over time were given more responsibilities. William earned his medical degree from the University of Michigan in 1883, and Charles earned his degree from Northwestern University in 1888.
After a devastating tornado struck the city in 1883, William, Charles, and their father tended to people who were injured. The event prompted calls for a hospital to be built and Willam Morrall was asked to lead it. The hospital, which was named St. Mary's Hospital, opened in 1889. Around 1905, William, Charles, and a few other partners established a group clinic that would eventually be named the Mayo Clinic.
William James was a specialist in kidney, abdomen, and pelvis surgery. He also was a hospital administrator. He worked as a surgeon until 1928 and served in his administrative role until 1933. For his part, Charles was a highly-regarded surgeon and served as professor of surgery at the University of Minnesota. Both brothers served in the U.S. Medical Corps during World War I. William and his wife donated their house to the Mayo Clinic in 1938, the year before he passed away.
Sources
"Mayo Family." Encyclopedia Britannica. Accessed January 21, 2020. https://www.britannica.com/topic/Mayo-family.
"Mayo Foundation House." Mayo Clinic. Accessed January 21, 2020. http://history.mayoclinic.org/tours-events/mayo-foundation-house.php.
VanBrocklin, Lynne. "Dr. William J. Mayo House." National Park Service - National Register of Historic Places Nomination Form. March 26, 1975. https://s3.amazonaws.com/NARAprodstorage/lz/electronic-records/rg-079/NPS_MN/75001001.pdf.
Image Sources
Johnathunder, via Wikimedia Commons: https://commons.wikimedia.org/wiki/Category:Mayo_Foundation_House

Wikimedia Commons

Wikimedia Commons

Wikimedia Commons

Additional Information