Queen Wilhelmina Tulip Garden, Golden Gate Park
Introduction
Author-Uploaded Audio
In 1902, Queen Wilhelmina of the Netherlands donated to the City of San Francisco a colorful tulip garden, located in the western part of Golden Gate Park. The thousands of tulip bulbs gifted by the Queen were intended to beautify the landscape surrounding the Dutch Windmill, which she also donated as a gift. This traditional, shingle-style structure initially provided an important means of irrigation for Golden Gate Park. Although the windmill is no longer used for irrigation, at one time it served to pump 30,000 gallons of water hourly throughout the park. The Queen Wilhelmina Tulip Garden blooms from approximately mid-March to mid-April, although some variation has been noted in recent years due to climate change. Along with tulips, primroses and Icelandic poppies can also be seen within the expansive Tulip Garden near the Dutch Windmill. The Dutch Bulb Growers' Association has continued to donate new tulip bulbs to maintain the beauty of the garden throughout the years.
Images
Queen Wilhelmina Tulip Garden in Golden Gate Park, San Francisco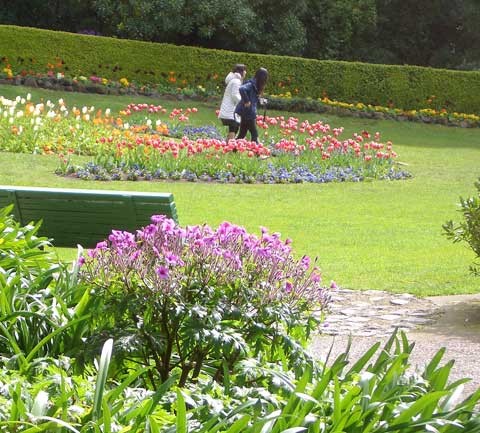 Queen Wilhelmina Tulip Garden in Golden Gate Park, San Francisco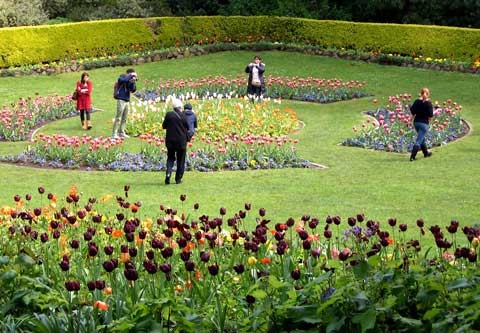 Queen Wilhelmina Tulip Garden in Golden Gate Park, San Francisco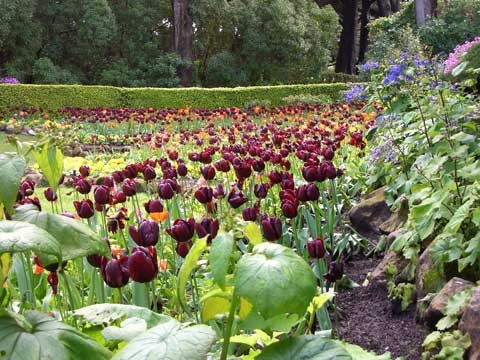 Backstory and Context
Author-Uploaded Audio
In the Netherlands, tulips became extremely fashionable during the sixteenth century when they were introduced by an ambassador from the Ottoman Empire, in present-day Turkey. However, before these colorful flowers ever became known in Northern Europe, they were celebrated throughout ancient Persia and cultivated for centuries from Turkey to Afghanistan.
Although tulip bulbs originally hail from Central Asia, almost as soon as the tulip reached the Netherlands in the late 1500s, a "tulip mania" ensued. The imported bulbs were quickly cultivated by flower-growers, studied by botanists, and painted by artists. Tulips also became a source of considerable economic speculation in a burgeoning European market. Public demand rose so rapidly for the flowers that before long, the price of a single bulb was said to cost as much as a canal house, or up to ten times the yearly wage of a skilled craftsman. Although the economic bubble associated with "tulip mania" finally burst in 1637, the flower has remained a national symbol of the Netherlands ever since, second perhaps only to the Dutch windmill in its iconic stature.
Throughout history, tulips and other flowers have often been given from one monarch or government to another as an act of diplomacy, friendship, and peace. The Queen Wilhelmina Tulip Garden in Golden Gate Park reflects such a gift. In a spirit of friendship, during the early years her reign in 1902, the Queen gave thousands of tulips and a Dutch windmill to the City of San Francisco for use and enjoyment in Golden Gate Park.
Over the course of her long reign from 1890 to 1948, Queen Wilhelmina was engaged in many significant moments in European and world history. She ruled the Netherlands for almost fifty-eight years, a longer period of time than any other Dutch monarch in history. She also reigned during an era in which the colonial influence of the Netherlands was in decline, a period that saw major political upheavals in Europe due to World War I and World War II.
Towards the end of her reign, to show her appreciation for the Canadian government at the conclusion of World War II, the Queen donated one hundred thousand tulips to Ottawa in thanks for the efforts of Canadian forces in helping to liberate the Netherlands during the war. Much like the Tulip Garden that was given by Queen Wilhelmina to the City of San Francisco in 1902, those flowers remain a popular attraction enjoyed by residents and tourists from around the world every spring. From Queen Wilhelmina's reign to the present day, tulips continue to be given by the Dutch monarchy as a symbol of friendship and peace.
Sources
"Dutch Windmill Tulip Garden", Hidden SF. Accessed January 18th 2020. http://www.hiddensf.com/420a-dutch-windmill-tulip-garden-sf.html.
Dunn, Jr., Jerry Camarillo. National Geographic Traveler - San Francisco. National Geographic Traveler, 2016.
"Dutch Traditions: History of Tulips in Holland", Holland Tourism. Accessed January 18th 2020. https://www.holland.com/global/tourism/discover-holland/traditional/tulips/history-of-tulips-in-holland.htm.
"Today in Ottawa's History: A Beautiful Friendship", Today in Ottawa's History. September 1st 2014. Accessed January 18th 2020. https://todayinottawashistory.wordpress.com/tag/tulip-festival/.
"Queen Wilhelmina Tulip Garden", Golden Gate Park. Accessed January 18th 2020. https://goldengatepark.com/queen-wilhelmina-tulip-garden.html.
Image Sources
Hidden SF

Hidden SF

Hidden SF

Additional Information