Lantarnam Hall (Morgan Estate)
Introduction
Constructed from 1914 to 1916, Lantarnam Hall was designed by Bay Area architect John Powers to match Speke Hall which was built during the late sixteenth century in Lancashire, England. The estate was built for Percy Morgan, an influential member of the Bay Area's business community and among its social elites. The estate is named in honor of the town of Lantarnam, Wales and was filled with numerous European art objects, furniture, and building materials. In 1952 John Carter Ford bought the house and renovated it for a day school. The property became a private home again in the 1980s and remains a private property.
Images
Lantarnam Hall / Morgan Estate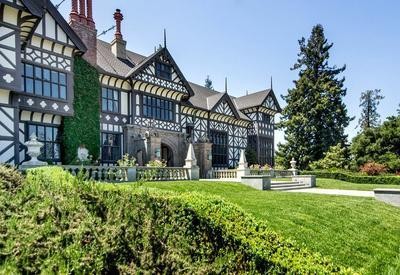 Lantarnam Hall / Morgan Estate Dining Room (after restoration)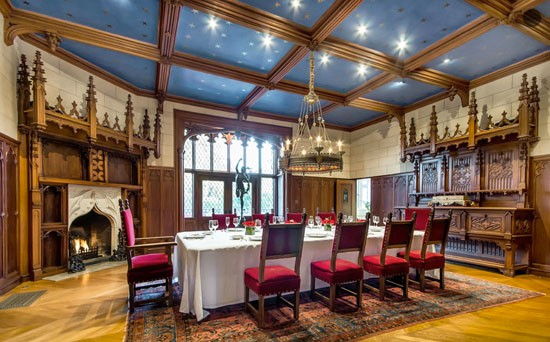 Lantarnam Hall / Morgan Estate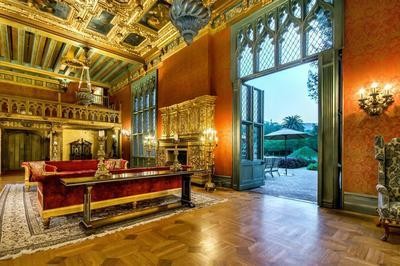 Lantarnam Hall / Morgan Estate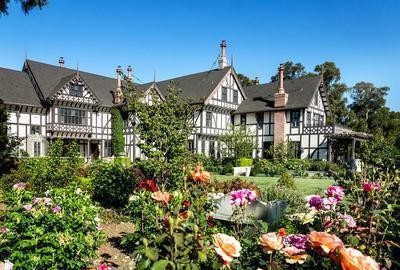 Backstory and Context
Lantarnam Hall is an outstanding example of the Tudor Revival architectural style and was inspired by the English landmark Speke Hall which was completed in 1589. Percy Morgan, who enjoyed immense success in mining and banking constructed the home in 1916 and lived here with his wife and two sons. Morgan also proved influential in the formation of the California Wine Association which bolstered the wine industry in the Bay Area and vicinity. 
Percy Tredegar Morgan was born in London in 1862, of a prominent Welsh family. Morgan attended Oxford University as a junior candidate, but he left at the age of fourteen to take a position with the London accounting firm Turquand, Youngs & Co. When he turned twenty-one, he left for the U.S. when he took a job with the London's Victorine Gold Mining Company located in Austin, Nevada. 
A few years later, he took a superintendent position at the Republic Mining and Smelting Company in Cooke City, Montana. However, Morgan found Montana winters intolerable and thus left in 1885 for San Francisco, where his career progressed rapidly. He was integral in the formation of the Nevada Gypsum and Fertilizer Company, Eureka Mining Company, and the Sunset Telephone-Telegraph Company (later known as Pacific Telephone & Telegraph). And, by the end of the century, he served as director of the Union Trust Compan and Wells Fargo Nevada National Bank.
During the 1890s, Morgan was a fixture in San Francisco's business community and enjoyed memberships at the Pacific Union and Bohemian clubs. As well, in 1893, he married Fanny Babbit Ainsworth (called "Daisy"), who came from an affluent Oakland family. He purchased a 100-acre property just above today's Foothill College. 
Morgan also joined with other prominent business persons and social elites to form the California Wine Association (CWA), the largest wine-producing cooperative in the world, and influential in spurring the Napa and Sonoma wine industries. However, the significant 1906 Bay Area earthquake and fire forced the CWA to relocate to Richmond, California, where it is known today as Winehaven.
Morgan suffered from several ailments, so at the age of forty-nine, he retired and, by recommendation of his doctors, went on a sea voyage to rest. Morgan, Daisy, and their two sons -- Percy, Jr. and Jack -- took a three-year European vacation, visiting such locations as Britain, Austria, France, Italy, and Switzerland.
While in Britain, notably Wales, it is believed they saw the English Tudor mansion known as Speke Hall (circa 1589), the inspiration for the now historic Lantarman Hall, which he had constructed in 1914 (completed in 1916). Designed by a relatively unknown architect, John H. Powers, the Tudor Revival Lantarnam Hall has been featured in several issues of The Architect and later California Architect and Engineer. Integrated into the Manor House and Great Hall are artifacts. The ceiling of the great hall, taken from the Venetian Palace of Marino Grimini (a fifteenth-century Venetian Doge), includes a collage of heavy frames and oil paintings depicting the fame of Venice. A Van Amstel balcony balustrade from Holland fences the mezzanine of the great hall.
Morgan only lived for the home for five years. In 1920, for an unexplained reason, Morgan took his own life when he shot himself in the home. In 1952 John Carter Ford bought the house and renovated it for a day school -- the Ford Day School. It reverted to private ownership in 1988. Although the estate has been diminished by land sales and urbanization, including Foothill College and a section of the interstate highway, the remaining seven acres and stately home stand as a reminder of the great fortunes gained by a few during the Gilded Age.
Sources
Bamburg, Bonnie. "Nomination Form: Lantarnam Hall." National Register of Historic Places. nps.gov. November 5, 1985 https://npgallery.nps.gov/NRHP/GetAsset/NRHP/85003189_text.
"Life of Tredegar Percy Morgan." Los Altos Hills Historical Society. losaltoshillshistory.org. Accessed January 14, 2020. https://www.losaltoshillshistory.org/Resources/Stonebrook-Ct-manor/Life-Percy-Morgan.html.
Pinney, Thomas. The Makers of American Wine: A Record of Two Hundred Years. Berkeley: University of California Press, 2012.
Image Sources
Jason Green, Bay Area News Group, May 30, 2013 https://www.mercurynews.com/2013/05/30/los-altos-hills-historic-morgan-estate-for-sale-at-bargain-price-of-27-million/

Jason Green, Bay Area News Group, May 30, 2013 https://www.mercurynews.com/2013/05/30/los-altos-hills-historic-morgan-estate-for-sale-at-bargain-price-of-27-million/

Jason Green, Bay Area News Group, May 30, 2013 https://www.mercurynews.com/2013/05/30/los-altos-hills-historic-morgan-estate-for-sale-at-bargain-price-of-27-million/

Jason Green, Bay Area News Group, May 30, 2013 https://www.mercurynews.com/2013/05/30/los-altos-hills-historic-morgan-estate-for-sale-at-bargain-price-of-27-million/

Additional Information