Zachary-Tolbert House and Cashiers Historical Society
Introduction
The Zachary-Tolbert house, built in the early 1850s, is the location of the Cashiers Historical Society headquarters. Designed, built, and lived in by Mordecai Zachary, the house is said to contain "the world's largest collection of plain-style furniture crafted by one person in one location."5 It is also an historically significant example of Greek Revival architecture in western North Carolina. In addition, the Society has moved several other historic buildings to the grounds, including an 1891 one-room schoolhouse built by General Wade Hampton. The grounds and trails are open year-round and the restored house is open for tours seasonally.
Images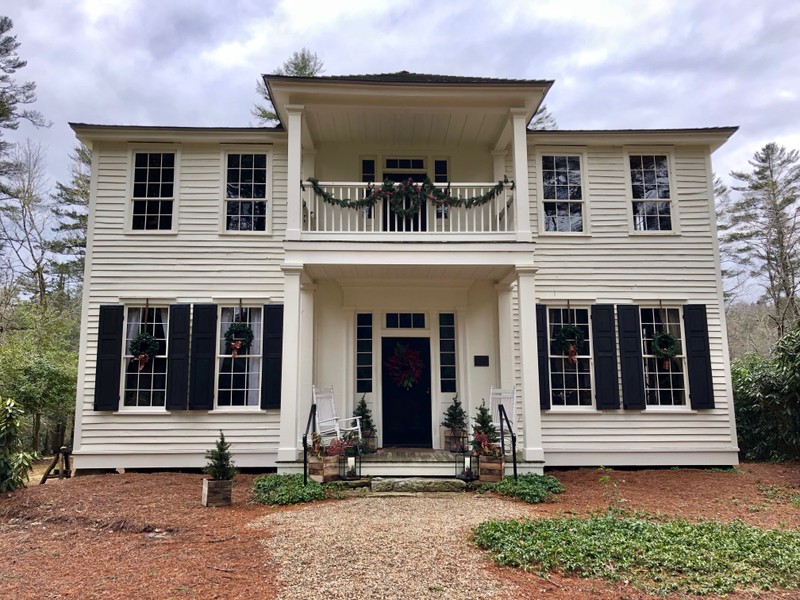 Backstory and Context
According to The Promised Land – Cashiers Valley by John Parrish, 
"Mordecai [Zachary] was a fine carpenter and also a cracker-jack stone mason. His fireplaces and chimneys were works of art…. And in the house is still some of the furniture that Mordecai made. Such as the beds and a dining room table of holly, so big it won't go through a door. Both beds and the table were made inside the house."1
In addition to its age and furniture collection (both beds are extant; unfortunately, the table has been lost), the house is also architecturally significant. Per the house's National Register nomination form, it "is a classic example of a two-story wooden vernacular Greek Revival house."1 Though this style was very popular when the house was built, it is unusual to find such ornate architecture in sparsely populated and rugged regions such as the North Carolina mountains were at that time. Its intricacies and beauty testify to the ingenuity and skill of its builder, Mordecai Zachary.
Born in 1822 to Col. John Alexander Zachary, Mordecai and his parents and siblings were one of the first white families to settle in the Cashiers Valley. He arrived in 1832 and, though deeded 100 acres of land by his father in 1846, was still living with his family in 1850. He designed and built his own house on the land around this time; it is believed he learned about the intricacies of Greek Revival architecture from books such as The American Builder's Companion that were popular at the time.1 He married Elvira Evelina Keener in early 1852 and raised a family of 13 children with her. Many influential South Carolinians stayed in the Cashiers Valley area for the summer to escape the oppressive heat, including General Wade Hampton, later South Carolina governor, who may have stayed at the house and whose house Zachary may have built. Zachary worked as a farmer, a builder, and (in the late 1850s) a postmaster; in 1860 he had tripled his farmstead to over 300 acres and grew Indian corn, peas, beans, and Irish potatoes, made butter, molasses, and other goods, and owned horses, milk cows, cattle and oxen, sheep, and swine. In addition, one of his daughters recalled a saw mill, a grist mill, and an apple orchard in her autobiography.
When the Civil War broke out, Zachary joined the Confederate Army, aligning with his rebel in-laws despite one of his own brothers being a Union man. After the war, possibly due to residual tensions, Zachary bought land next to his former commander in Whittier, North Carolina, and sold his old home in 1873. The estate was resold several more times before ending up with R.R. Tolbert, Jr., in 1909, and it was passed down through the Tolbert family for the rest of the 20th century. (Over the course of these sales, the size of the estate decreased from 300 acres to about 5 and a quarter.)
The house was added to the National Register of Historic Places in 1998 and was restored and opened to the public by the Cashiers Historical Society in 2001. Several other historic buildings are now located on the property, including an 1891 one-room schoolhouse that was moved on a truck in 2018 from a nearby golf course that had converted the school into a guest house in the early 20th century. 
The site is also the location of the office of the Society, an award-winning group whose mission is "Preserving the heritage of Cashiers Valley through education, stewardship, and advocacy."3 They hold many seasonal and annual educational and interpretative events as well as fundraisers to support their many projects, which include books and historic sites surveys.
Sources
1) Harris, Ellen, and Jane G. Nardy Pratt . Mordecai Zachary House, National Register of Historic Places Inventory/Nomination Form, North Carolina State Historic Preservation Office. November 24th 1998. Accessed January 13th 2020. https://files.nc.gov/ncdcr/nr/JK0024.pdf.
2) Hodge, Rex. Historic Cashiers schoolhouse moved to new location, ABC News 13 WLOS. August 8th 2018. Accessed January 13th 2020. https://wlos.com/news/local/historic-cashiers-schoolhouse-moved-to-new-location.
3) McCall, Mary Jane. Cashiers Historical Society, Laurel. October 1st 2017. Accessed January 13th 2020. https://www.thelaurelmagazine.com/articles/cashiers-historical-society.
4) Pridgen, Ansley. Cashiers Historical Society. Accessed January 13th 2020. https://www.cashiershistoricalsociety.org/.
5) Top 10 Civil War Sites for Asheville & Western North Carolina, RomanticAsheville.com. Accessed January 13th 2020. https://www.romanticasheville.com/civil_war.htm.
Image Sources
Warren LeMay, Wikipedia (https://commons.wikimedia.org/wiki/File:Zachary_-_Tolbert_House,_Cashiers,_NC_(45899943694).jpg) - CC0 (https://creativecommons.org/publicdomain/zero/1.0/deed.en)

Additional Information