Betsey Mix Cowles House
Introduction
Betsey Mix Cowles is known for her life-long dedication to education, abolition, and women's rights in Northeast Ohio. From early in her career she was passionate about education reform, and later became actively involved in the abolitionist and women's suffrage movements beginning in the mid-1830s. She opened her home to discussions on the moral deprivation of slavery and the necessity of equal suffrage, as well as to fugitive slaves traveling north seeking freedom.
Images
Remarkable Ohio Historical Marker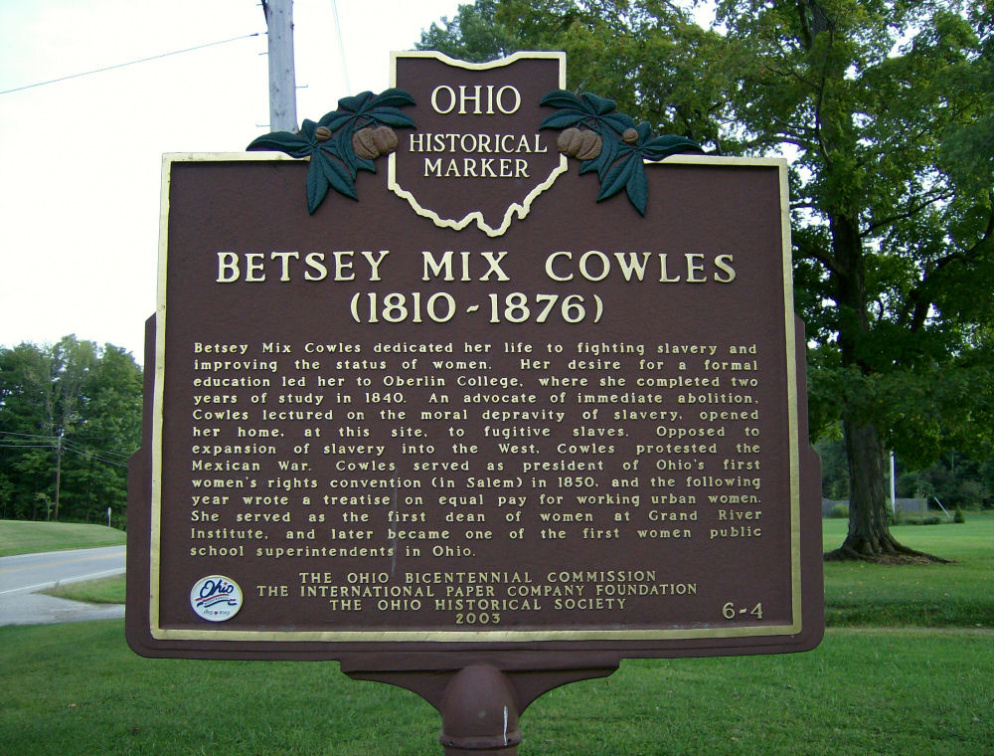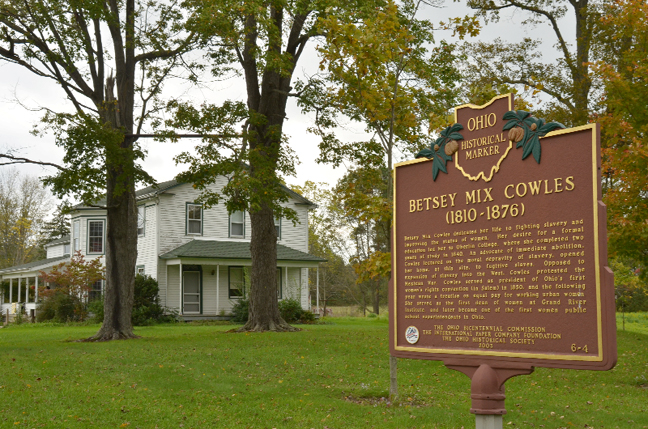 Backstory and Context
Betsey Cowles was born on February 9, 1810 in Bristol, CT, daughter of Giles H. Cowles and Sally White Cowles. The Cowles family settled in Austinburg, OH in Ashtabula County in 1811. Cowles wanted to be an educator and was passionate about early childhood education. She left to study infant schools in New York, and returned to Northeast Ohio to open an infant school in Kinsman with her sister, Cornelia, in the late 1820's. Cowles enrolled at Oberlin College for their Ladies' Course in 1838 and was a member of the third female graduating class in 1840.
Throughout her career, Cowles accepted several notable positions in education administration in Ohio's communities. Thanks to her aptitude for leadership, she served as principal in Portsmouth, Massillon, and the Grand River Institute in Austinburg. She made an impact in the Stark County education system as the superintendent of Canton high schools and by helping to organize the Stark County Common School Association. She would later become the first female superintendent of the Painesville, OH school system. Later in her career, she shifted focus to promoting higher education for women and became the supervisor of practice teachers at the McNeely Normal School in Hopedale, OH, and assisted with the organization of normal schools in Bloomington, IL. 
By the 1830s, Cowles became active in a number of abolitionist organizations, and was one of the founding organizers of the Ashtabula County Female Anti-Slavery Society, serving as their secretary in 1835 and again in 1847. She began writing for the Anti-Slavery Bugle, a publication of the Ohio Anti-Slavery Society of New Lisbon, OH. She also served as an editor of The Plea for the Oppressed, an abolitionist paper published through the funds of the Ashtabula County Female Anti-Slavery Society. Cowles began to organize and speak publicly at anti-slavery fairs across Northeast Ohio beginning in 1846, and attended abolitionist meetings in New York and Boston, where she was appointed to the Business Committee of the American Anti-Slavery Society and New England Anti-Slavery Society, respectively. Cowles gained notoriety in abolitionist circles, obtaining the support of former slave and abolitionist Frederick Douglass, abolitionist William Lloyd Garrison, and the notable Abby Kelley Foster.
In addition to speaking out against slavery, Cowles advocated for the importance of women's rights and agency to affect change in society. Cowles was elected to preside over the first Women's Rights Convention in the state of Ohio, held in Salem in 1850. The convention produced a memorandum to be presented to the Ohio legislature calling for women's suffrage, garnishing 8,000 signatures, and attendees resolved to hold annual meetings to promote the cause. She also helped organize the 1851 Woman's Rights Convention in Akron as a member of the Business Committee, and presented research on the wage inequalities between urban men and women. In 1852 at the third annual women's rights convention in Massillon, participants voted to establish a permanent women's rights organization, the Ohio Women's Rights Association, for which Cowles held a position on the first Executive Committee.
In 2003, The Ohio Historical Society recognized the Cowles home as a refuge on the Underground Railroad for fugitive slaves traveling along the Ashtabula-Warren Turnpike, as well as acknowledged Cowles for her life-long dedication to education reform, abolition, and improving the status of women with an Ohio Historical Marker. The Cowles House remains in the possession of the family, and the furnishing of the parlor is kept to the same condition from which it was left by Betsey and her immediate family, per her request.
Sources
Keeler, Harriet L. Betsey Mix Cowles and the Anti-Slavery Cause of Austinburgh. Print. From Ohio History Connection, Wilbur H. Seibert Collection. <https://ohiomemory.org/digital/collection/siebert/id/1438>
Cowles, Betsey M. Betsey Mix Cowles Letter Regarding Anti-Slavery Activity. Letter. From Kent State University, Betsey Mix Cowles Papers. <https://ohiomemory.org/digital/collection/p267401coll36/id/2606/rec/2>
Geary, Linda L. (1989). Balanced in the Wind: A Biography of Betsey Mix Cowles. Lewisburg, Pennsylvania: Bucknell University Press. 
Proceedings of the Ohio Women's Convention, held at Salem, April 19th and 20th, 1850: With an Address by J. Elizabeth Jones. Cleveland: Smead & Cowles, 1850. From the American History Research Center, Kent State University, the Betsy Mix Cowles Papers. Online access via Ohio Memory.
Foster, Abby Kelley. My Dear Friend. 1846. MS. Boston Public Library, Cleveland.
Image Sources
Ohio History Connection

Star Beacon of Ashtabula, Ohio

Additional Information