Paul Shoup House
Introduction
Constructed in 1910, this was the home of Paul Shoup, a businessman who played a substantial role in the expansion of the Southern Pacific Railroad throughout California and the western United States. Shoup secured the influence of local and national politicians from Sacramento to Washington which aided him in his efforts to expand the railroad and promote the commercial development of California. Shoup is considered by many to be the founding father of Los Altos as his wealth and influence bolstered early efforts to develop the town and nearby region as a commuter residential district.
Images
The Shoup Home as it looks today, after a restoration project.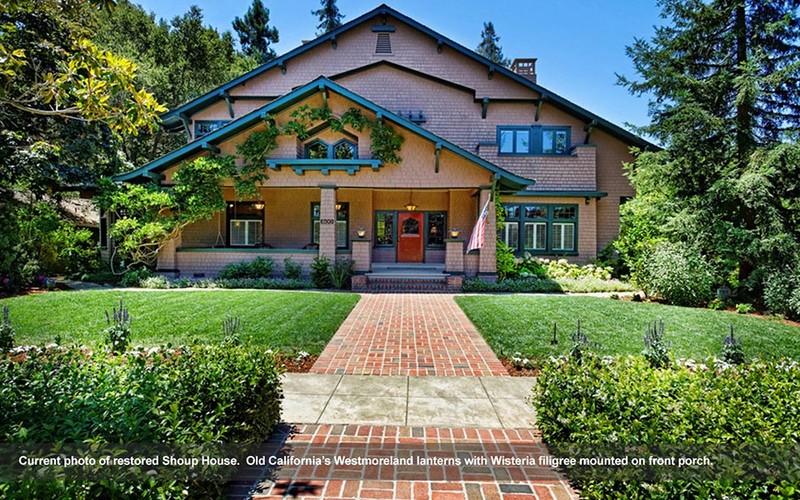 Los Altos History Museum Archives Photo of house Circa 1920, prior to remodel extending house to left of house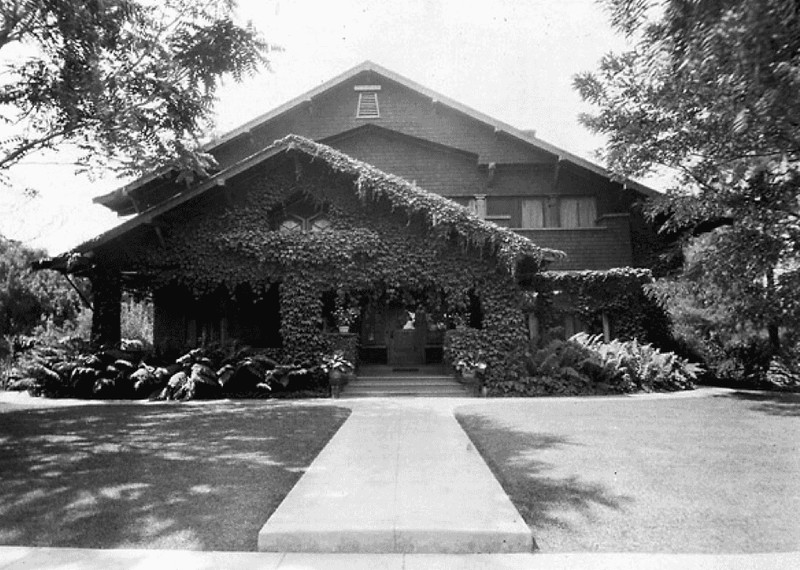 Backstory and Context
Paul Shoup was born in San Bernardino, California on January 8, 1874, two years after his family relocated from Iowa. While in high school in San Bernardino, Paul worked his way up from paperboy to a reporter for the Los Angeles Express; when he graduated in 1891, he had already become a published author. However, he stepped away from writing to work for a very short time as a clerk in the mechanical department of the Atchison, Topeka & Santa Fe Railroad in San Bernardino before quickly moving to a position as a ticket clerk for Southern Pacific. 
While at Southern Pacific, Shoup continued to hone his writing skills by composing pieces for magazines. When Southern Pacific promoted him to the Passenger Depart in San Fransico, he also wrote promotional materials for local fruit and agricultural products that were distributed by Southern Pacific on the east coast. Shoup soon felt great affection for the San Fransisco Bay region and become intimately connected to many of the area's businesses and civic organizations.
From 1901 to 1906, Southern Pacific promoted Shoup several times and these roles eventually took him to Portland, Oregon. However, On April 11, 1906, a mere one week before the 1906 San Francisco earthquake and fire, the railroad company transferred Shoup back to San Francisco as part of his promotion to Assistant General Freight and Passenger Agent in the region. As a result, Shoup found himself at the front and center of a rebuilding project when the community experienced its greatest tragedy.  
Amid the endeavor to re-establish Southern Pacific's presence in the Bay Area, Shoup also worked to establish the town of Los Altos. In 1907, when landowners forced the Southern Pacific Railway to purchase their entire plot of land instead of only half, as the railway company had hoped, Paul and several business associates formed the Altos Land Company to buy the remaining land from Southern Pacific and develop it into residential enclave near the railroad line. This was a common practice during the era as Railroad Company's routinely worked as real-estate companies because land along a railway enjoyed premium value. The rail lines also connected passengers to San Jose and San Francisco.
Shoup sought to demonstrate the viability of the new community when he purchased one of the largest and most expensive lots in 1910 for his family. On the land, he constructed the large California Bungalow-style home, which now sits as a historic home. He also encouraged members of his family and company to do the same, which many of them did. Indeed, John Mansfield, Southern Pacific's Los Altos station agent, and Sunset Magazine editor Charles Sedgwick Aiken purchased homes in Los Altos. Shoup and his partner's shrewd business deals and growing connections allowed the town to grow to 3,000 people by the 1930s. 
Shoup's post-earthquake work for Southern Pacific, his real-estate and community development, along with his efforts to join a host of influential social clubs, all helped Shoup grow into a significant power broker and also spearheaded the development of the electric lines in Los Angeles. By 1929, he became President of Southern Pacific, a post he held until his retirement in 1938.  After Shoup retired in 1938, he became President of Southern Californians, Inc. (a.k.a Merchants and Manufacturers), an influential pro-business, anti-labor political group.
Shoup actively aided the presidential campaign of Republican Alfred Landon, who ran against Franklin D. Roosevelt in 1935. He also became a founding member of the San Jose Chamber of Commerce and joined all the influential social clubs of the time, including the Pacific Union Club and the Bohemian Club in San Francisco, as well as the Bankers Club in New York. Demonstrating the importance of his political connections, he regularly corresponded with Congress regarding labor and management issues.
Paul Shoup died on July 30, 1946 in Los Angeles. 
Wife and a Highly Successful Son
Paul Shoup married Rose Wilson on December 1, 1900 and had three children: Carl Sumner, Jack Wilson, and Louise. The family lived in their now-historic Los Altos home. Rose was active in the women's social clubs and an avid supporter of the local arts. She died in their Los Altos home in 1945. Their son, Carl went on to become a profoundly respected economist who drafted the post-World War II Japanese tax structure, forming the modern Value Added Tax (VAT). He also taught economics as a professor at Columbia University. 
The Home
Built in 1910, the large house -- one of the largest constructed in Los Altos' early years -- and lot included quarters for two servant's dwellings as well as two small garages. The main, two-story home enjoys a Craftsman design comprised of wooden shingles, windows, and decorative features. 
Sources
Hofsommer, Don L. The Southern Pacific, 1901-1985. College Station, TX: Texas A&M University Press, 2009, 1986.
Steinberg, Theodore. Acts of God: The Unnatural History of Natural Disaster in America. New York: Oxford University Press, 2000. Chapter 2, pp. 25 - 47 deal with the San Francisco earthquake of 1906 and the subsequent response by local businesspersons to help rebuild and promote the town.
Urbano, Becky. "Shoup, Paul, House." National Register of Historic Places. ca.gov. https://ohp.parks.ca.gov/pages/1067/files/shoup%20house%20nr%20nomination%20draft.pdf
White, Richard. Railroaded: The Transcontinentals and the Making of Modern America. New York: W.W. Norton & Co., 2011.
Image Sources
Old California Lighting: https://www.oldcalifornia.com/projects-detail.php?page=28

Public Domain, https://commons.wikimedia.org/w/index.php?curid=50093410

Additional Information