Illinois Central Passenger Depot
Introduction
The Illinois Central Passenger Depot is a historic train station built in 1888 that is now home to the Sioux Falls Community Foundation, a local philanthropic organization. The depot is historically significant for its architecture and association with the city's railroading history. As for architecture, the depot is a good example of the Queen Anne style and is somewhat unique in that it is fairly elaborate for such a small building. Like many historic buildings in the city, it was built with quartzite stone and features a tower, low arches over windows and doors, and a canopy that covered what was once the passenger platform. It was built by the Illinois Central Railroad, the fourth railroad to connect to Sioux Falls, and is listed on the National Register of Historic Places.
Images
The Illinois Central Passenger Depot was built in 1888 and is a fine example of Queen Ann architecture.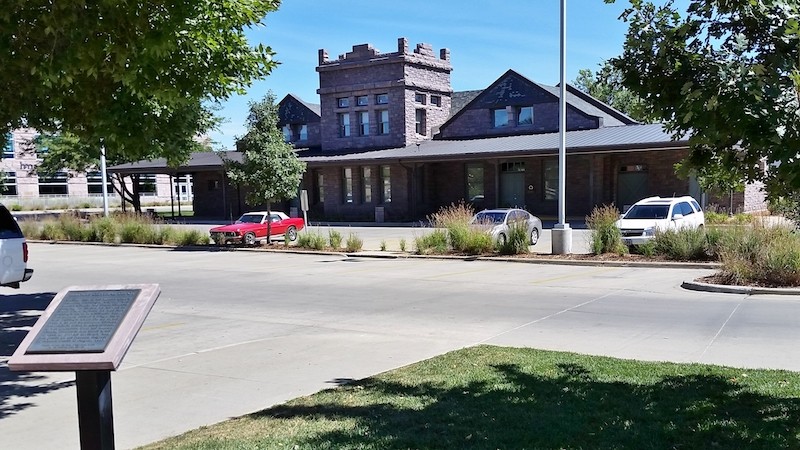 Backstory and Context
By the time the depot was built, railroading was in its early stages in Sioux Falls. As stated above, the Illinois Central was the fourth railroad to arrive in the city and it contributed to the decades-long period in which railroading was a key part of the local economy. The railroad line was completed on December 19, 1887, well before the depot was finished. Despite this, the last spike to be driven was cause for celebration; the mayor, other city officials, and member of the public came out for the ceremony. Eventually, after train service declined in the mid-20th century (it transitioned from a passenger to a freight depot in the 1950s), the depot was abandoned and fell into disrepair. It was renovated into office space in 1982. The foundation, which was established in 1969, moved into the depot in 2013.
Sources
"Illinois Central Depot." The Historical Marker Database. Accessed January 9, 2020. https://www.hmdb.org/m.asp?m=124587.
Olson, Dr. Gary. "Illinois Central Passenger Depot." National Park Service - National Register of Historic Places Nomination Form. August 18, 1983. https://npgallery.nps.gov/GetAsset/d69e1a76-95ae-4aee-8100-e8a233a349df.
"Our Story." Sioux Falls Community Foundation. Accessed January 9, 2020. https://www.sfacf.org/about-us/our-purpose-and-story.
Image Sources
The Historical Marker Database

Additional Information