Marshall Field & Company Store
Introduction
The Marshall Field & Company Store first occupied this site in 1868. The current building was constructed in stages between 1892 and 1907. It has been a prominent feature of Chicago's State Street ever since, with its Tiffany mosaic ceiling, the Walnut Room restaurant (the oldest in the US), and iconic clocks protruding over the sidewalk. The success of Marshall Field's can be attributed to its progressive approach to customer service. It was the first major store to offer in-store dining, encourage merchandise browsing, employ women, and offer money-back guarantees. In 2006, the building was rebranded as Macy's to public outrage, which perhaps demonstrates the strong nostalgia and sense of ownership that native Chicagoans feel about this beautiful historic downtown landmark.
Images
Marshall Field's, about 1905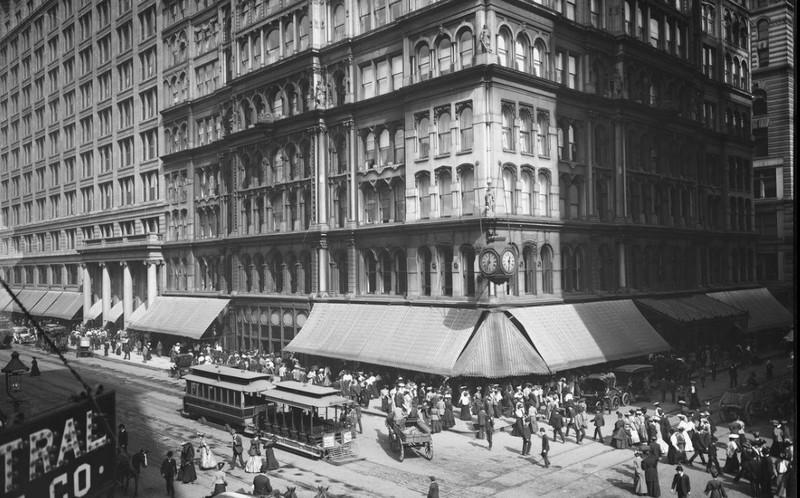 Marshall Field (1834-1906)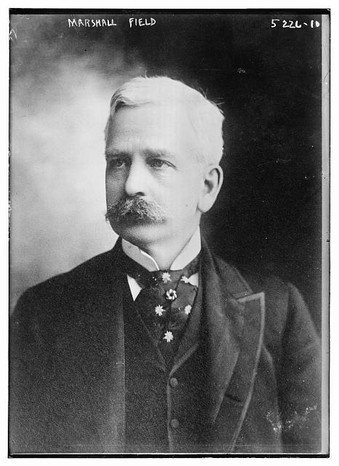 Inside the atrium of the store, circa 1900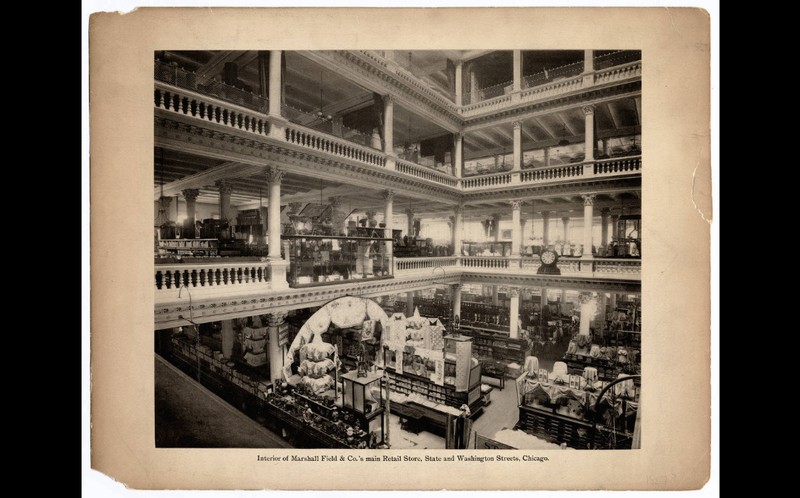 Early advertizing, capturing the company's focus on outstanding customer service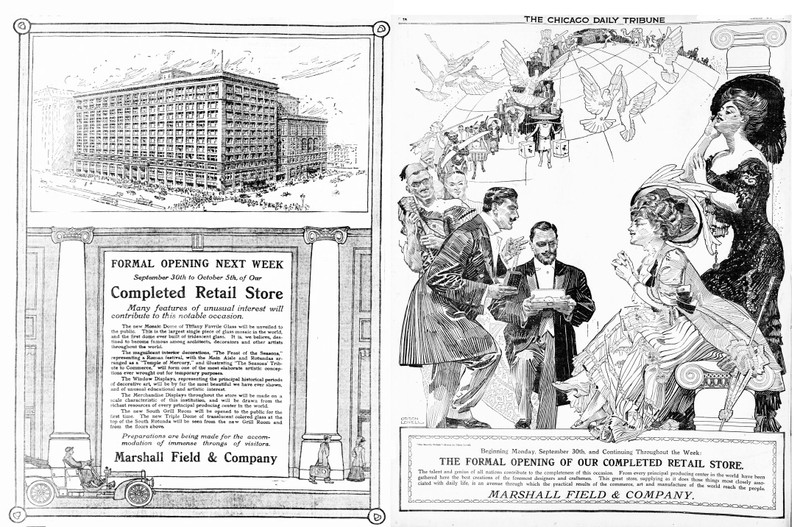 Marshall Field main entrance in 1908, just after expanding to take up the entire city block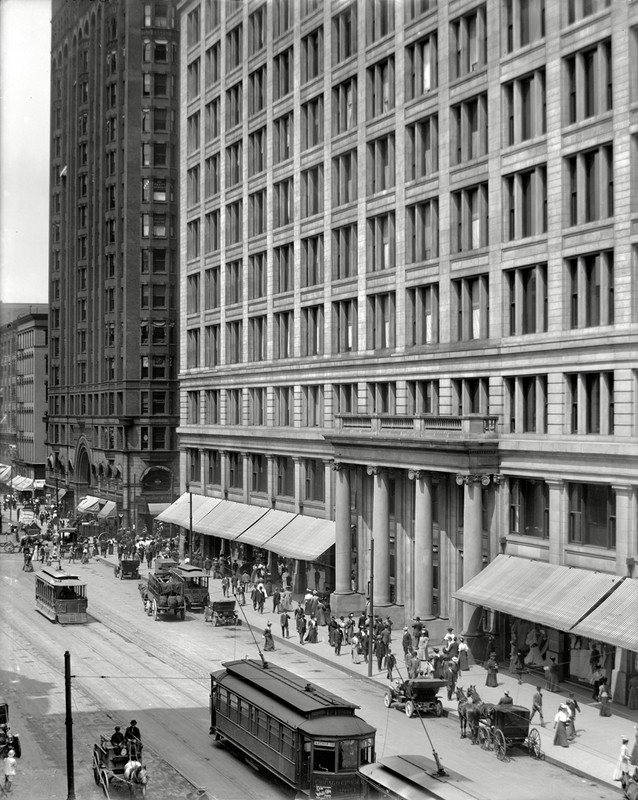 Pedestrians walk past and gather under one of the store's iconic clocks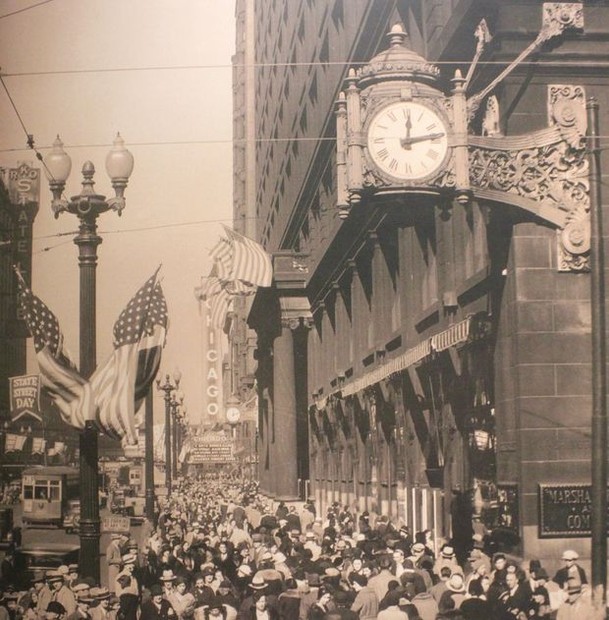 The store's vaulted ceiling, made of the largest Tiffany glass mosaic in the world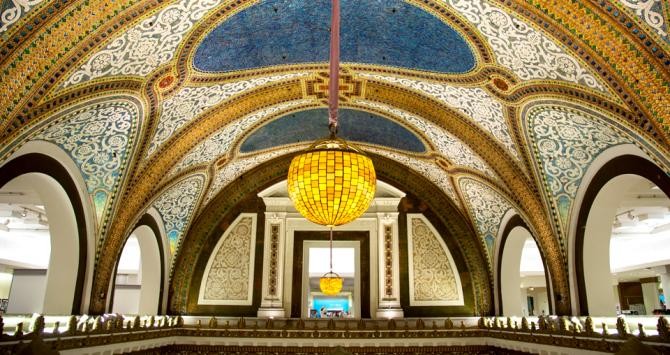 The Walnut Room, opened in 1907, was both the first restaurant in a store and the oldest restaurant in the US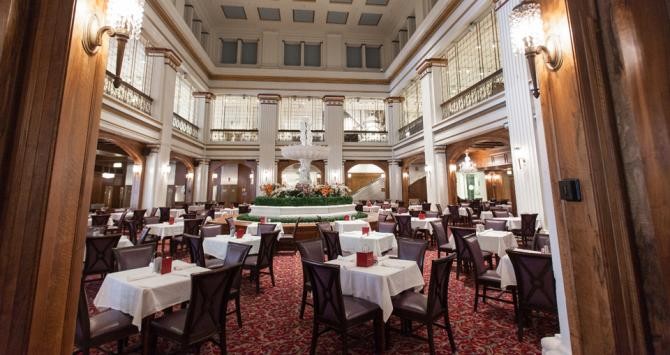 The store was rebranded as Macy's in 2006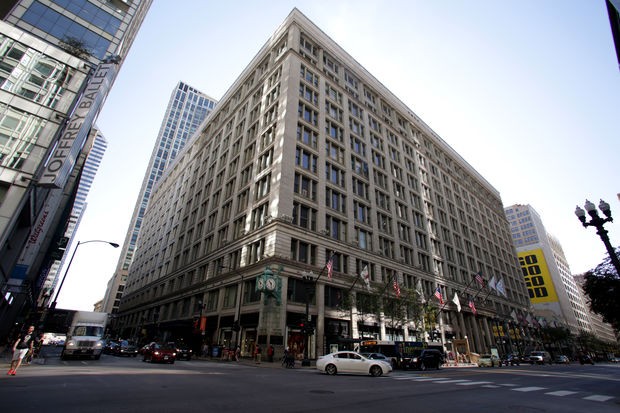 Backstory and Context
Marshall Field & Company began as a partnership from Marshall Field, Milton Palmer, and Levi Leiter in 1865. Field had come to Chicago from Massachusetts about ten years earlier and had worked as an apprentice to merchant Potter Palmer. Field and his partners first ran a dry goods store they purchased from Potter Palmer at 112-116 Lake Street, as well as a retail and wholesale business. In 1868, their operations moved to a building at the corner of State and Washington Streets. Field eventually bought out his partners and went into retail exclusively. The buildings that occupied the current site were destroyed by fire in 1871 and 1877, and he briefly moved operations to various other locations around the city in the meantime. However, in 1879, Field purchased the Singer building on the site, and moved his company there permanently. [1]
In 1892, an annex, designed in an Italian Renaissance style, was added to the State Street store. [1] In 1902, a twelve-story building was constructed to the north, extending to Randolph Street. In 1905, Field made plans to tear down the old Singer building and construct a new emporium that would take up the entire block surrounded by State, Washington, Wabash, and Randolph Streets. This massive construction opened to the public in great fanfare on September 30, 1907. Designed by the renowned architectural firm of Daniel Burnham, the building was valued at $8 million and contained almost 35 acres of floor space. [1]
Marshall Field & Company became the largest importer in the US, as well as the largest distributer, with sales in the tens of millions at the time of Field's death in 1906. The success of Marshall Field's business can be attributed to his focus on impeccable customer service, especially when it came to valuable female customers. Fields is credited with coining the phrase, "Give the lady what she wants." [1,4] Everything about the store was designed to make shopping as pleasant and as convenient as possible. Marshall Field & Company became one of the first retail stores to: offer one price over haggling, have merchandise out and available for browsing rather than behind a counter, employ women, offer bridal registries, and have money-back guarantees. [3,4]
A large bronze clock was installed outside of the store at the corner of Washington Street in 1897. It projected out over the sidewalk and served as a perfect meeting place for shoppers. It was so popular that, in 1902, another was installed at the corner of State and Randolph. [2] The "Great Clocks" are signature pieces of the Marshall Field's Company Store. Inside, the building has a dome ceiling covered in 1.6 million pieces of Tiffany glass. The largest Tiffany mosaic in existence, it took artists over 18 months to assemble. [2] The store's restaurant, the Walnut Room, was the first restaurant located in a department store when it opened in 1907. It is also the oldest continuously operating restaurant in the US, famous for its chicken pot pie, which was a recipe from an early staff member. [2]
Marshall Field's also became famous for its Christmas decorations and display windows. Beginning with a small decorated tree in the Walnut Room for the holiday season in 1907, the restaurant could claim the world's largest indoor Christmas tree a few decades later. [5] The first window displays began in the 1910s, and exploded in the 1940s, with narrative holiday storylines. People from all over the Midwest came to shop and view the holiday stories told through the elaborate displays. [5]
In 2005, Marshall Field & Company was purchased by Macy's, Inc. The building itself was rebranded as Macy's in 2006, sparking outrage among some Chicagoans. Protestors picketed outside and called for a boycott of the department store until the name was changed back. [3,5] In 2018, the top floors of the building were sold. The space had been used for years as storage and offices by Marshall Field's. A "treasure trove" of boxes holding historic merchandise, mannequins, window display material, and other decorations. Many pieces were put on display in an exhibit within the store, while others have been donated to the Chicago History Museum. [6]
Sources
1.      Christian, Ralph J. "National Register of Historic Places Inventory-Nomination Form: Marshall Field & Company Store." National Park Service Website. March 1977. Accessed January 8, 2020. https://npgallery.nps.gov/NRHP/GetAsset/NHLS/78001123_text.
2.      Hanson, Keri. "The Fascinating History of Macy's on State Street in Chicago." Macy's Tourism Marketing and Development Website. January 16, 2018. Accessed January 8, 2020. https://www.visitmacysusa.com/article/fascinating-history-macys-state-street-chicago.
3.      Matthews, David. "Marshall Field's Lives On At Macy's, 10 Years After The Big Name Change." DNAinfo News. September 8, 2016. Accessed January 8, 2020. https://www.dnainfo.com/chicago/20160908/downtown/marshall-fields-lives-on-at-macys-10-years-after-big-name-change/.
4.      "Marshall Field & Company Store Sign." National Museum of American History. Accessed January 8, 2020. https://americanhistory.si.edu/collections/search/object/nmah_1461454.
5.      Goddard, Leslie. "For Generations of Chicagoans, Marshall Field's Meant Business, and Christmas." Smithsonian Magazine Online. December 19, 2016. Accessed January 8, 2020. https://www.smithsonianmag.com/history/generations-chicagoans-marshall-fields-meant-businessand-christmas-180961499/.
6.      Lewis, Sean. "Treasure trove of festive finds unearthed in Marshall Field's vault." WGN9 Television. November 1, 2018. Accessed January 8, 2020. https://wgntv.com/2018/11/01/treasure-trove-of-festive-finds-unearthed-in-marshall-fields-vault/.
Image Sources
Chicago History Museum: http://digitalcollection.chicagohistory.org/cdm/ref/collection/p16029coll5/id/107

Library of Congress (public domain): http://www.loc.gov/pictures/item/2014710839/

Chicago History Museum: http://digitalcollection.chicagohistory.org/cdm/singleitem/collection/p16029coll5/id/1418/rec/17

Chicagology Blog, Terry Gregory: https://chicagology.com/skyscrapers/skyscrapers052/

Library of Congress (public domain): https://www.loc.gov/pictures/item/2016809847/

DNAinfo News: https://www.dnainfo.com/chicago/20160908/downtown/marshall-fields-lives-on-at-macys-10-years-after-big-name-change#slide-22

Macy's: https://www.visitmacysusa.com/article/fascinating-history-macys-state-street-chicago

Macy's: https://www.visitmacysusa.com/article/fascinating-history-macys-state-street-chicago

DNAinfo News: https://www.dnainfo.com/chicago/20160908/downtown/marshall-fields-lives-on-at-macys-10-years-after-big-name-change#slide-22Nat

Additional Information