Allen Temple AME Church Cincinnati, Ohio
Introduction
Allen Temple African Methodist Episcopal (AME) church was the first Black church established in Cincinnati and west of the Allegheny Mountains. The congregation dates back to February 4th of 1824 as members formed their own church which met in private homes for mamhy years. Prior to the Civil War, the congregation met in the cellar of Pastor Philip Brodie's home.
Images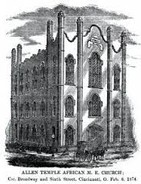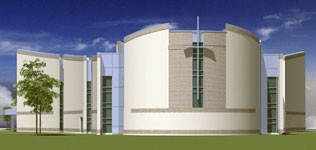 Backstory and Context
During the Civil War, white residents were increasingly hostile to the church but members risked their own safety and security to provide shelter to former slaves that had escaped either from their former masters or from contraband camps.
In October 1870, five years after the Civil War, members of the congregation purchased the former Israel Synagogue (6th and Broadway) for the price of $25,000. The congregation grew steadily and in 1979 this location was selected for the new sanctuary and Family Life Center.