United States Courthouse
Introduction
The United States Courthouse in Sioux Falls is historically significant in two ways: it is a beautiful example of Romanesque architecture, and its construction in 1895 signified the federal government's commitment to westward expansion. In terms of architecture, the building, which was expanded on a few occasions, the building features a rose-colored quartzite stone (also known as jasper) facade, arches, a slate roof, two octagonal turrets, and other decorative elements. The courthouse was added to the National Register of Historic Places in 1974 and has remained an important landmark.
Images
Built in 1895, the United States Courthouse is a fine example of Romanesque architecture.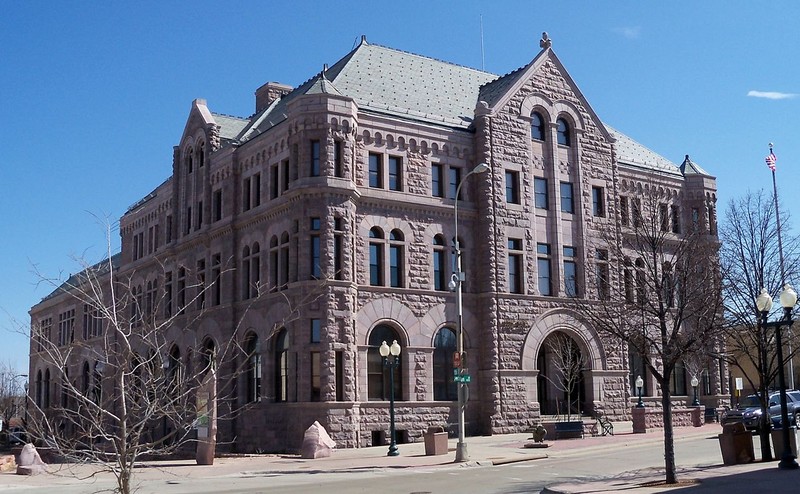 Backstory and Context
The courthouse was built in tense period for South Dakota, which had recently become a state in November 1889. Just a year later, one of the most infamous incidents in American history—the Wounded Knee massacre, which is also known as the Battle of Wounded Knee—occurred on December 29, 1890. A series of events resulted in U.S. Army soldiers massacring around 150-300 Lakota Indians, many of them women and children, on a site along Wounded Knee Creek which is located in western South Dakota near the border with Nebraska (25 soldiers were also killed). The construction of the courthouse was meant to reassure settlers of the federal presence in the state and to encourage more to move there.
Construction began in 1892 and as noted above, it was completed in 1895. The first expansion occurred in 1911 along with some other changes. A two-story addition on the east side was built in 1931. In 1968, after the post office moved to a new building the courthouse was altered once again. Further renovations occurred in the 1970s, 1980s, and in 2000.
Sources
Pickens, Buford L. "Federal Building and U.S. Courthouse." National Park Service - National Register of Historic Places Nomination Form.
May 2, 1974. https://npgallery.nps.gov/GetAsset/57f1632a-9bb1-4235-b296-3e73f53b2c2d.
"U.S. Courthouse, Sioux Falls, SD." U.S. General Services Administration. Accessed January 8, 2020. https://www.gsa.gov/historic-buildings/us-courthouse-sioux-falls-sd#overview.
Additional Information