Mexican Campaign Cannon
Introduction
This three-inch ordnance field cannon, measuring over seven feet long, was used in the U. S. Army's unsuccessful Mexican Expedition against revolutionary Pancho Villa in 1916-1917. Several decades later, in the 1950s, a veterans' organization acquired the field piece. Three decades after that, the American Legion Bicentennial Post 76 brought it to Annandale and initiated an extensive restoration project. As part of this restoration effort, new wheels were built for the cannon. In 1999, the Annandale Streetscape Project erected a historical marker to accompany the historic artillery. The cannon underwent another restoration in 2018-2019, completed by a community Eagle Scout and many volunteers.
Images
Annandale Cannon by J. J. Prats on HMDB.org (reproduced under Fair Use).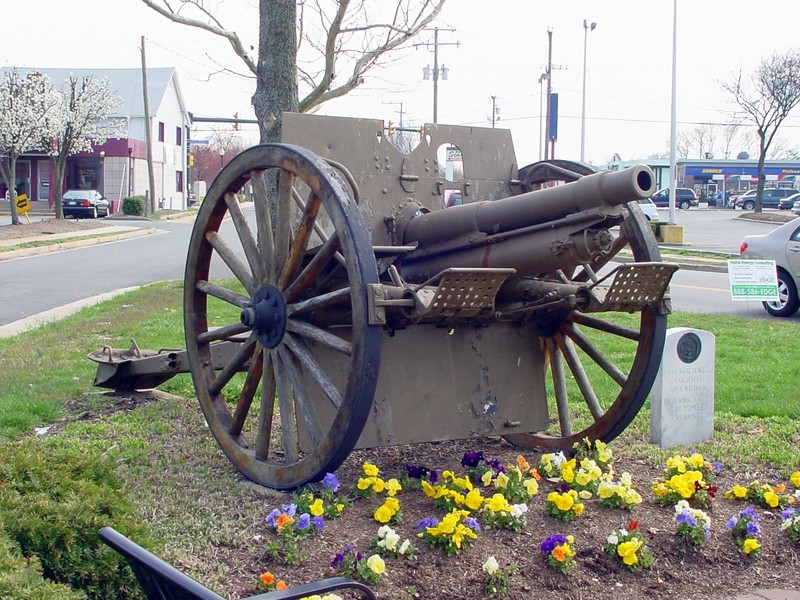 Backstory and Context
Mexican revolutionary Pancho Villa raided a U. S. Army base in Columbus, New Mexico, on March 9, 1916. He attacked in retaliation for the withdrawal of President Woodrow Wilson's support in the Mexican Revolution. In response, President Wilson appointed General John Pershing as commander of a force tasked with capturing Villa -- dead or alive -- and policing the U. S.-Mexico border. The Mexican Expedition, also known as the Punitive Expedition, pursued Villa in 1916-1917. The expedition ended in February 1917 without capturing Villa; General Pershing, as well as many of his men, went on to serve in World War I.
The cannon is a three-inch calibre Model 1905 field gun, made from nickel and steel. It is a breechloader, with ordnance loaded from the back of the gun. The standard length of this model is seven feet, with a weight of nearly 800 pounds. It was built at the U. S. Army's arsenal in Watervliet, New York.
A local veterans' group obtained the cannon in the 1950s. The American Legion Bicentennial Post 1976 acquired the cannon in the early 1980s and supported its restoration. A master wheelwright crafted new wooden wheels for the cannon as part of this restoration. The Post installed it as a memorial to the "sacrifices made by veterans in maintaining freedom around the world," as stated on the historical marker. The cannon sits near at the intersection of Columbia Pike and Backlick Road in Annandale. The monument includes a small stone tablet next to the cannon with the quote: "That which we do for ourselves dies with us. That which we do for others remains," attributed to Albert Pine.
The American Legion post continues to maintain the cannon, and initiated another restoration in 2018 to replace parts which had rusted out and to replace the wheels again. The restoration team, which included an Eagle Scout candidate, a collision repair restorer, and many volunteers, spent over 400 hours restoring the cannon, which returned to its place in June 2019.
Sources
Gruber, Edmund L. 1917. Notes on the 3 inch gun materiel and field artillery equipment. New Haven, CT: New Haven Print. Co. Archive.org, Accessed January 2nd 2020. https://archive.org/details/noteson3inchgunm00grubrich/page/n5.
Mieri, Magdelena, and Erin Blasco. General Pershing's Mexican Expedition to capture Pancho Villa predates his World War I career, National Musuem of American History Blog. March 9th 2016. Accessed January 2nd 2020. https://americanhistory.si.edu/blog/pershings-mexican-expedition.
Prats, J. J. The Cannon, Historical Marker Database. June 16th 2016. Accessed January 2nd 2020. https://www.hmdb.org/m.asp?m=6919.
The Annandale cannon is getting a makeover, Annandale Blog. August 15th 2018. Accessed January 2nd 2020. https://annandaleva.blogspot.com/2018/08/the-annandale-cannon-is-getting-makeover.html.
Annandale cannon lovingly restored and back in place, Annandale Blog. June 6th 2019. Accessed January 2nd 2020. https://annandaleva.blogspot.com/2019/06/annandale-cannon-lovingly-restored-and.html.
Image Sources
https://www.hmdb.org/PhotoFullSize.asp?PhotoID=20808