Downtown Shreveport YMCA
Introduction
The Downtown Shreveport YMCA is a historic building erected in 1925 that is significant for its unique Italian Renaissance architecture and its association with the YMCA. Designed by architect Clarence W. King, the building resembles the Villa Medici in Rome, Italy. The building's most interesting and recognizable features are the twin bell towers on the roof. Other notable features include arched openings, some of which have double windows; a triple-arched entrance with Corinthian columns and the YMCA emblem; a rooftop balustrade; and blue and gold terra cotta decoration. Inside, the central lobby features a vaulted ceiling, an Italian hooded fireplace in an adjoining room, two gymnasiums, and a basement indoor pool with decorative tilework. The YMCA has occupied the building since its construction, providing the community a space for recreation, educational development, and socializing for nearly a century.
Images
Built in 1925, the Downtown Shreveport YMCA is a fine example of Italian Renaissance architecture.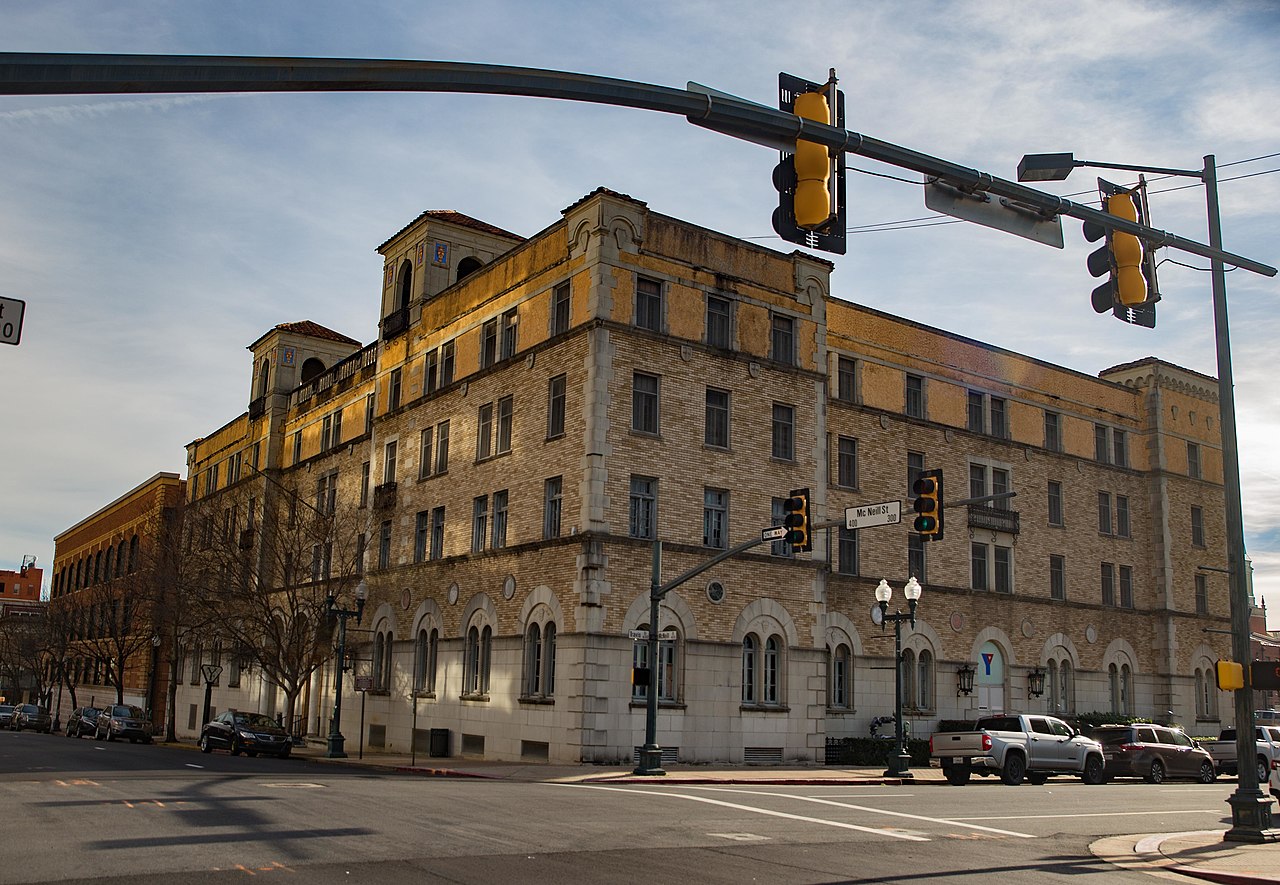 Backstory and Context
The YMCA, which stands for the Young Men's Christian Association and is offered referred to now as the "Y", was originally founded in London, England in 1844 by George Williams. Its purpose was to provide opportunities for bible study, prayer, and recreation for young men (at that time, England was in the midst of the Industrial Revolution and men from the countryside went to cities to find work, but this transition was very difficult and life in cities was crowded and dangerous). In Boston, sea captain Thomas Valentine Sullivan saw a similar situation among young sailors and merchants. He founded the first YMCA in America at the Old South Church on December 29, 1851.
The YMCA grew quickly around the country. It also started to provide opportunities for educational and leadership development, housing, English classes for immigrants, and other programs. Here in Shreveport, the YMCA's origins date back to the 1860s. Its first physical location was a three-story building constructed in 1888 that the city's first gymnasium. Despite being present in the city for many decades, the Shreveport YMCA wasn't officially incorporated 1922. Construction for the downtown building began in 1923 and was completed in 1925. It was added to the National Register of Historic Places in 1923.
Sources
"History, the YMCA in the United States." YMCA. Accessed January 2, 2019. https://www.ymca.net/history.
National Register Staff. "YMCA, Downton Branch." National Park Service - National Register of Historic Places Nomination Form. May 28, 1991. https://npgallery.nps.gov/GetAsset/188c31e3-1e19-45fd-baf2-5702dd960fc8.
"Our History." YMCA of Northwest Louisiana. Accessed January 2, 2019. https://www.ymcanwla.org/about/our-history.
Image Sources
Rene Gomez, via Wikimedia Commons

Additional Information