B. Mifflin Hood Brick Company Building
Introduction
The B. Mifflin Hood Brick Company Building was built in 1909 and added onto in the 1920s. The company was started by its namesake who emigrated to Atlanta from the North in 1904. The company became known for its "non-convict" bricks after Mr. Hood bucked the practice of leasing imprisoned convicts as labor. The building is one of the newer additions to the National Register of Historic Places in Atlanta, listed in December 2018. A recent renovation added a private residence to part of the building; the rest has served as art gallery space - Brickworks Gallery - since 2016.
Images
Photo of entrance to building from company's 1925 "Pottry" catalog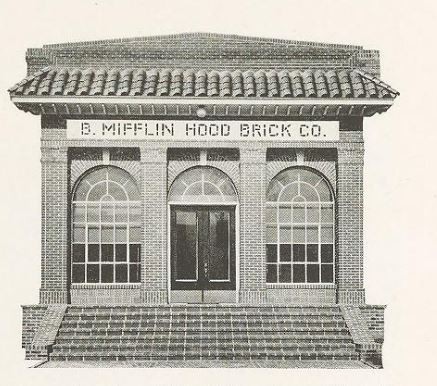 Photo of detail of sign at entrance to building in company's 1925 catalog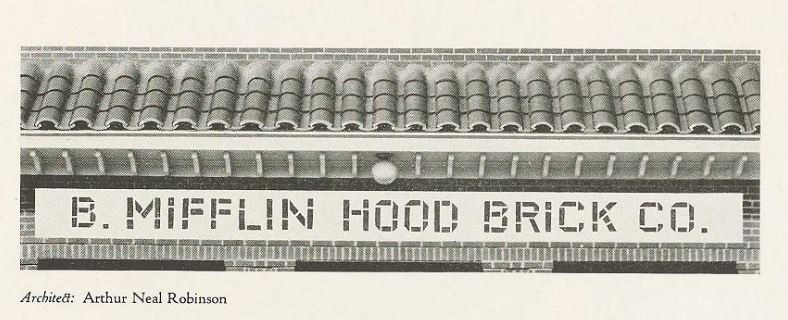 Image of one of rooms in building in company's 1925 catalog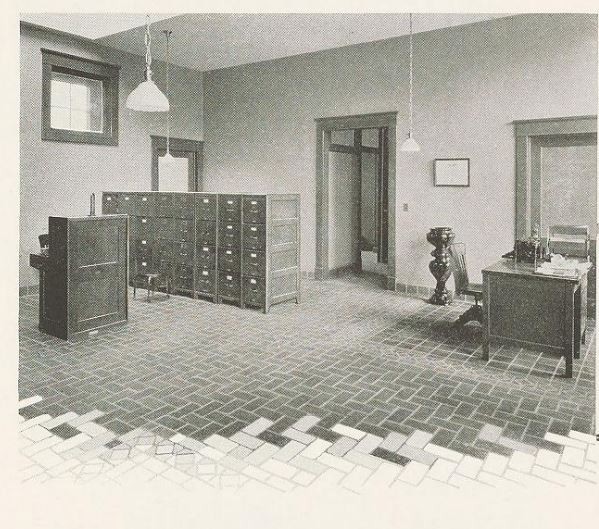 Image of decorative brick fireplace in building in company's 1925 catalog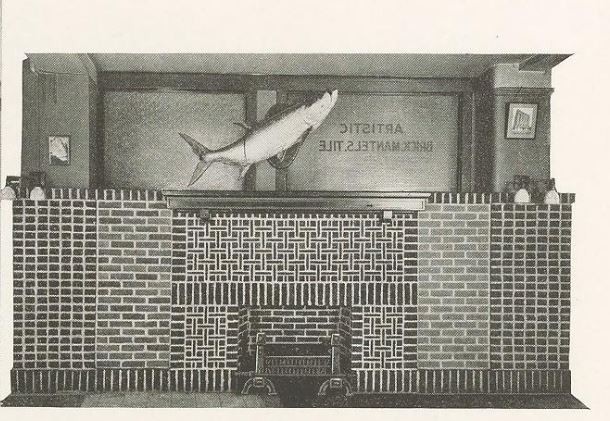 Backstory and Context
The B. Mifflin Hood Brick Company was built in Atlanta in 1909 and underwent a major addition in 1921. The building is constructed of brick, naturally, and is a one-story 11-bay structure. The building was constructed as a showroom and headquarters for the brick company. Brick and tile patterning throughout the building show some of the company's product offerings. The main entrance, on the addition, is marked by a parapet that comes to a low-sloped point with an inset panel above the doors that reads "B. Mifflin Hood Brick Co." Some of the large metal windows are arched and the brick cornice and pilasters add to the building's appeal.
B. Mifflin Hood moved to Atlanta from Philadelphia in 1904 and the engineer and inventor established a successful brick and ceramics enterprise. He was shocked at the practice of leasing labor of convicts in business and worked to reform the practice. He advertised his company's bricks in the Progressive Era as "non-convict." Hood wrote to a building trade journal in 1910 lauding Georgia's decision to make forced labor of convicts illegal in 1909. He congratulated the U.S. government for using two million of his bricks to construct a new Post Office in Atlanta; contractors were very happy with the quality of the bricks.
The company's 1925 catalog of burned clay products included building materials from six manufacturing plants in Tennessee, North Carolina, Georgia and Alabama. To reduce the need to cut brick for details, the company offered eighty special sizes of brick ranging from the "dot" of 1 by 1 inch to the "terrace corner" of 8 by 8 by 4 inch; the bricks came in red and "fire flashed Autumn" colors. Hood introduced technological advances to the Atlanta building products industry including shale brick and manufactured quarry floor tile. He introduced a new department at the Georgia Institute of Technology, Ceramic Engineering.
The building now houses the Brickworks Gallery which opened in 2016, with a ramp entrance on the left side of the historic building. It also includes a private residence in a rear edition added in the 1930's, recently renovated by BLDG's and featuring an industrial style with four 25-light metal windows with keystones. An art exhibition in the gallery in 2018 by a Virginia-to-Georgia transplanted artist, Emma White, showcased the joys of walking through Atlanta; she estimated clocking 20 miles one weekend while visiting the iconic city. White takes photographs and then paints in acrylics and oils from the photos.
Sources
B. Mifflin Hood Brick Co.. Pottry family of burned clay products. Volume 1925 product catalog. Atlanta, GA. Blosser-Williams Company, 1925.
Georgia Historic Preservation Division. B. Mifflin Hood Brick Company Building Listed in the NRHP, Georgia State Historic Preservation Organization. December 21st 2018. Accessed December 30th 2019. https://georgiashpo.org/b-mifflin-hood-brick-company-building-listed-national-register-historic-places.
Hood, B. Mifflin. End of Convict Labor. Brick and Clay Record, vol. 32, no. Feb. 1910139 - 139. Published January 1st 1910. Google books.
Johnston, Andy. "Brick company building on Beltline could get recognition." AJC.com (Atlanta) February 20th 2017. Online ed, News sec.
O'Neill, Gail. Preview: Painter Emma Knight walks through the ATL..., ARTSATL. May 29th 2018. Accessed January 3rd 2020. https://www.artsatl.org/preview-painter-emma-knight-walks-atl-brickworks-gallery-beltline/.
Image Sources
https://library.si.edu/digital-library/book/pottryfamilybur00miff

https://library.si.edu/digital-library/book/pottryfamilybur00miff

https://library.si.edu/digital-library/book/pottryfamilybur00miff

https://library.si.edu/digital-library/book/pottryfamilybur00miff

Additional Information