Lincoln Center for the Performing Arts
Introduction
Located in the Lincoln Square neighborhood of Manhattan, Lincoln Center is the quintessential home for the performing arts. Lincoln Center covers more than sixteen acres and is home to the Metropolitan Opera, New York City Ballet, New York Philharmonic, and more. John D. Rockefeller III spearheaded the creation of Lincoln Center, looking to renew the deteriorating Lincoln Square neighborhood. Rockefeller was also the chief fundraiser, bringing in $185 million for the formation. Lincoln Center is now one of the most famous performing arts centers in the world, bringing in more than five million people from all over the globe and from all walks of life in every year.
Images
Lincoln Center for Performing Arts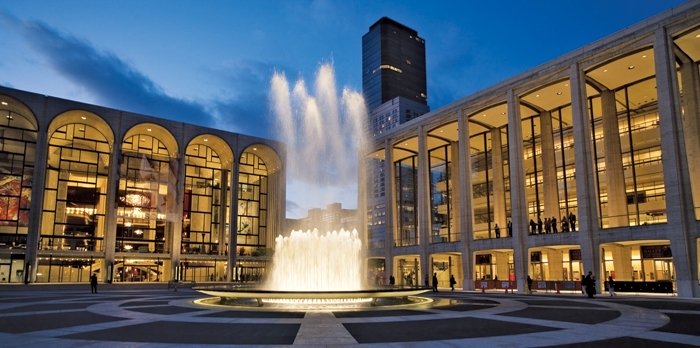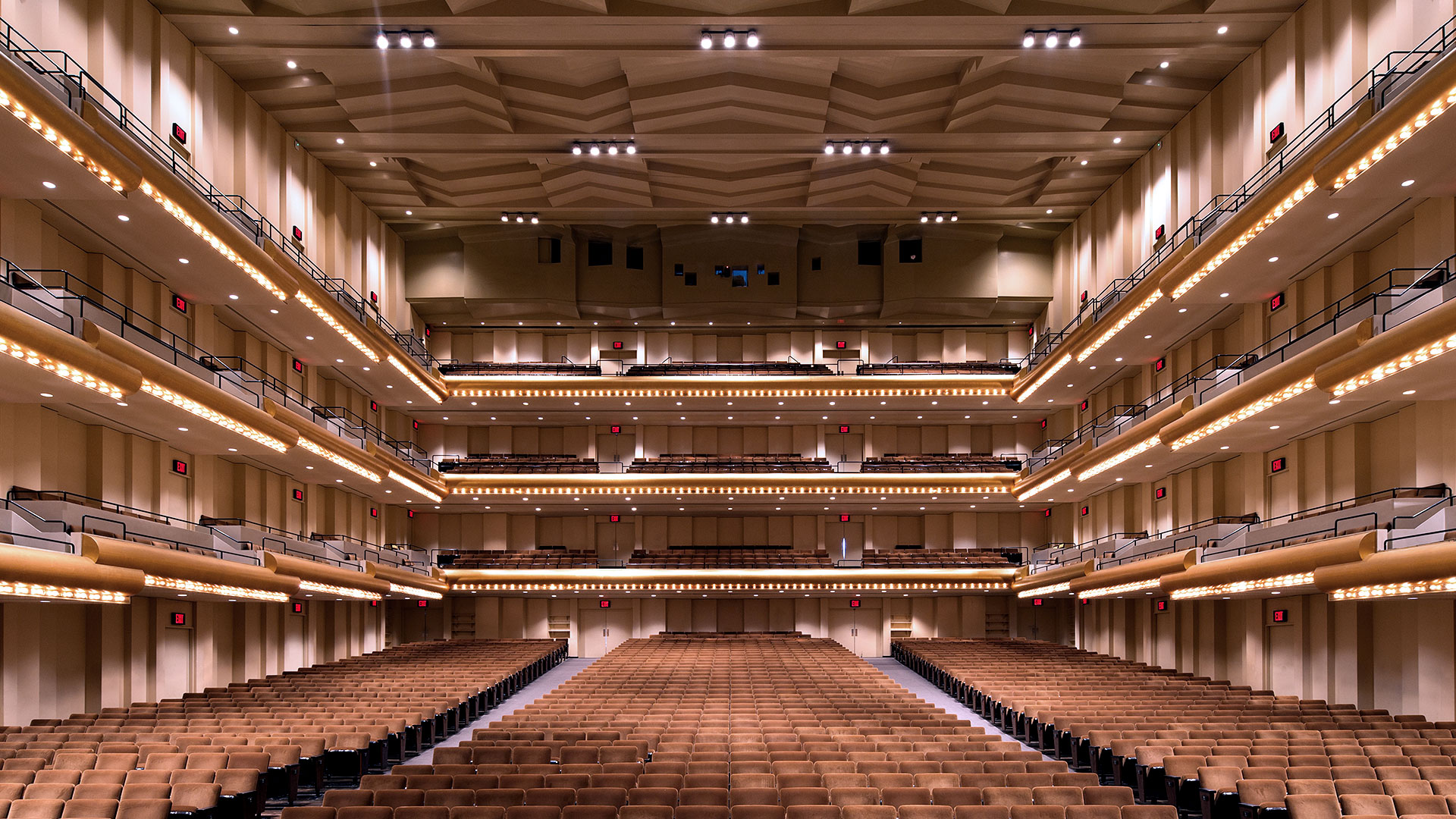 Lincoln Center with New York City in the Background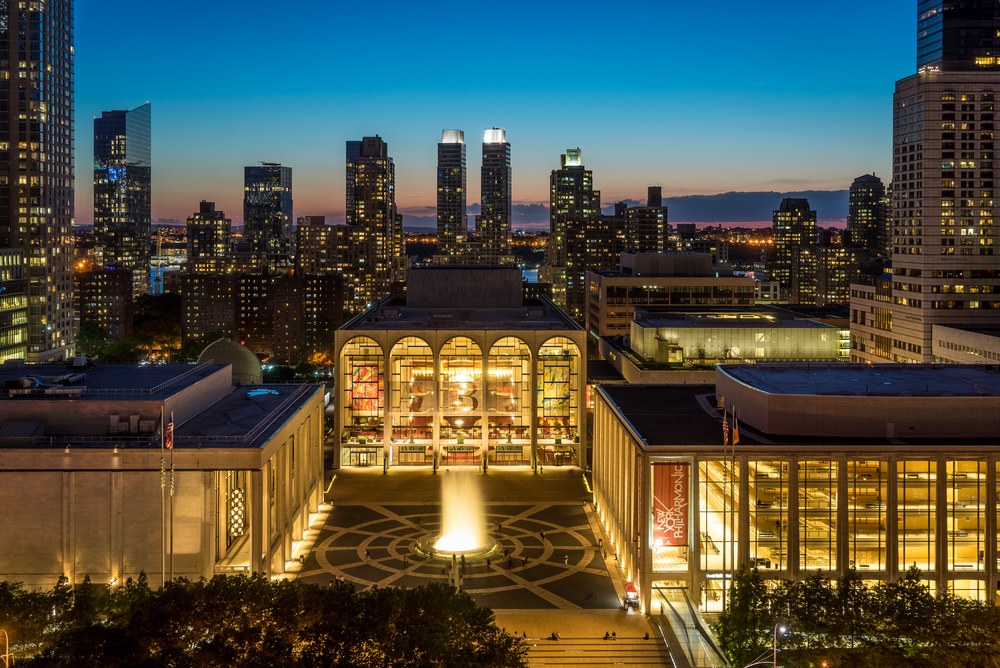 Lincoln Center Under Construction, 1963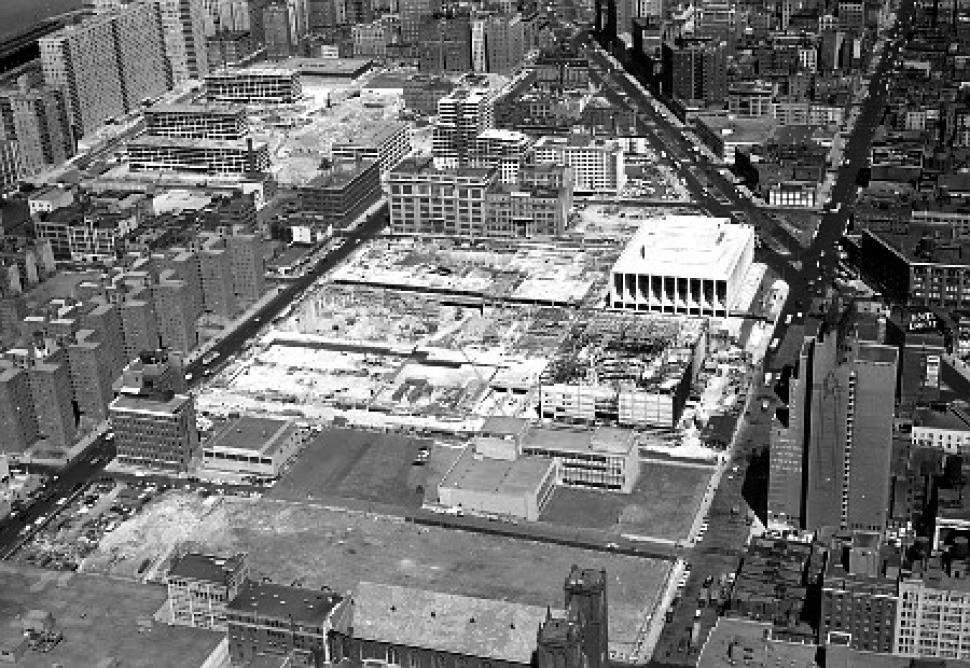 President Dwight Eisenhower Breaking Ground for Lincoln Center, 1959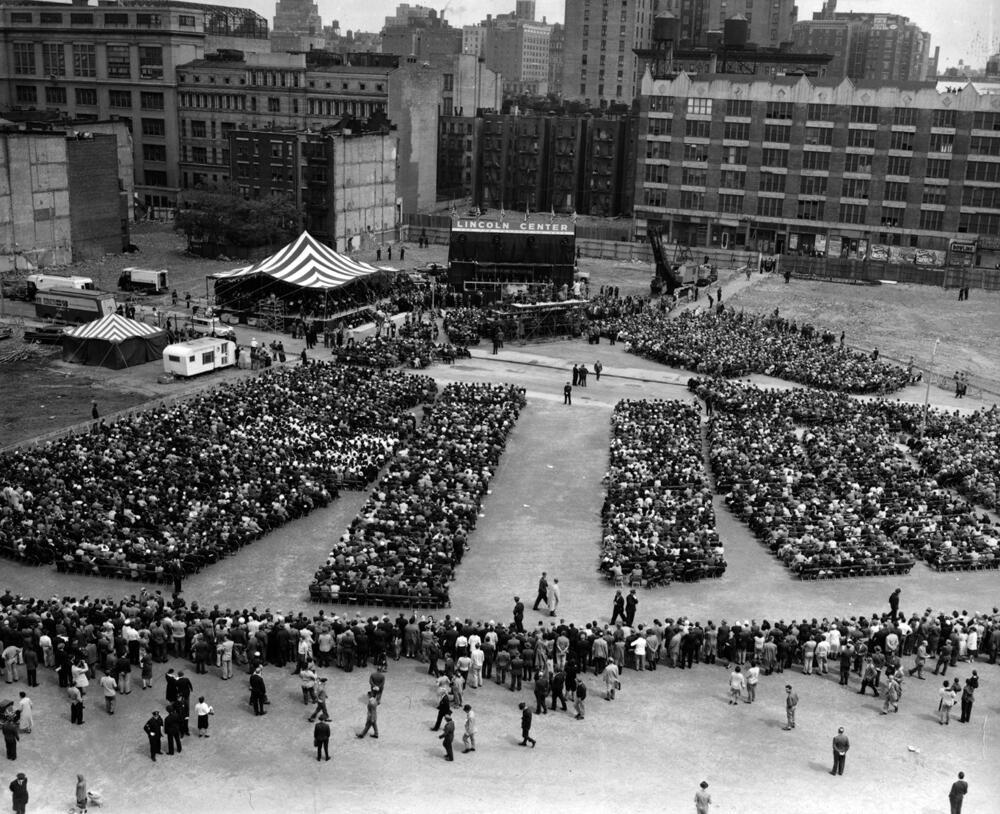 President Ferdinand Marcos of the Philippines, Imelda Marcos, Lady Bird Johnson, John D. Rockefeller, III and Others at the Opening Night of the Metropolitan Opera House, 1962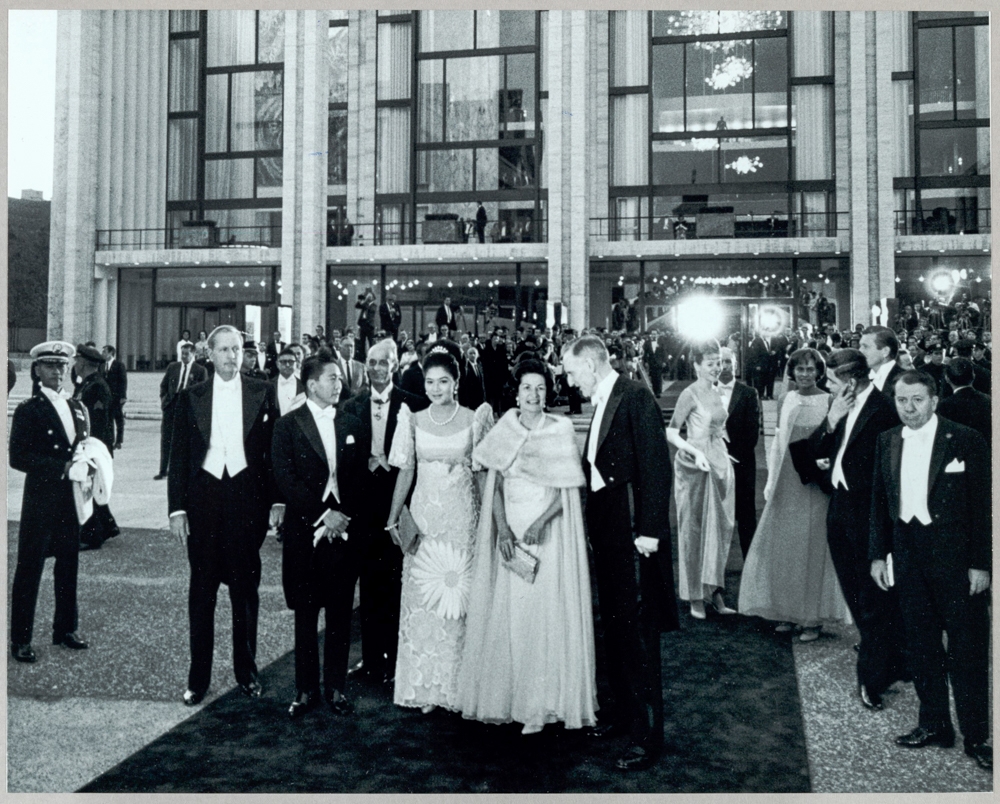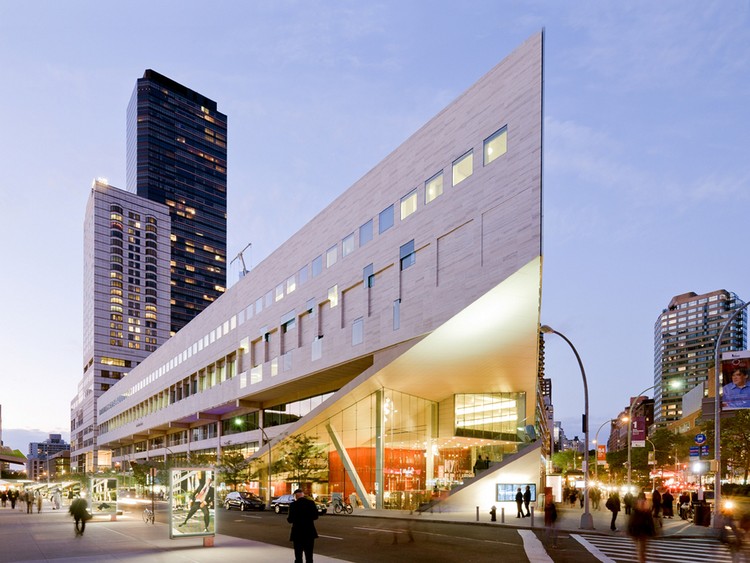 Backstory and Context
In the 1950s, the Lincoln Square neighborhood in Manhattan was in a decline. In order to confront this growing problem, Robert Moses and the Mayor's Slum Clearance Committee announced the "Lincoln Square Renewal Project." The chosen chairman for the project was the most wealthy man in New York, John D. Rockefeller III, who ordered the construction of a large cultural complex. To mark the significance of this massive project, even President Dwight Eisenhower attended the groundbreaking in May of 1959. However crucial the building of a prominent arts center was to Moses and Rockefeller, the building came at a cost that sparked controversy. The neighborhood, also called "San Juan Hill," was a vibrant area that had a rich history and mainly was made up of Hispanics and African Americans. When the order came for Lincoln Center to be built, move than 7,000 families, mostly lower-class, and 800 businesses found themselves displaced. Assistance for relocation could not be found, and many moved to places such as Harlem and the Bronx.
In 1961, John D. Rockefeller III was named Chairman of Lincoln Center and the first performance center, Philharmonic Hall, opened in 1962 with many notable attendees such as Lady Bird Johnson and President Ferdinand Marcos of the Philippines. In 1964 the New York State Theater opened, followed by the Metropolitan Opera House in 1966 and the Julliard School in 1969. Throughout the 1970s, Lincoln Center continued to grow in prominence and in 1976 PBS aired the first live telecast from the Center. By the mid 1980s, managers at Lincoln Center were looking to "Americanize" the music, and in 1987, jazz concerts were introduced.
Forty years after it was built, Lincoln Center underwent a massive modernization led by British architect Norman Foster that was estimated at over a billion dollars. The redevelopment brought in new buildings such as the Clair Tow Theater and the Jazz at Lincoln Center, and a new Alice Tully Hall. Since the early 1960s, there have been various architects to take on projects at Lincoln Center and its numerous buildings, they include: Max Abramovitz (Philharmonic Hall), Philip Johnson (Lincoln Center Fountain and the New York State Theater), Eero Saarinen (Vivian Beaumont Theater), Wallace K. Harrison (Metropolitan Opera House), and Pietro Belluschi (Julliard School). In total, more than thirty indoor and outdoor spaces encompass Lincoln Center and more than ten performance groups are based there. With more than five million people from all over the world coming to Lincoln Center, it has lived up to Rockefeller's vision of being a performing arts center for the masses that is recognized across the globe.
Sources
Eagle Transfer Corp. The Hidden History of Lincoln Center for the Performing Arts, Eagle Transfer. June 28th 2017. Accessed January 3rd 2020. http://www.eagletransfer.com/the-hidden-history-of-lincoln-center-for-the-performing-arts/.
Lincoln Center for the Performing Arts. History, Lincoln Center. Accessed January 3rd 2020. http://www.aboutlincolncenter.org/about/history/archive-today.
Delaski, Dana. September 18th 2016. Accessed January 4th 2020. https://theculturetrip.com/north-america/usa/new-york/articles/a-history-of-lincoln-center-in-1-minute/.
Williams, Keith. How Lincoln Center Was Built (It Wasn't Pretty), The New York Times. December 21st 2017. Accessed January 4th 2020. https://www.nytimes.com/2017/12/21/nyregion/how-lincoln-center-was-built-it-wasnt-pretty.html.
Image Sources
Lincoln Center

Lincoln Center

Inside Philanthropy

architecture lab

Lincoln Center Tumblr

New York Times

ArchDaily

Additional Information