Love's Jazz and Arts Center
Introduction
Named in honor of international jazz legend Preston Love Sr., the Center offers a space for performing arts as well as classrooms and an art gallery. The Center also includes displays that share the history of North Omaha and its place in the larger narrative of American jazz.
Images
The members of the local community look upon the museum and performing arts center with great pride.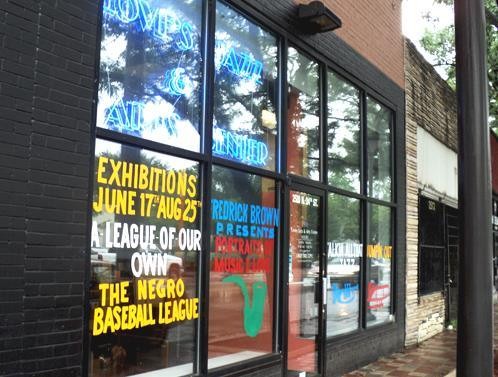 Backstory and Context
Like Kansas City's Tenderloin District, Omaha's Near North Side was home to a vibrant jazz scene from the 1920s to the 1960s. The Dreamland Ballroom attracted the top performers from across the country-legends like Duke Ellington, Louis Armstrong, Nat King Cole, and Count Basie all played here. (The Dreamland was located in the Jewell Building at 24th and Grant). North Oahaha had its own calibers of national prominence. The Dan Desdunes Band.
The Center was born of a revitalization effort in North Omaha, Nebraska in June of 2005 when a historic building was renovated and became the community's first art museum and gallery with performance arts capability. The mission of Love's Jazz and Art Center is to preserve, promote, and present African American Art and Jazz, and the Center certainly has a rich history to draw from.
From the 1920's through the 1960's a thriving jazz and blues scene that attracted the best swing, blues, and jazz bands from across the country was located in the heart of city's African American community. The corner clubs on 24th and Lake attracted legendary musicians like Duke Ellington, Count Basie, Louis Armstrong, and the original Nat King Cole trio. But the Omaha scene didn't just attract top-flight jazz and blues musicians; the area was a hotbed for incredibly talented local musicians. Some, like Preston Love and Anna Mae Winburn would become internationally acclaimed themselves. Love, who worked with such legends as Ray Charles, Aretha Franklin, The Four Tops, The Temptations, and Marvin Gaye, noted that North Omaha used to be a hub for Black jazz musicians. He called it, "the triple-A league, where national bands would go to find a player to fill out their ensemble."
Sources
Lindsey Oneta, "Preserving African American Culture at Love's Jazz & Arts Center," Hear Nebraska, July 12, 2016. Accessed 11/30/2016. http://hearnebraska.org/feature/preserving-african-american-culture-loves-jazz-arts-center-video-fea...


"History," Love's Jazz and Art Center website, accessed 12/1/2016 https://www.ljac.org/about/history/
Additional Information