The Isaac Collins House Historical Marker
Introduction
As the son of printer Charles Collins, Isaac Collins' prolific printing career began at an early age. After apprenticing until he was 21, Collins moved to Philadelphia and then Burlington, New Jersey, to become King George III's royal printer. Collins went on to print the first newspaper in New Jersey, New Jersey's first currency, and the first American Family Bible in English. The printing business also became a family affair, as five of his fourteen children went on to become printing and publishing moguls.
Images
Photograph of Isaac Collins House.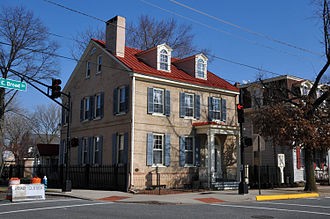 Photograph of the Isaac Collins House Historical Marker.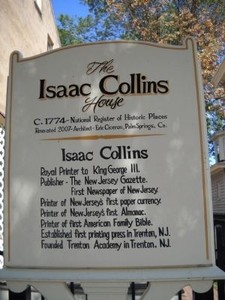 Backstory and Context
Isaac Collins was an English immigrant born on February 16, 1746 to a printer named Charles Collins. Isaac Collins apprenticed as a printer until he was 21, when he then moved to Philadelphia. Collins was appointed to public printer in 1770 and moved to Burlington, New Jersey. A prolific printer, Collins was the royal printer to King George III, publisher of the first newspaper in New Jersey, and printer of New Jersey's first paper currency and Almanac. Collins also printed the first American Family Bible that was in English. Bibles in other languages were printed in the United States, but it was Collins who printed the first Bible in English. Indeed, the publishing of the Bible was a family affair, as his children reviewed the proof as many as 11 times to catch any errors. Collins is also credited with establishing the first printing press in Trenton, New Jersey.
While in Philadelphia, Collins met and married Rachel Budd whom he had 14 children with. Five of those children - Isaac, Joseph, Benjamin, Thomas, and Stacey - continued on to be successful printers and publishers in the 19th century. Collins continued to live a comfortable life, passing away on March 21, 1817.
Collins' home was built in 1774 by architect Eric Ciceron from Palm Springs, California. It was renovated in 2007 and is currently on the National Register of Historic Places.
Sources
Coughlin, Bill. The Isaac Collins House, The Historical Marker Database. June 16th 2016. Accessed December 29th 2019. https://www.hmdb.org/m.asp?m=35902.
Blake, John Lauris . A Biographical Dictionary: Comprising a Summary Account of the Lives of the Most Distinguished Persons of All Ages, Nations, and Professions; Including More Than Two Thousand Articles of American Biography. Philadelphia, PA. H. Cowperthwait & Company, 1859.
Hixson, Richard F. The Collins Bible, Rutgers University. Accessed December 29th 2019. https://ejbe.libraries.rutgers.edu/index.php/jrul/article/download/1531/2970.
Image Sources
Image courtesy of the Historical Marker Database.

Image courtesy of Bill Coughlin from the Historical Marker Database

Additional Information