Lunken Airport
Introduction
What do Charles Lindbergh, Howard Hughes, and the Beatles have in common? They all spent time on the runways of Lunken Airport in Cincinnati, Ohio. Lindbergh landed at Lunken Airfield in 1927 as part of a cross country tour following his successful non-stop flight across the Atlantic. Hughes joined Jimmy Doolittle (a flight instructor who would go on to become a general in WWII) and the actress Jean Harlow to formally dedicate Lunken Airport in 1930. The Beatles arrived at Lunken in 1964 for their concert at Crosley Field – home to the Cincinnati Reds from 1912 to 1970 (Ballparks of Baseball 2019). Lunken Airport served as the main airport for the Cincinnati area from 1930 to 1947.
Images
Ford Tri-Motor aircraft at Lunken Field, circa 1929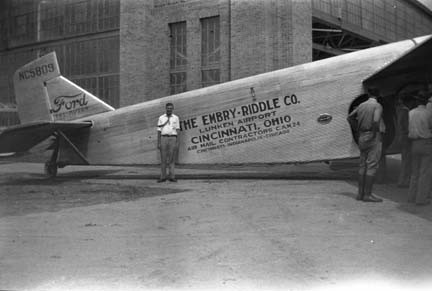 Lunken Airport, December 2019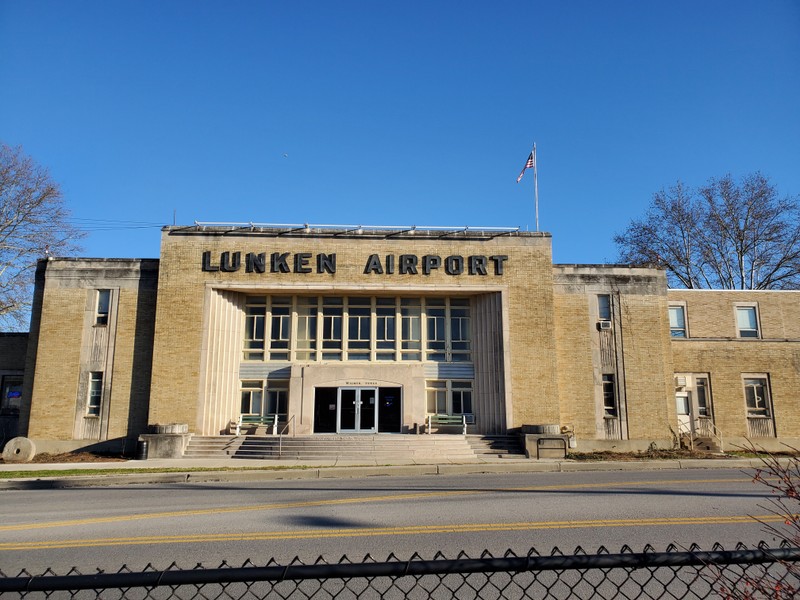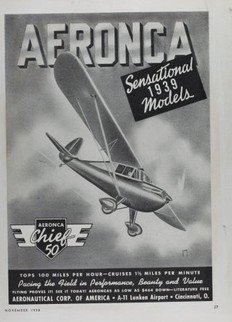 Lunken Airport benefactor dies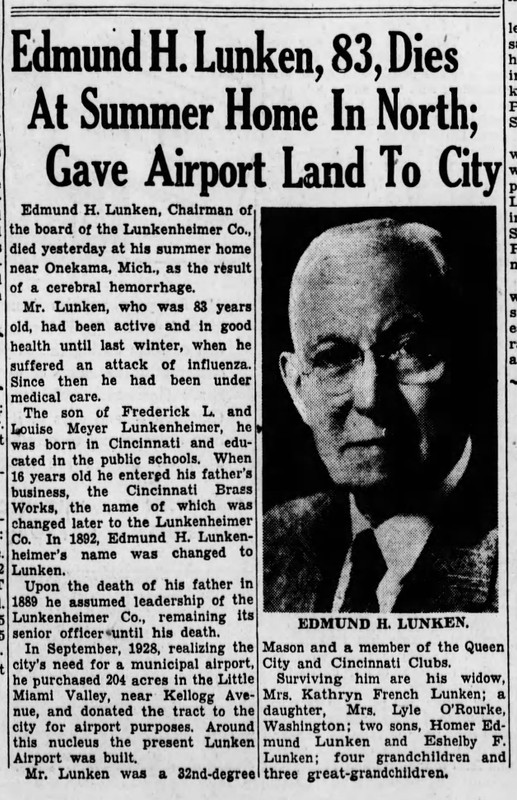 Backstory and Context
Lunken Airport is a small airfield where you can land a private plane, charter a flight, or take flying lessons. The modern Cincinnati/Northern Kentucky International Airport has long since become the region's hub for commercial flights, but Lunken Airfield is where Cincinnati's aviation industry was born.
The early decades of 20th century brought great technological changes to Cincinnati including safer drinking water systems which helped end cholera (Durfor and Becker 1962), widespread use of electricity (Duke Energy n.d.), and aviation (History.com 2009). Orville and Wilbur Wright grew up about an hour away in Dayton, Ohio where they developed and tested their flying machines before introducing them to the world. A decade later, World War I brought flying into the mainstream as countries gained tactical advantage through aerial warfare. An estimated 200,000 aircraft were produced by countries involved in the war and pilots were quickly recruited to fly them (Gray 2014).
As the war ended, surviving pilots (the RAF estimated 1 fatality for every 92 flying hours) made their way home (Gray 2014). Many gave up flying, but others sought ways to stay in the air. Dixie Davis was one of these pilots.
J. Dixon "Dixie" Davis joined the British Royal Flying Corps by signing up at a Chicago recruiting station when he was just 18-years old. The United States had not yet entered World War I, but England was recruiting the young and adventurous to serve in their new air force. Davis trained first in Toronto, then Texas before heading overseas at the end of 1917. He flew missions over London and France - searching for Zeppelins and conducting surveillance. After the war he returned to the United States determined to keep flying. He bought an old English model Arro plane and began a new career as a stunt pilot and flight instructor (Cincinnati Enquirer 1930).
After a few years of flying around the country, Davis started offering flying lessons in a flat area of Cincinnati known as Turkey Bottom in 1925. He established a permanent airfield and began recruiting pilots, engineers, and businesses involved in the new field of aviation. Embry-Riddle, Aeronca, and Metal Aircraft Company are just a few of the companies that began building aircraft at Lunken Airport. Sadly, Dixie Davis went bankrupt in 1929 and was killed in a plane crash a year later (Cincinnati Enquirer 1930).
The airport Davis started continued to grow and by 1930, was the largest municipal airport in the world. It took the name Lunken from the Lunken family who owned the Lunkenheimer Valve Company and had an interest in aviation. Eshelby Lunken founded the Aeronautical Corporation of America (Aeronca) at the field (Invention & Technology Magazine n.d.). His father Edmund H. Lunken gave land to the City of Cincinnati for the airport.
Lunken Airport Timeline
1921
Dixie Davis begins offering flying lessons
1925
T. Embry and J. Paul Riddle founded the Embry-Riddle Company
The City of Cincinnati accepts the land gift of Lunken Airfield
1927
Charles Lindbergh refuels at Lunken airfield on his way to New York and is greeted by cheering fans
The U.S. Post Office contracts with Embry Riddle Company to carry air mail
1928
The Metal Aircraft Company produces the "Flamingo", one of the first all metal monoplanes build in the U.S.
AVCO, a parent of American Airlines purchases Embry-Riddle
1929
Dixie Davis declares bankruptcy and moves to Detroit
1930
Lunken Municipal Airport is formally dedicated in honor of Edmund H. Lunken and his family. Celebrities such as Howard Hughes, Jimmy Doolittle, Freddie Lund, and Jen Harlow join the three-day celebration.
1937
A new terminal is built which serves as an active airline terminal until 1947 when most major airline activity moved to the Cincinnati/Northern Kentucky International Airport. The terminal will serve American and Marquette Airlines. Construction was a joint Works Progress Administration (WPA) and City of Cincinnati project.
1938
Edmund H. Lunken gave the City of Cincinnati additional airport property under a perpetual lease with the stipulation that the Municipal Airport be known as "Lunken Airport" (PB Aviation 2004)
1947
Due to the seasonal fog conditions in the Little Miami River Valley, the lack of an instrument landing system (ILS), and the introduction of large four engine passenger aircraft, scheduled airline service was transferred from Lunken Airport to the Greater Cincinnati Airport in 1947 (PB Aviation)
1964
The Beatles make a stop at Lunken Airport on August 27, 1964. Although plans had been kept quiet, fans mobbed the group at the airfield and the concert arena. The Beatles performed for 14,000 screaming fans at Cincinnati's Crosley Field. After the last song the group ran to their Cadillac limousines and were taken to Lunken Airport where a chartered airplane waited to take them to New York (The Cincinnati Enquirer 1964).
Today's Lunken Airport is a picturesque airfield with an art deco terminal, a diner, and a small museum. Hangars and industrial buildings surround the field where small private planes and corporate jets take-off and land throughout the day.
Sources
Aeronautical Industry. 1929. "Air Transportation." Aeronautical Industry: Volume 8.
Ballparks of Baseball. 2019. Crosley Field. Accessed January 8, 2020. https://www.ballparksofbaseball.com/ballparks/crosley-field/.
Bauer, Cheryl, and Stephan Johnson. 2012. Lunken Airfield. Arcadia Publishing.
Cincinnati Enquirer. 1930. ""Dixie" Davis Loses Life in Muncie, Ind., Air Crash." The Cincinnati Enquirer, September 15: 1-2.
City of Cincinnati . 2020. Transportation & Engineering - The History of Lunken Airport. Accessed January 3, 2020. https://www.cincinnati-oh.gov/dote/lunken-airport/history/.
Company Histories. 2019. Cincinnati Gas & Electric Company. Accessed 04 27, 2020. https://www.company-histories.com/Cincinnati-Gas-Electric-Company-History.html.
Duke Energy. n.d. Our History. Accessed April 27, 2020. https://www.duke-energy.com/our-company/about-us/our-history.
Durfor, C. N., and E. Becker. 1962. "Public Water Supplies of the 100 Largest Cities in the United States." U.S. Geological Survey Water Supply Paper 1812, 364 p.
Embry-Riddle. 2020. Embry-Riddle University Archives. Accessed January 6, 2020. http://erau.edu/archives.
Gampfer, Scott. 2018. "The Queen City Welcomes Charles Lindbergh: The Famed Aviator's Visit Documented in Black and White." Ohio Valley History 18 (4): 72-79. muse.jhu.edu/article/712035.
Gray, Dr. Peter. 2014. "Viewpoint: How WW1 changed aviation forever." BBC News Magazine. October 20. Accessed April 27, 2020. https://www.bbc.com/news/magazine-29612707.
History.com, Editors. 2009. "First airplane flies." HISTORY. A&E Television Networks. November 24. Accessed April 27, 2020. https://www.history.com/this-day-in-history/first-airplane-flies.
Invention & Technnolgy Magazine. n.d. Lunken Field. American Heritage Publishing. Accessed April 28, 2020. https://www.inventionandtech.com/content/lunken-field.
Lindbergh, Charles A. 1953. The Spirit of St. Louis. New York: Scribner.
PB Aviation. 2004. Airport Master Plan Update . Master Plan update, Cincinnati: City of Cincinnati
Ohio History Central. n.d. Cincinnati, Ohio. Accessed January 3, 2020. https://ohiohistorycentral.org/w/Cincinnati,_Ohio.
Spirit of St. Louis 2 Project. 2014. Charles Lindbergh An American Aviator. Accessed January 3, 2020. http://www.charleslindbergh.com/history/maps.asp.
Suess, Jeff. 2014. Cincinnati.com. September 27. Accessed January 3, 2020. https://www.cincinnati.com/story/news/history/2014/09/27/charles-lindbergh-welcomed-lunken/16367319/.
The Cincinnati Enquirer. 1964. "Teenagers Revel in Madness." The Cincinnati Inquirer, August 28: 1.
Image Sources
Embry-Riddle Aeronautical University Archives

Donna M. Harris

Reed Kinert Aviation Art

Cincinnati Inquirer, July 20, 1944

Additional Information