Midland Tower
Introduction
This downtown office tower was constructed in 1948 and marked a turning point in the mid-century growth of Midland. The building was erected for the express purpose of providing much-needed office space for tenants associated with the oil industry including oil companies, lawyers, engineers, and geologists. The building was so large that, at the time, it contained one quarter of the city's office space. Well-known Texas architect Wyatt Hedrick designed the tower in the Modernistic style with Art Deco elements. It was added to the National Register of Historic Places in 1915 and remains an office building today.
Images
Midland Tower was built in 1948 to house offices for the oil industry.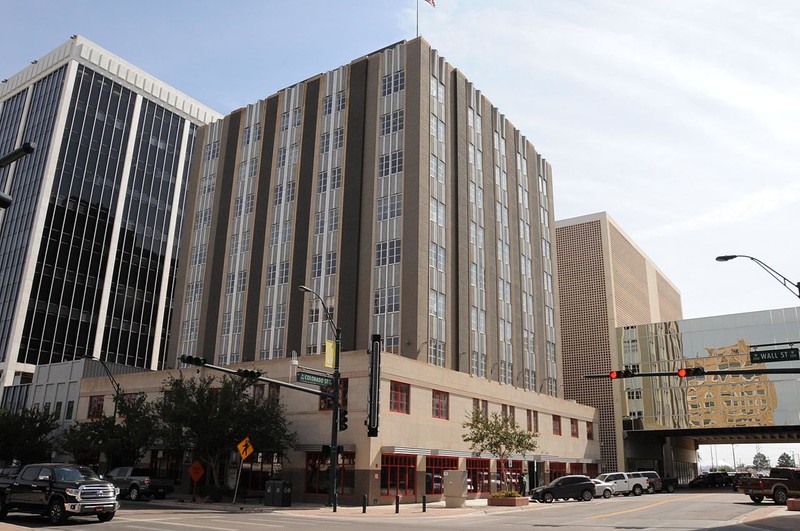 Backstory and Context
Midland's history dates back to 1881 when it began as a railroad stop on the T&P Railway, which ran from Fort Worth to El Paso. The settlement was first called "Midway" in 1884 but eventually became Midland. Like in other parts of the state, Midland's economy of the late 19th and early 20th centuries was based on the cattle industry. However, once oil was discovered in the early 1920s, everything changed; the oil industry took over and Midland quickly became the region's oil center (geologically speaking, the city is located in a region is known as the Permian Basin, which covers a large portion of west Texas and contains large deposits of oil and natural gas). Thousands of investors and workers came to the region as did major oil companies.
The post-World War II years saw a "second oil boom" in the region. Recognizing the need for a central location for the region's oil industry, a group of Midland oilmen proposed the building the tower and provided the funds for its construction. The building was not the city's tallest but it was modern and represented the important status Midland had achieved up to that point. Usage of the tower started to decline in the 1960s and tenants moved to newer, more modern buildings. It appears, however, that in recent years that Midland Tower has been renovated.
Sources
Tess, John M. "Midland Tower." National Park Service - National Register of Historic Places Nomination Form. January 27, 2015. https://atlas.thc.state.tx.us/NR/pdfs/14001228/14001228.pdf.
Additional Information