Yucca Theatre
Introduction
The historic Yucca Theatre is one of Midland's most architecturally unique landmarks. Constructed in 1927, the theater was designed by architect Wyatt C. Hedrick in the Gothic style which had grown popular at this time and was widely used for theater design in major cities. The facade of the building features elaborate stonework and the interior features an elaborate Egyptian/Assyrian design with gilded lions and ornate light fixtures and columns. The Yucca is owned by the Midland Community Theatre company, which offers a diverse lineup of productions each year. The company also puts on an annual vaudeville show called "Summer Mummers."
Images
The Yucca Theatre was built in 1927 and remains a popular entertainment venue.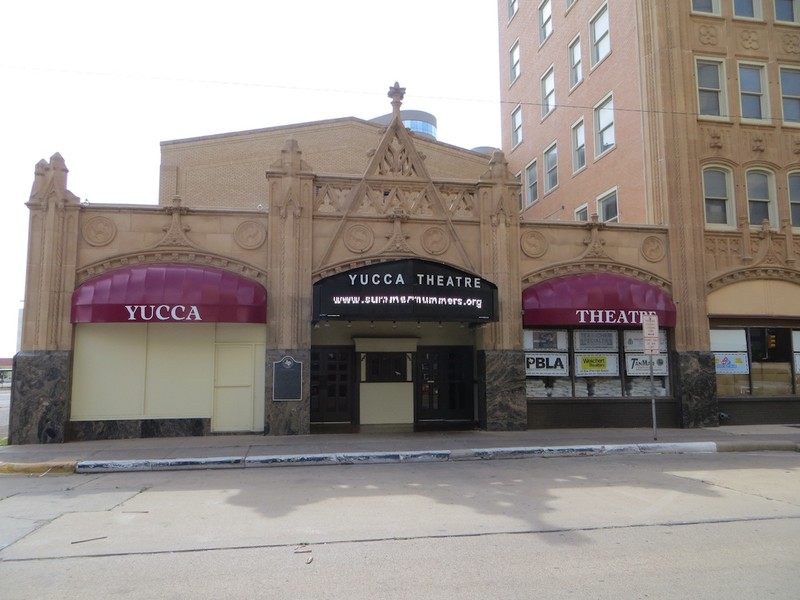 Backstory and Context
Thanks in large part to the petroleum industry, Midland's economy (and that of Texas in general) was booming in the 1920s. As a result, the population grew and along with that demand for entertainment venues. Answering the call was a man named T.S. Hogan, who was a successful oilman and former U.S. Senator from Montana. He hired Hedrick, who was based in Fort Wayne, to design the theater. Construction began in 1927 and was finished two years later. A multi-purpose facility, the Yucca hosted a wide range of shows and events including operas, vaudeville acts, and high school graduations. The Midland Community Theatre bought it in 1999.
Sources
"History." Midland Community Theatre. Accessed December 24, 2019. https://mctmidland.org/about.
"The Yucca Theatre." The Historical Marker Database. Accessed December 24, 2019. https://www.hmdb.org/m.asp?m=86493.
"Yucca Theatre Relives Golden Age of Vaudeville with Electro-Voice." Front House Magazine. July 22, 2008. https://fohonline.com/newsroom/news/yucca-theatre-relives-golden-age-of-vaudeville-with-electro-voice.
Image Sources
The Historical Marker Database

Additional Information