Cincinnati Riots of 1836
Introduction
As Blacks escaped slavery in the Southern States, they fled to the North, to cities like Cincinnati where they ended up competing with whites for jobs. Tensions between pro-slavery whites and abolitionist whites provoked riots to break out in the months of April and July. Pro-slavery whites attacked both Blacks and whites who were giving support to the former slaves.
Images
Mob setting fire to buildings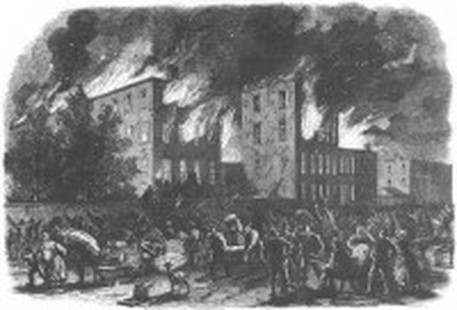 A warning to all abolitionsts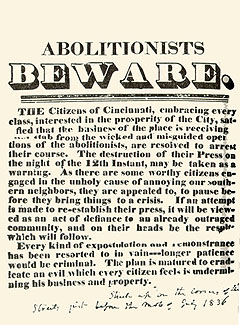 Backstory and Context
On April 11, 1836, a mob of whites attacked an abolitionist newspaper called The Philanthropist demanding the abolishment of slavery. Then the mob that attacked the Black residents of Church Alley. A group of men on the 12th of July numbering 30 or 40 started an assault on Achilles Pugh at the printer's home at midnight by scaling the high wall with the help of a ladder. They got inside so they could destroy the paper and press but they saw a young boy. Instead of killing him, they kept him from being able to see what they were doing so there would be no witnesses to what they were doing. But other people who were in the intersections did see what they had done but no one tried to interfere with what they saw going on. This incident was an expression against the abolition of slavery that some of the people in the city were wanting to happen.
On the night of the 30th there was another mob attack but this time the rioters were determined to destroy the press and to burn the papers. Joseph Graham opposed the burning of the papers in the streets of Main and 17th and insisted on having them all thrown into the river to prevent fires from spreading to the buildings.
After destroying the press and throwing the papers into the river, another attack happened but this time it was on the residences of some who were loyal to the Blacks. When the mob arrived, two shots from the Church Alley were fired at them. It was believed that one man was wounded in the attack. Then at midnight there was a second attack but the homes were empty of residents. However, the interior contents and possessions were destroyed.
Sources
http://hamiltonavenueroadtofreedom.org/pro-slavery-riots-cincinnati-1936/ http://en.wikipedia.org/wiki/Cincinnati_riots_of_1836 http://utc.iath.Virginia.edu/abolitn/mobhp.html http://ugrr.mmaps.magian.com/media/Pdf/Cincinnati_Riot_of_1836_Events_UGRR_Final_1.pdf