Alton Birdwell Plaza
Introduction
This small plaza located on the Stephen F. Austin State University campus is named after Alton Birdwell (1870-1954), who was the university's first president from 1921-1942. Birdwell was known around the country as an outstanding educator and for his research in education theory. Over the course of his career, Birdwell gave hundreds of speeches throughout the U.S. and nearly two hundred of those speeches have been preserved and housed in the university's library. The plaza was dedicated in 2009.
Images
This historical marker is located in the plaza, which was added in 2009.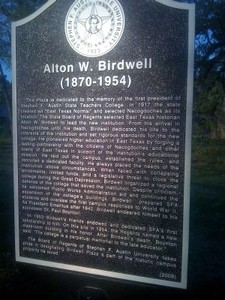 Alton W. Birdwell (1870-1954)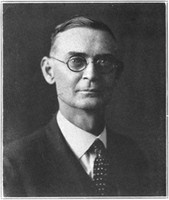 Backstory and Context
Birdwell was born near the town of Elkhart, in Anderson County, on September 18, 1870. In his early years he was home schooled and as a young man worked hand-molding clay bricks and making railroad ties. He studied at the University of Texas and later at the University of Missouri, and the University of Chicago. His began his career in 1892, when he started teaching at a place called Pleasant Retreat in Smith County. In 1899, he became the principal of a high school in a town called Tyler. He later served as the superintendent for Smith and Troup counties. In 1910, he became a history professor at Southwest Texas University and then earned his master's degree from the George Peabody College for Teachers (in Nashville, Tennessee) in 1916. He then became dean of the faculty at Southwest State University (SSW).
The next year, Birdwell was appointed president of Stephen F. Austin Normal School, as it was first called, and was responsible for getting it opened. However he remained at SSW because World War I postponed the school's opening for the duration of the war. Nonetheless, even after Birdwell and his family moved to Nacogdoches in 1922, the school did not open due to construction delays. In order to prevent further interruption, in 1923 Birdwell worked out an agreement with a local high school to start holding classes there. He hired the faculty (the first one he hired was a woman named Lois Foster Blount) and taught history. Over time, buildings were constructed and the school grew. Birdwell led the school through difficult periods as well, particularly during the Great Depression, when funding cuts and low enrollment prompted the state to consider closing it. He served as president until 1942, but continued to teach and was eventually made president emeritus. He passed away in 1954. In his honor, the school named a building after him shortly after his death.
Sources
"Alton W. Birdwell." Stephen F. Austin University. Accessed December 23, 2019. http://www.sfasu.edu/story/markers/birdwell-marker.html.
"Alton W. Birdwell (1870-1954)." The Historical Marker Database. Accessed December 23, 2019. https://www.hmdb.org/m.asp?m=29970.
Chamberlain, C.K. "Birdwell, Alton William." Handbook of Texas Online. Accessed December 23, 2019. https://tshaonline.org/handbook/online/articles/fbi19.
Luna, Shirley. "Birdwell Plaza to be dedicated at SFA." Stephen F. Austin University. Accessed December 23, 2019. http://www.sfasu.edu/3294.asp.
Morton, Meaghan. "SFA approaches 95th anniversary." August 28, 2018. http://www.thepinelog.com/news/article_3605d2a6-ab1f-11e8-af61-578814945ebd.html.
Image Sources
The Historical Marker Database

Stephen F. Austin State University

Additional Information