Hoya Land Office Building
Introduction
Erected in 1897, the Hoya Land Office Building is historically significant for its association with the man for whom it is named, Charles Hoya (1848-1926), and the fact that it has remained largely unchanged. The building is a simple two-story brick structure featuring some decorative brickwork and a wood canopy on the front facade. The building was added to the National Register of Historic Places in 1992 and now serves as an attorney's office.
Images
The 1897 Hoya Land Office is one of the best-preserved buildings in the city.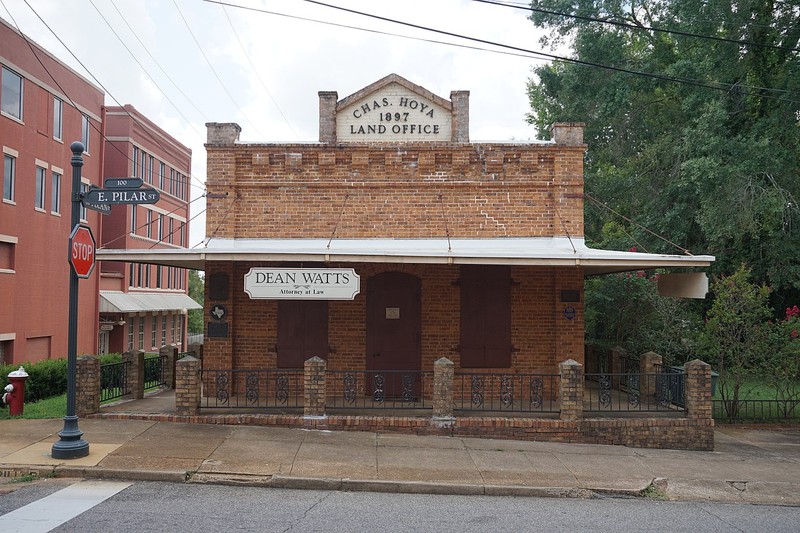 Backstory and Context
Charles' father was a German immigrant who arrived in Nacogdoches in 1836 along with his three brothers. He owned a farm near the town and eventually bought the Stern-Hoya House, which is also listed on the National Register of Historic Places, around 1869. Charles, who was twelve when the family moved in, lived in the house until he got married in 1887 to a woman named Fraces Meisenheimer. He built the house across the street.
Charles trained to become a land surveyor and worked in this role for the county. He decided to build the land office to provide a safe, fire-proof location to house survey and land records. The building features double-brick walls and a reinforced floor and ceiling. Its location in the heart of the city was appropriate given its proximity to the main square, the county courthouse and businesses.
In addition to his survey work, Charles also provided loans and, with two partners, opened a bank (the Stone Fort National Bank) and became its first president. As a result of these activities, Charles became a well-known local figure. After he passed away in 1926, his son-in-law took over the land office. Until the 1940s and 1950s, downtown was the city's main commercial center. To attract and retain customers, many businesses modernized their buildings. The land office building, however, did not suffer this fate and is one of the best preserved structures in Nacogdoches. Today, the building is now home to a law office.
Sources
Galloway, Edward A. "Hoya Land Office Building." National Park Service - National Register of Historic Places Nomination Form. February 14, 1992. https://catalog.archives.gov/OpaAPI/media/40969890/content/electronic-records/rg-079/NPS_TX/92000015.pdf.
Image Sources
Michael Barera, via Wikimedia Commons: https://commons.wikimedia.org/wiki/Category:Hoya_Land_Office_Building

Additional Information