Battle of Nacogdoches Historical Marker
Introduction
This historical marker commemorates one of the most important events in Nacogdoches' history. On August 2-3, 1832 a fierce battle occurred here that some consider an opening salvo of the Texas Revolution (1835-1836). A Texian militia numbering around 300 men from the surrounding area marched into Nacogdoches on the morning of the 2nd and demanded that the commander of the local Mexican force (around 380 men), José de las Piedras, rescind his order that all citizens in the area give up their arms. Neither side backed down, resulting in a battle that began early on the afternoon of the 2nd and continued until the next day. The militia was victorious; only four Texans were killed while over 40 Mexican soldiers died and 300 were captured. The battle was significant because Mexican troops were never stationed in East Texas again, thus ending the Mexican military rule of the region.
Images
The Battle of Nacogdoches occurred on August 2-3, 1832 and resulted in a defeat for the Mexicans.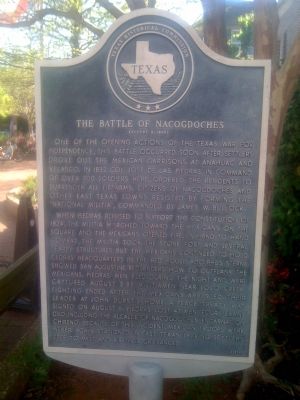 Backstory and Context
What is now the state of Texas was in 1832 a part of Mexico, which had won its independence from Spain in 1821. Despite being sovereign Mexican territory, settlers from the United States started to move into Texas. In fact, many had actually already settled in the territory between 1815-1821, as the Spanish government in Mexico encouraged this immigration to help secure the northern territory. After 1821, however, to regulate this influx of people, the Mexican government passed colonization laws and also awarded land grants to agents (empresarios) who served as land contractors (the first empresario was Stephen F. Austin). The Colonization Act of 1825, which offered favorable terms to potential settlers, attracted large numbers of settlers.
Unsurprisingly, tensions arose between Mexicans and the Texans, as the settlers had come to be called. Many settlers did not swear allegiance to Mexico or abide by agreements with the government. Disagreements over land grants, especially among empresarios, added to the unease. One of these empresarios was a man named Haden Edwards, who owned land grants around Nacogdoches. He, like many other empresarios, refused to honor older land grants. He also intruded in Nacogdoches politics. As a result, the Mexican government terminated his land grants. In response, Edwards led a short and failed uprising called the Fredonia Rebellion.
Additionally, over time as the number of settlers increased in Texas so did their political influence and hold onto the territory. The Mexican government, which feared that the United States would encourage an uprising in Texas for the purpose of eventual annexation, passed the Law of April 6, 1830 in an attempt to reassert its authority. The law was comprised of a number of articles including one that limited immigration from the United States and another that prevented settlers from bringing in more slaves. Settlers were also upset at provisions of the law that dealt with custom duties, land titles, and military authority (the Mexican government stationed troops and customs collectors in Texas to enforce the law). Violent confrontations broke out between settlers, who were unhappy with the new law, and Mexican authorities.
It was in this context that José de las Piedras, who wanted to prevent further confrontations and maintain order, directed all residents to surrender their guns to him. The Texians rejected this order and instead formed the militia. During the battle, the militia and Mexican forces fought in downtown Nacogdoches. The militia eventually captured the Old Stone Fort and other buildings. Realizing that the battle was lost, Pierdas ordered a retreat on the morning of August 3rd. However, the Texians captured him and around 300 troops, and they were marched back to town. Pierdas was paroled and went back to Mexico.
Sources
"Battle of Nacogdoches (August 2, 1832)." The Historical Marker Database. Accessed December 19, 2019. https://www.hmdb.org/m.asp?m=29606.
Barker, Eugene C. et al. "Texas Revolution." Handbook of Texas Online. Accessed December 19, 2019. https://tshaonline.org/handbook/online/articles/qdt01.
"History of Nacogdoches." City of Nacogdoches. Accessed December 19, 2019. https://www.ci.nacogdoches.tx.us/601/History-of-Nacogdoches.
Hurley, Misty. "The Texas Revolution in Nacogdoches." [Brochure] Center for Regional Heritage, Stephen F. Austin University. Accessed December 19, 2019. http://www.sfasu.edu/heritagecenter/images/TEX_REV_BROCHURES(1).pdf.
McDonald, Archie P. "Nacogdoches, Battle of." Handbook of Texas Online. Accessed December 19, 2019. https://tshaonline.org/handbook/online/articles/qen01.
Image Sources
The Historical Marker Database

Additional Information