Eugene H. Blount House
Introduction
The Eugene H. Blount House is one of the most well-known landmarks in Nacogdoches. Named after its builder and first owner, the two-story house was built in 1923 and is a fine example of the Colonial Revival style and was designed by local architect Dietrich A.W. Rulfs. The house, which also exhibits Prairie School architecture, was one of Rulfs' last commissions. Notable features include a low-pitched roof and extended eaves, original interior fixtures, a one-story porch with Corinthian columns, and round-arched windows. The house today is now the location of a law firm.
Images
The Eugene H. Blount House was built in 1923 and is now home to a law firm.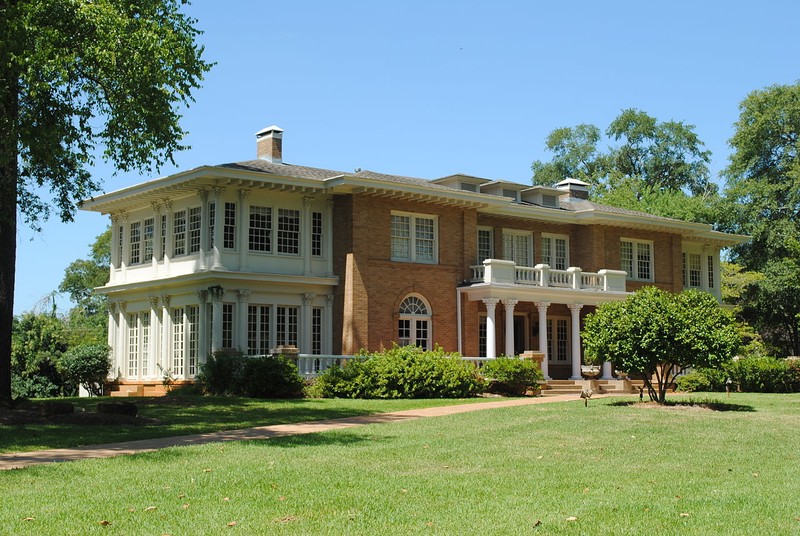 Backstory and Context
Eugene Blount was a prominent local businessman and philanthropist of the early 20th century. While serving as president of the Commercial State Bank of Nacogdoches, he was instrumental in convincing the state legislature to choose the Nacogdoches to be the location of Stephen F. Austin Normal College (now Stephen F. Austin State University). The state chose an undeveloped portion of an old homestead for the new campus. One result of the decision was that North Street became one of the more prestigious parts of town as wealthy individuals, including Eugene Blount, built large homes along the street to be close to the new college. The Eugene Blount House was added to the National Register of Historic Places in 1992 for its architecture and association with Blount.
Sources
Galloway, Edward A. "Blount, Eugene H., House." National Park Service - National Register of Historic Places Nomination Form. February 14, 1992. https://atlas.thc.state.tx.us/NR/pdfs/92000014/92000014.pdf.
Image Sources
Wikimedia Commons: https://commons.wikimedia.org/wiki/Category:Eugene_H._Blount_House

Additional Information