Queen Theatre
Introduction
Queen Theatre is a historic movie theater located in downtown Bryan. It was built in 1939 and is a fine example of Streamline Moderne architecture. It features a somewhat plain appearance with a marquee and a vertical sign topped by a crown, which lights up and rotates. In addition to the theater, the building also houses the offices of the Downtown Bryan Association and a Downtown Bryan visitor center.
Images
The Queen Theatre was built in 1939 and is a rare example of Streamline Moderne architecture in Bryan.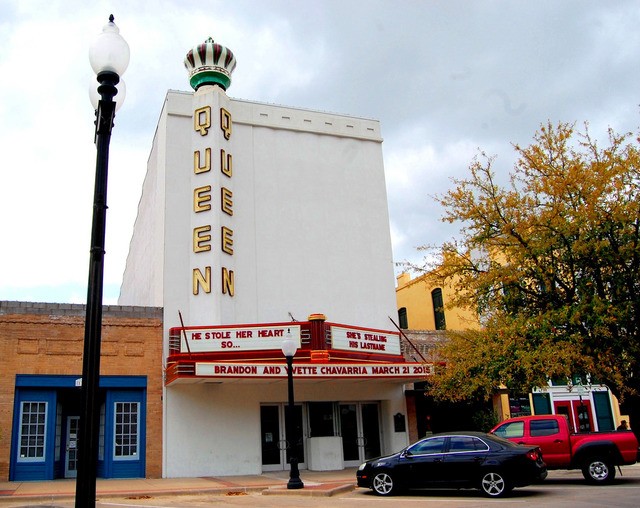 Backstory and Context
Although the theater was built in 1939, it is not the original Queen Theatre. That very first theater at this location, called "Princess Theater," was established in 1913 in a three-story hotel called the Stoddard Hotel. However, the theater was soon renamed Queen Theatre and that name has remained ever since. The hotel was eventually torn down, allowing the current building to be built. At the time, the new theater had modern amenities including air conditioning and indirect lighting.
The Queen operated for 30 years or so before eventually closing. As more people moved to the suburbs, business activity in downtown declined and fewer people went to the Queen, which inevitably fell into disrepair. Efforts to restore it in the 1990s and early 2002s never materialized. However, restoration finally did get underway in late 2010 after the Downtown Bryan Association bought it. The work finished about a year later and on October 7, 2011, the new lighting was turned on and the crown started to rotate once again. In 2018, the theatre reopened as a single screen and performance venue.
Sources
Mayo, Henry P. "The Queen Theatre." November 2011. https://static1.squarespace.com/static/5ace149fe2ccd1fd9991a1b6/t/5ca018831905f4c611af57f9/1553995908306/QueenTheater+-+Detailed+History.pdf.
"Queen Theater." The Historical Marker Database. Accessed December 17, 2019. https://www.hmdb.org/m.asp?m=119641.
Image Sources
elmorovivo, via Cinema Treasures

Additional Information