Stoney Lonesome Cemetery, Occoquan Workhouse
Introduction
After the establishment of the Occoquan Workhouse Prison in 1910, management set aside land for the burial of inmates. This "potter's field" was built around 1920 and became the final resting place for inmates who died in prison and whose bodies were unclaimed. The deceased were buried in simple pine coffins constructed in the prison's carpentry shop. Most of the graves are unmarked or have very simple concrete markers. The last burials most likely took place in the 1960s, though the prison operated in some capacity until 2001. No records are extant of the number of burials or identities of those buried here and historians estimate that the number of people buried here is probably between 50 and 100 individuals.
Images
Stoney Lonesome Cemetery sign, courtesy of Workhouse Museum (reproduced under Fair Use).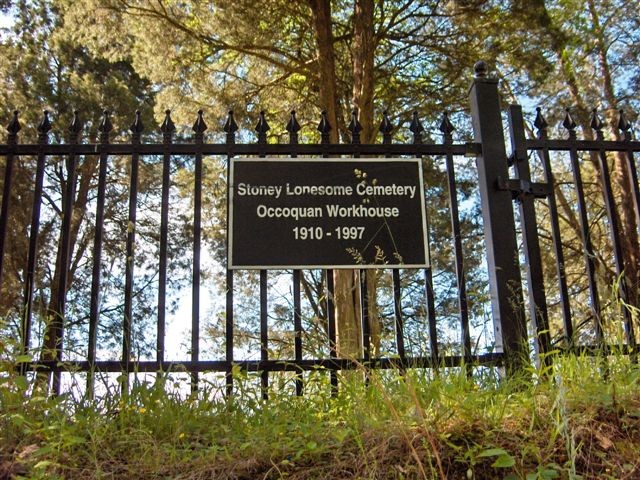 Backstory and Context
The original prison was established in Lorton in 1910. Several names were applied to this facility, officially called District of Columbia Workhouse and Reformatory, including Lorton Prison and District of Columbia Correctional Facility. It was a minimum-security prison originally, though later a maximum-security facility and juvenile detention facility also developed on the complex. Another part of the facility was the Occoquan Workhouse, which violently detained suffragists in 1917. The Workhouse Arts Center/Workhouse Prison Museum that now exists on the site depicts this history.
Disease, such as the Spanish flu epidemic of 1918, and workplace accidents occasionally felled inmates during their incarceration. Prisoners who died while incarcerated were not automatically buried in the Stoney Lonesome cemetery, only those whose relatives did not claim them. Fellow inmates attended funerals, which were overseen by local clergy or the prison's chaplain. Graves were dug by hand, usually by an inmate, and the coffins were pine boxes built in the prison's carpentry shop.
The cemetery is situated just north of the defunct prison complex along what is now an access road owned by the Fairfax Water Authority. It stands in a grove of cedar trees and is surrounded by a wrought-iron fence. Burials were laid out in north-south rows each containing 10-14 burials, and are discernible as depressions in the ground. A few rough grave markers are in place, but they do not contain identifying information on those individuals buried here.
Sources
Clifton, Irma. Lorton History -- Lonesome Cemetery, Workhouse Prison Museum at Lorton. Accessed December 16th 2019. https://workhousemuseums.org/media/articles/lorton-history-lonesome-cemetery/.
eazyeschendor. Stoney Lonesome Cemetery, Atlas Obscura. Accessed December 16th 2019. https://www.atlasobscura.com/places/stoney-lonesome-cemetery.
Stoney Lonesome Prison Cemetery, Find a Grave. July 25th 2006. Accessed December 16th 2019. https://www.findagrave.com/cemetery/2183297/stoney-lonesome-prison-cemetery.
Image Sources
http://workhousemuseums.org/media/articles/lorton-history-lonesome-cemetery/

Additional Information