Batteries at Fort Hunt and WWII Strategic Interrogation Center (P.O. Box 1142)
Introduction
Fort Hunt began its history as a military base in the 1890s with the mission of protecting the Potomac with its gun batteries. During World War II, the small military base at Fort Hunt was home to a secret military facility used to interrogate German soldiers. Beginning in 1942, confidential intelligence operations took place at the site, known only by the name "P.O. Box 1142." American officers interrogated thousands of prisoners and often defied the accepted convention of reporting prisoners of war to the Red Cross. The military mostly tore down the facility in 1946 and operations that occurred here remained classified until the 2000s. Fort Hunt today is a public park along the George Washington Memorial Parkway managed by the National Parks Service.
Images
This marker is located next to the large flag in Fort Hunt Park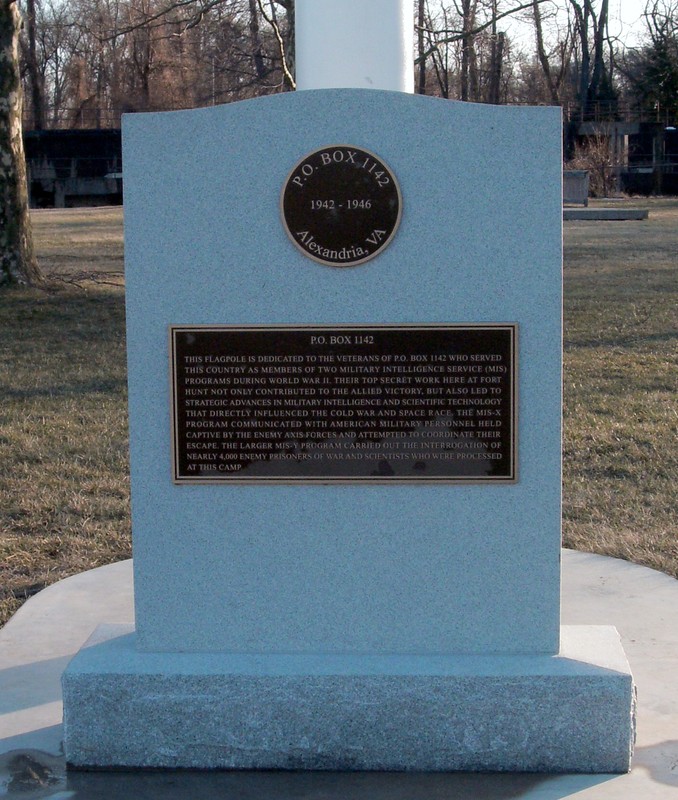 Remains of Fort Hunt's seacoast battery. In World War II, US Soldiers at Fort Hunt was the site of a Top Secret intel program

Backstory and Context
Fort Hunt has a history, dating back to the 1760s when it was George Washington's River Farm. Its military history begins in the 1890s when the military acquired the land for coastal fortifications. At that time it was known as Sheridan's Point, and renamed Fort Hunt after Mexican-American War and Civil War artillery officer Brevet Major General Henry Jackson Hunt (1819-1889). On this site were several gun batteries.
During World War II, the Department of the Interior issued a special use permit to conduct intelligence operations at Fort Hunt. Two of the programs conducted here were MIS-X and MIS-Y. The former sought to communicate with prisoners of war in Europe, and delivered to American soldiers "escape and evasion" kits disguised as humanitarian aid package.
MIS-Y secretly interrogated nearly 4,000 German scientists, officers, and spies. This was the largest Joint Interrogation Center in the county, and many of the interrogators were German-born Jews or refugees from other groups. According to the veterans who served there, interrogations often involved playing chess or other games to glean information from prisoners; when these veterans were honored in 2007, several of them emphasized that violence and torture were not part of the interrogations. Often the presence of prisoners was not reported to the Red Cross for days, which was nevertheless in defiance of the 1929 international treaties which would become the modern Geneva Conventions in 1949.
The historical marker on a flagpole at Fort Hunt is dedicated to the veterans who served there. It lauds the importance of this intelligence work not only in aiding the Allied war effort, but in serving the United States during the Cold War and space race.
The National Park Service maintains Fort Hunt as a public park now and hosts an oral history project collecting stories of people who worked at the secret interrogation site.
Sources
National Park Service. Fort Hunt Oral History Project: P. O. Box 1142, Accessed December 15th 2019. https://www.nps.gov/museum/exhibits/FOHU_oral_history/index.html.
National Park Service. Fort Hunt Park, May 14th 2016. Accessed December 15th 2019. https://www.nps.gov/gwmp/planyourvisit/forthunt.htm.
Swain, Craig. P.O. Box 1142 Historical Marker, Historical Marker Database. June 26th 2016. Accessed December 15th 2019. https://www.hmdb.org/m.asp?m=71583.
Dvorak, Petula. "Fort Hunt's Quiet Men Break Silence on WWII," Washington Post. October 6th 2007. Accessed December 15th 2019. https://www.washingtonpost.com/wp-dyn/content/article/2007/10/05/AR2007100502492.html.
Image Sources
Memorial to P. O. Box 1142 at Fort Hunt Park photo by s Ser Amantio di Nicolao

Additional Information