Location of Henry Perry's Barbecue; History of Kansas City BBQ
Introduction
Author-Uploaded Audio
This was the final location of Henry Perry's restaurant. Perry is widely regarded as the "Father of Kansas City BBQ," an impressive title given the long and storied tradition of barbecue in this city. The practice of barbequing meats in the city can be traced all the way back to the era after the Civil War when Southern migrants came to the city looking for work. The massive Kansas City Stockyards provided huge quantities of affordable meat to the area's residents. Henry Perry began selling barbecue wrapped in a newspaper from a cart in 1907. A few years later, he opened Perry's Barbecue, the city's first barbecue restaurant. Encouraged by his success, more entrepreneurs opened their own restaurants, which were frequently concentrated around the African-American community of the 18th and Vine District. 1900 Highland Avenue, at the corner of 19th Street, was the final location of Perry's Barbecue restaurant. Today, Kansas City is well-known for its delicious barbecue from about 100 different vendors, including Arthur Bryant's Barbeque and Gates Bar-B-Q, who both trace their methods to Perry. The city also hosts the American Royal, the largest annual barbecue competition in the world.
Images
Perry's Barbecue restaurant at 1900 Highland Avenue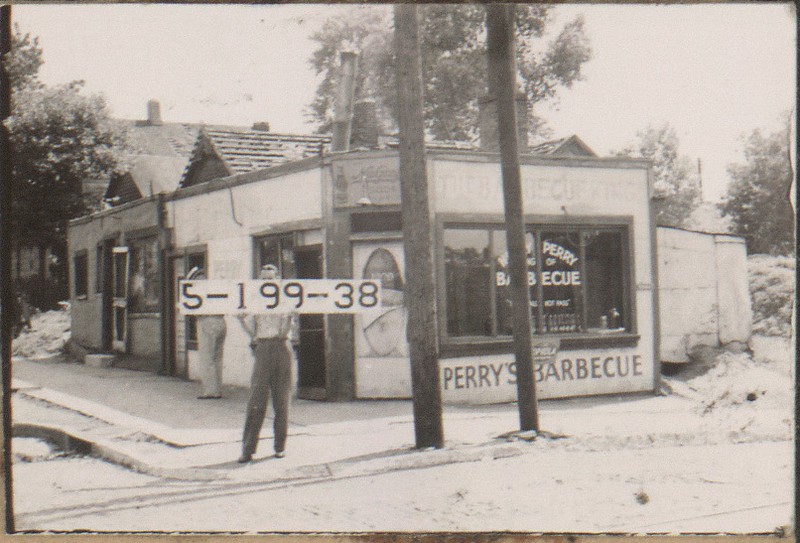 Arthur Bryant with some of his famous BBQ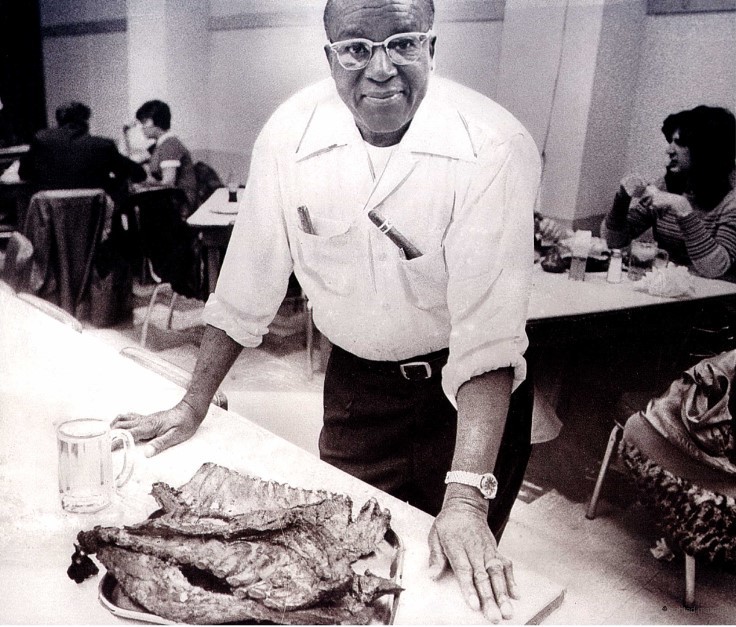 Henry Perry was known for his generosity, as illustrated by stories like this one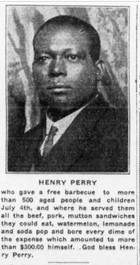 George, Arzelia, and Ollie Gates in front of their restaurant. Ollie continues to run and promote the business.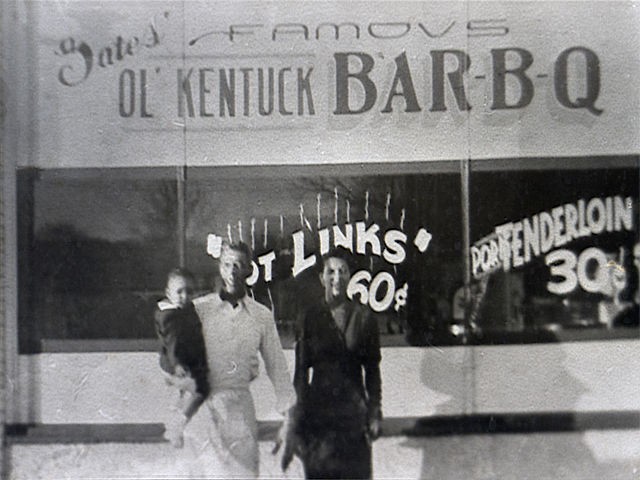 The American Royal barbecue competition at Kansas Speedway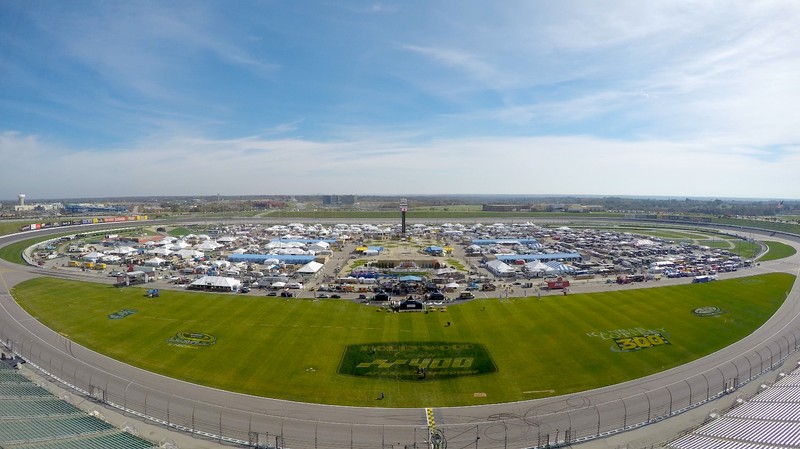 Backstory and Context
In 1871, the Kansas City Stockyards opened and quickly grew to become the second-largest in the country (after Chicago). By the early 1920s, the stockyards were processing over 2.5 million cows, and about half of them were purchased for local operations in Kansas City. [1] Meat was plentiful, and barbecues were a tradition among the city's Southern migrants who had come to work in the rail and riverboat industries after the Civil War. Hosting a barbecue at big events like church gatherings and public celebrations was a perfect way to feed large quantities of people efficiently and affordably. [2,3]
Henry Perry, dubbed "The Barbecue King," is credited with starting the first commercial barbecue enterprise in the city. [3] Perry was born in Memphis, Tennessee, and had started working as a cook on Mississippi River steamboats at the age of 15. He moved to Kansas City in 1907 and started his own small business selling cuts of barbecue wrapped in newspaper for 25 cents to workers and residents in the Garment District, at the corner of 8th and Banks Streets. Within a few years, he was able to start a restaurant called Perry's Barbecue at 17th Street and Lydia Avenue, which then moved a few years later to 19th Street and Highland Avenue. [4] The latter restaurant was in the heart of the 18th and Vine District, a hotbed of jazz and African American prosperity during the 1920s. (See "18th and Vine Historic District" entry on Clio for more information.)
By the early 1930s, there were numerous barbecue stands in the city. When Henry Perry died in 1940, his restaurant was purchased by one of his employees, Charlie Bryant. Charlie's brother Arthur later took over.
While Perry may have been Kansas City's first barbecue restaurateur, the Bryant brothers made the barbecue business legendary. Arthur Bryant's Barbeque is still in business today and has been described as "the single best restaurant in the world." [2]
The other leading Kansas City barbecue restaurant that opened around the same time was also directly connected to Perry's business. George and Arzelia Gates' Ol' Kentuck Bar-B-Q, now Gates Bar-B-Q began when Gates learned Perry's method from one of his former employees, Arthur Pinkard. Pinkard "came with" the Ol' Kentuck Bar-B-Q when the Gateses purchased it and served as pitmaster at the restaurant for decades. Gates Bar-B-Q has expanded to multiple locations and each has a framed photo of Pinkard.
Kansas City barbecue has evolved over time to something quite a bit different from Henry Perry's day. For one, Perry often used cheap meats from nocturnal wild animals like possum, groundhog, and raccoon. Perry's sauce has been described as "harsh and peppery". [2,3] It was the Bryants who changed Perry's strong, spicy sauce to one that was sweeter, ketchup-based, and more widely palatable. This style of barbecue sauce, which often incorporates vinegar and molasses, has become Kansas City's signature. Perry was an strong advocate of slow-cooked barbecue in open pits over hickory and oak wood, a technique adopted by many other others since. Serving up the burnt, caramelized ends of brisket resulting from this process to customers became another tradition among many Kansas City barbecuers.
In 1980, a barbecue competition started at the city's famous American Royal. The American Royal began as a livestock show that has taken place in Kansas City since 1899, but now incorporates other events such as a horse show and rodeo. The barbecue cookoff has become the world's largest barbecue contest and has been called "The World Series of Barbecue. Over 400 teams from seven different countries competed in 2019, with a payout of over $120,000.
Sources
1.      "How KC became one of great stock markets of world." The Kansas City, Kansan, July 20, 1986, 4B. Transcript accessed December 13, 2019. https://web.archive.org/web/20120324142417/http://www.kckpl.lib.ks.us/documents/howkcbecame.pdf.
2.      Neville, Catherine. "The Kings of Kansas City Barbecue: The storied history, legacy and evolution of KC 'cue." Feast Magazine Online. Aug 25, 2017. Accessed December 13, 2019. https://www.feastmagazine.com/features/kansas-city/article_df738fb4-8761-11e7-ac98-8323da185876.html.
3.      Worgul, Doug. The Grand Barbecue: A Celebration of the History, Places, Personalities and Techniques of Kansas City Barbecue. Kansas City, MO: Kansas City Star Books, 2001. Accessed December 13, 2019. https://books.google.com/books?id=-6BD_NCXgR0C&dq.
4.      Coleman, Daniel. "Henry Perry." The Pendergast Years Project, The Kansas City Public Library. Accessed December 13, 2019. https://pendergastkc.org/article/biography/henry-perry.
5.      Broomfield, Andrea L. Kansas City: A Food Biography. Lanham, Maryland: Rowman & Littlefield, 2016. Accessed December 13, 2019. https://books.google.com/books?id=67pnCgAAQBAJ&pg=PA91&dq.
6.      Lampe, Ray. Dr. BBQ's Big-Time Barbecue Road Trip! New York: McMillan, 2007. Accessed December 13, 2019. https://books.google.com/books?id=G2ggx3qoSYUC&pg=PA6&dq.
7.      "American Royal: BBQ" American Royal Association Official Website. Accessed December 13, 2019. http://www.americanroyal.com/bbq/.
Image Sources
https://www.visitkc.com/barbecue-beginnings

https://books.google.com/books?id=-6BD_NCXgR0C&pg=PR4-IA19&dq

https://www.bizjournals.com/kansascity/news/2018/07/13/barbecue-kansas-city-history.html

https://www.feastmagazine.com/features/kansas-city/article_df738fb4-8761-11e7-ac98-8323da185876.html

http://www.americanroyal.com/bbq/

Additional Information