Arkansas Civil Rights Heritage Trail - Josephine Pankey
Introduction
Mrs. Pankey was honored by being placed on the trail in 2016. The Trail acknowledges the sacrifices and achievements of those who fought for racial and ethnic justice in Arkansas. Each year has a theme and selected honorees names are placed on the Trail. The theme in 2016 was "Economic Advancement."
Images
A bronze marker commemorates the contributions of Josephine Pankey to Arkansas and African American communities.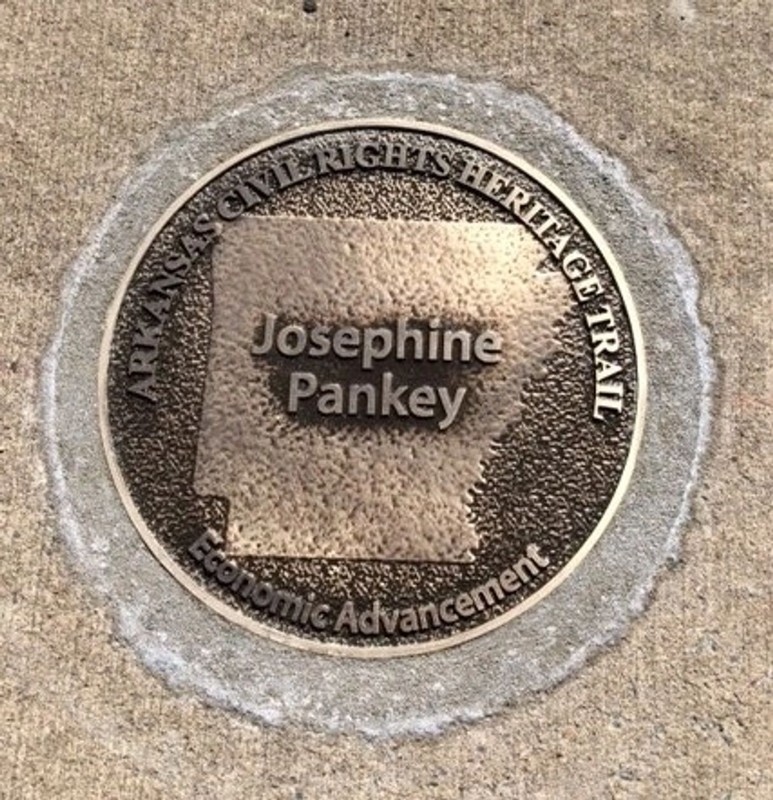 Backstory and Context
Josephine Pankey's many accomplishments, as an African American woman in the early 1900s, were honored in 2016. Her name was placed on the Arkansas Civil Rights Heritage Trail.  The Trail was created by the University of Arkansas at Little Rock Anderson Institute on Race and Ethnicity.
Starting in front of the Old State House it extends down West Markham and eventually to the William J. Clinton Presidential Library and Museum. The first names were placed in 2011 and are placed annually. Each year has a theme, and in the year Mrs. Pankey was honored, it was "Economic Advancement."
Mrs. Pankey knew the importance of home ownership and began purchasing land in 1907 and established the Black community of Pankey fifteen miles northwest of Little Rock. She purchased and sold many acres of land in the area and established communities, but the Pankey community is the only one still in existence today.
Sources
"2016 Economic Advancement," Arkansas Civil Rights Heritage Trail, accessed December 9, 2019, http://arkansascivilrightsheritage.org/2016-economic-advancement/
Marion Fulk, "Josephine Irvin Harris Pankey," accessed November 27, 2019, https://encyclopediaofarkansas.net/entries/josephine-irvin-harris-pankey-9144/
Nancy Robinson Lott and Regina Norwood, Josephine: Celebrating the Life and Legacy of Mrs. Josephine Pankey (Little Rock: Friends of Josephine Pankey, 2012)
Nancy Robinson Lott and Regina Norwood, "Pankey (Pulaski County)," accessed November 27, 2019, https://encyclopediaofarkansas.net/entries/pankey-pulaski-county-5934/
Image Sources
Arkansas Civil Rights Heritage Trail