This entry includes a walking tour! Take the tour.
Introduction
Camp Randall Stadium is an outdoor stadium in the north central United States, located on the campus of the University of Wisconsin in Madison, Wisconsin. It has been the home of Wisconsin Badgers football in rudimentary form since 1895, and as a fully functioning stadium since 1917. The oldest and fifth largest stadium in the Big Ten Conference, Camp Randall is the 41st largest stadium in the world, with a seating capacity of 80,321. Camp Randall Stadium is not named after the team or someone associated with the university. Camp Randall was an army base during the American Civil War and the Badgers stadium was built on its location.
Images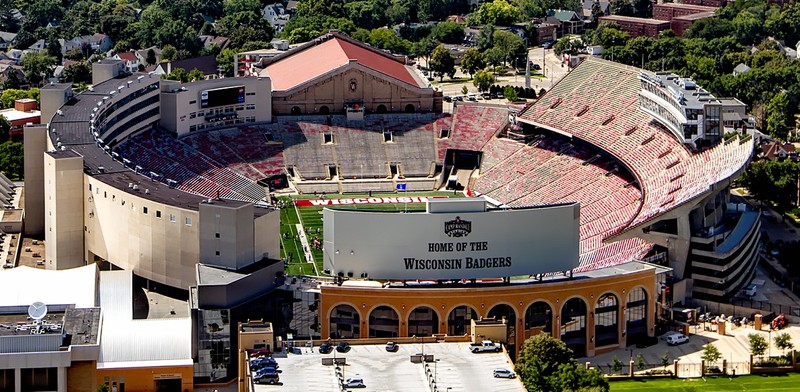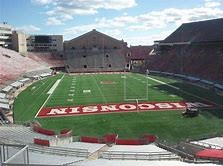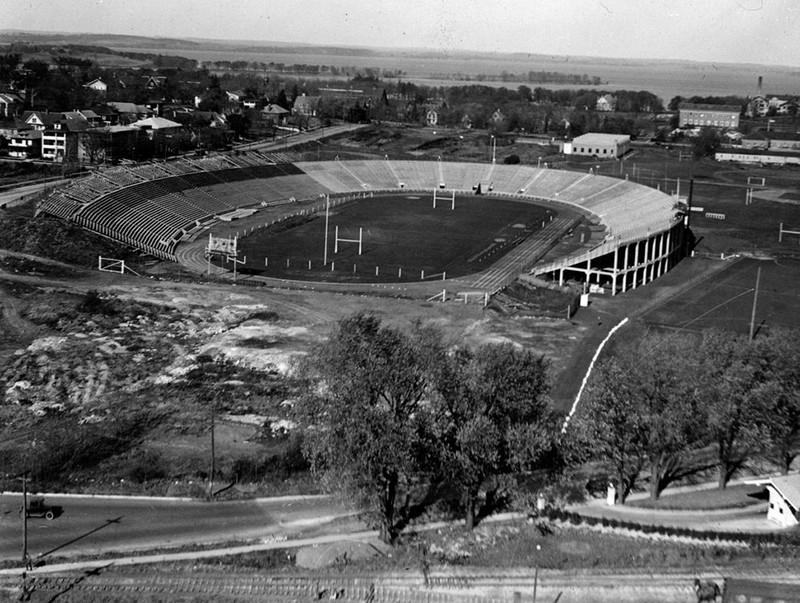 Backstory and Context
Camp Randall is named after Alexander W. Randall, Wisconsin's first wartime governor. It served as a training camp for Wisconsin's Civil War soldiers starting on May 1, 1861. Eventually, over 70,000 of the state's 91,327 troops trained here at some point. In 1862, Camp Randall became a Prisoner of War Camp when approximately 1400 sick and wounded confederate soldiers were held here. Many succumbed to their wounds and are buried at "Soldiers' Rest", the northernmost confederate cemetery in the United States.
After the war, outrage by veterans prevented the land being sold for building lots, and in 1893, the Wisconsin state legislature purchased the site and donated it to the university. Soldiers were quartered and trained at Camp Randall during World War I, and Women Accepted for Volunteer Emergency Service (WAVES) trained here during World War II.
When the university decided to build an athletic facility on the grounds, veterans groups wrote a petition to the university regents asking that the name always remain Camp Randall. The stadium at Camp Randall was first used in 1895 and the Badgers began a long tradition by defeating the University of Minnesota by a score of 6-0.
Another interesting fact about Camp Randall is that the "1940" addition included dormitories named the Schreiner and Baumann houses. These were named after two University of Wisconsin students killed at Okinawa. These dorms were originally used to house naval trainees.
Sources
Dretzel , Helen L. Camp Randall Stadium , collegegridirons.com. March 5th 2016. Accessed December 12th 2019. https://www.collegegridirons.com/stadiums/camp-randall-stadium/.
Feldman, Jim. The Buildings of the University of Wisconsin. Madison, Wisconsin: The University Archives, 1997.
Reichard , Kevin G.. 100 Years of Camp Randall Stadium, FOOTBALL STADIUMDIGEST. February 1st 2017. Accessed December 12th 2019. https://footballstadiumdigest.com/2017/09/100-years-of-camp-randall-stadium/.
Image Sources
https://en.m.wikipedia.org/wiki/Camp_Randall_Stadium

https://fanbuzz.com/college-football/oldest-college-football-stadiums/

https://madison.com/gallery/sports/college/football/camp-randall-stadium-through-the-years/collection_77898300-73b5-11e7-b35b-a33fe1410409.html

Additional Information