Kovac Planetarium (2007-2017)
Introduction
In Rhinelander, Wisconsin, a hand-made planetarium can be found. The Kovac Planetarium was built by Frank Kovac over the course of five years. The planetarium is only the fourth mechanical globe ever created. Inside this large rotating globe, he painted every northern hemisphere star visible to the naked eye. The Kovac Planetarium closed in 2017 after 10 years of operation.
Images
Frank Kovac built the world's largest mechanical globe planetarium in his backyard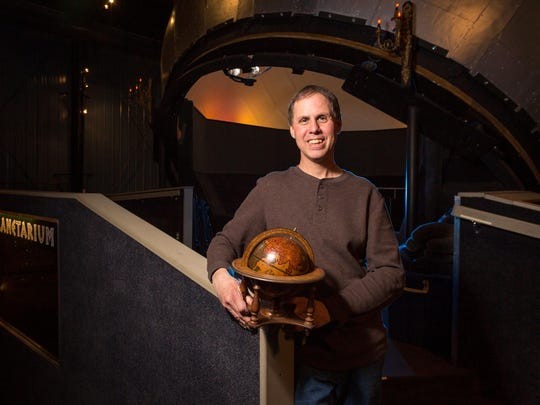 The planetarium is 22 feet wide and 25 feet tall.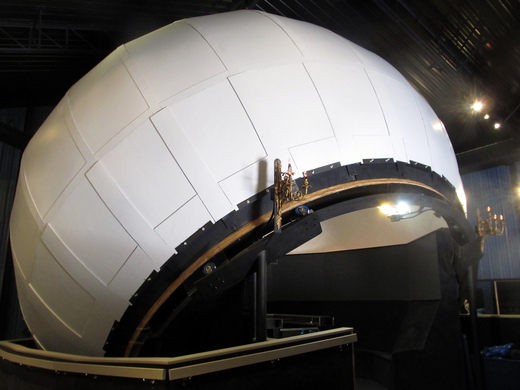 Frank Kovac hand-painted over 5,000 stars in his planetarium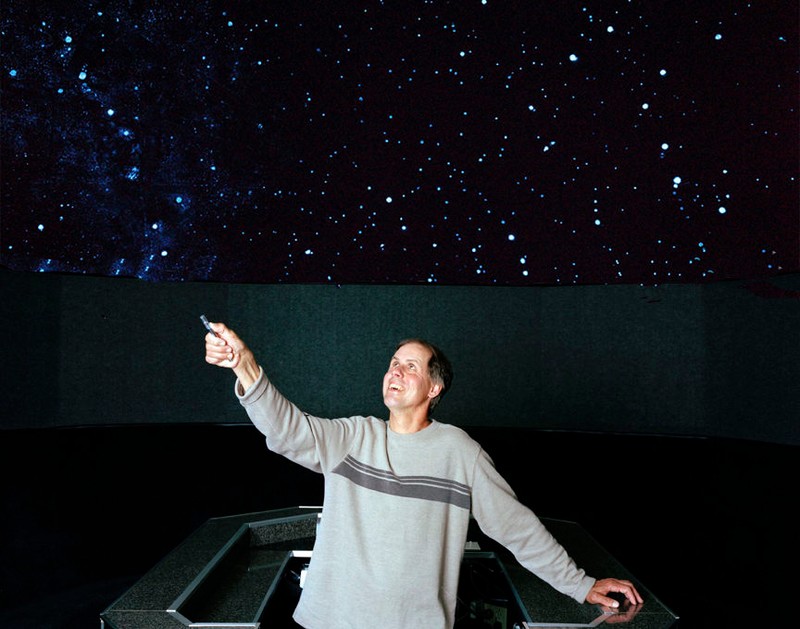 Backstory and Context
Frank Kovac had the idea to build his planetarium after a trip to the Mud Creek Observatory with his fellow Boy Scouts, in October of 1996. On this trip, clouds covered the sky and made stargazing impossible. Annoyed at the clouds for, in his words, "obscuring the universe," Kovac decided to create his own celestial sphere.
The rotating globe was built in Kovac's backyard over a five year period, from 1997 to 2002. It opened to the public in 2007. The globe weighs two tons and has a 22-foot diameter. At 25-feet high, the planetarium can seat up to thirty people. Frank Kovac hand painted over 5,000 stars using a small brush and glow-in-the-dark paint. The Milky Way was sponged on. Kovac built planetarium to be very low-tech with mostly basic materials one could find at a hardware store. The most expensive material was the high-quality fluorescent paint costing hundreds of dollars per can, but this makes the stars look so real they seem to twinkle.
The planetarium was closed ten years after its opening when Frank Kovac decided it had proven to be too much of a task to take on. The strain of maintaining full-time employment that can operate a high-quality program and handle large crowds ultimately led to its closing. Kovac has considered selling the planetarium to an individual or group to operate. If it did not sell, he considers reopening it after his retirement. Currently, the planetarium remains in Kovac's possession.
Sources
Kovac Planetarium is closing, at least for now, Antigo Daily Journalhttps://antigodailyjournal.com/index.php?ID=29227.
Accessed December 10th 2019.
Foer, Joshua . Thuras, Dylan. Morton, Ella. Atlas Obscura. New York City, New York. Workman Publishing Co., 2016.
Uhlig, Keith. Can the world's quirkiest planetarium be saved?, Wausau Daily Herald. April 13th 2017. Accessed December 10th 2019. https://www.wausaudailyherald.com/story/news/2017/04/13/can-worlds-quirkiest-planetarium-saved/97553508/.
Image Sources
https://www.wausaudailyherald.com/story/news/2017/04/13/can-worlds-quirkiest-planetarium-saved/97553508/

https://www.atlasobscura.com/places/kovac-planetarium

https://www.atlasobscura.com/places/kovac-planetarium

Additional Information