Club 33
Introduction
Club 33 is Disneyland's most exclusive and elusive club. Walt Disney originally established the club as a place where he could entertain his VIP guests. The club includes a bar and restaurant, but access is only granted to members and their guests. The mysterious club can be located in Disneyland's New Orleans Square, near the exit to the Pirates of the Caribbean ride. The entrance is denoted only by a cryptic "33" sign next door the unmarked door.
Images
The 33 sign denoting the entrance to Club 33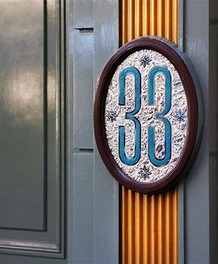 The dining room in Club 33 is decked out in a 19th-century New Orleans style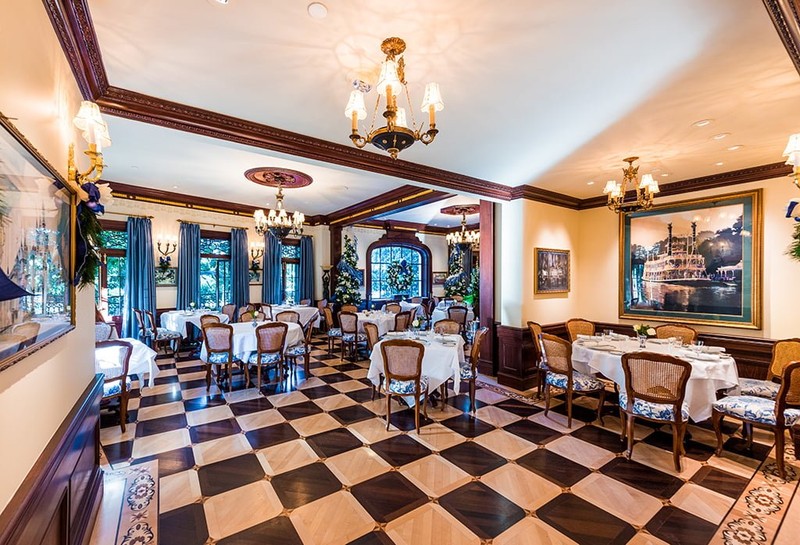 The bar at Club 33 is the only bar in Disneyland that serves alcohol.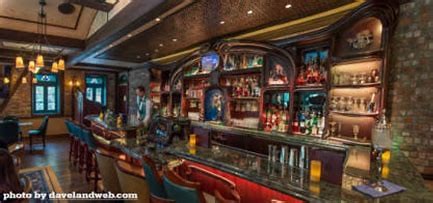 Backstory and Context
Club 33 is the most exclusive club in Disneyland. To enter the club one must be a Club 33 member or the guest of a member. A Club 33 membership requires an initiation fee of $25,000, followed by annual dues of $10,000. Membership is capped at 500 people, and the waitlist is quite extensive. Most members have waited many years to be accepted. Lunch or dinner in the restaurant is by reservation only.
The door to Club 33 is an unmarked door located in Disneyland's New Orleans Square. Next to the unmarked door is a number thirty-three sign and a brass panel hiding a speaker box. After being buzzed in, guests are ushered to a second-floor dining room. The restaurant follows a 19th century New Orleans style, complete with a French wooden elevator and wicker toilets. The club features original animation cells from Fantasia, a table from the set of Mary Poppins, and other Disney artifacts.
There are many theories concerning the naming of Club 33. Some claim the restaurant is named after the original 33 investors in Disneyland, who Walt Disney frequently entertained in the restaurant. Others believe it is because "33" sideways looks like "mm" which are the initials for Mickey Mouse. The official documented reasoning for the name traces back to the address. Club 33 is the only restaurant in Disneyland that serves liquor, and therefore, they needed a liquor license. To receive their license, it needed an address separate from Disneyland, thus turning 33 Royal Street into Club 33.
Walt Disney sadly was never able to see Club 33 finished. Walt died on December 15, 1966, five months before it opened. His personal touch to the club can still be found. In the restaurant, an animatronic California turkey vulture, designed by Walt, can be found. He originally envisioned the bird surprising guests as they walked in, by talking to them through a hidden voice actor. Microphones were installed around the room for this purpose, but after his passing, the wires have since been disconnected.
Sources
Bricker, Tom. History of Club 33 at Disneyland, DisneyTouristBlog. Accessed December 10th 2019.
https://www.disneytouristblog.com/club-33-disneyland-photos-history-review/.
Foer, Joshua. Thuras, Dylan. Morton, Ella. Atlas Obscura. New York City, New York. Workman Publishing Co., 2016.
Image Sources
http://parksandresorts.wdpromedia.com/media/disneyparks/blog/wp-content/uploads/2011/08/75c123234LARGE.jpg

https://www.disneytouristblog.com/wp-content/uploads/2016/02/club-33-new-look-disneyland-021.jpg

http://www.disneylandclub33.com/1%20Club%2033%202015%20Daveland%20Web%2030%20Small.jpg

Additional Information