Eagle Island State Historic Site
Introduction
Located in Casco Bay and only accessible by watercraft, Eagle Island State Historic Site was the summer and retirement home of famed Artic explorer, Admiral Robert Peary. Peary purchased the island in 1881, built a summer home there in 1904 and retired to the island in 1911 with his wife Josephine and their two children, Robert Jr. and Marie. After Peary passed in 1920, the family maintained ownership of the island and the children donated it to the state in 1967. The state restored Peary's former home, converting it into a house museum, added a wooden pier for tourists, and built a Welcome Center in 2012. Eagle Island was designated a National Historic Landmark in 2014.
Images
Peary's home began much smaller when construction started in 1904.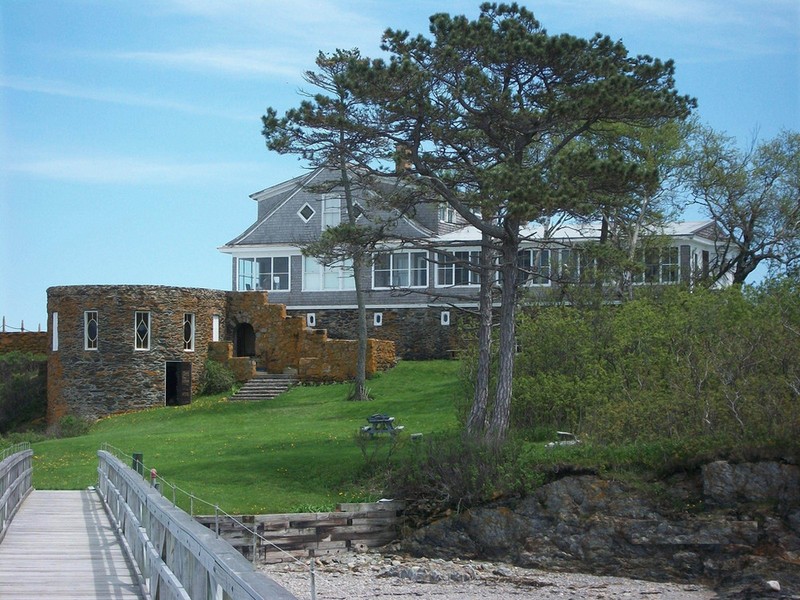 A view of Peary's former home on Eagle Island from the pier where visitors arrive.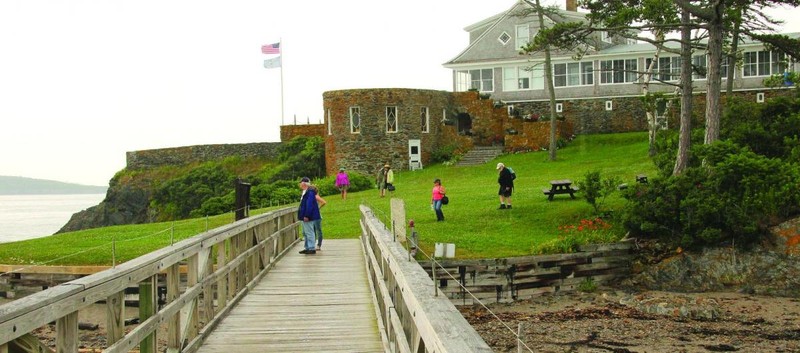 Admiral Peary with his sled dog companions.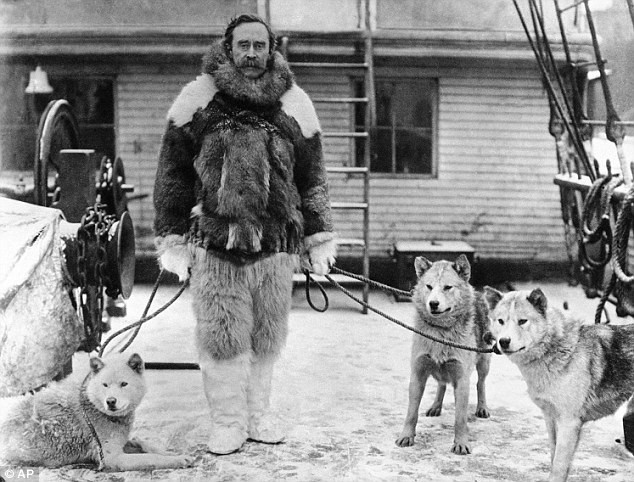 Admiral Peary's crew that reached the North Pole...perhaps: Inuits Oogeah, Ootah, Egingwah, Seego and Matthew Henson.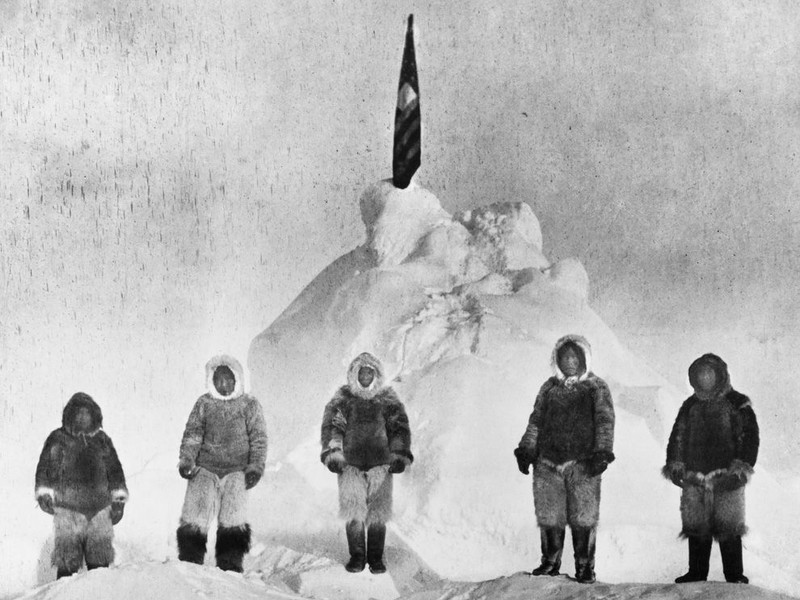 A U.S. Postal Service stamp that honors Peary and Henson.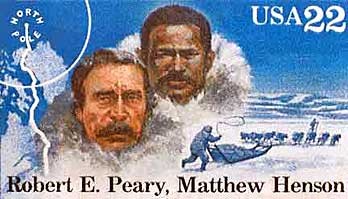 Backstory and Context
Robert Peary was born in Cresson, Pennsylvania in 1856. However, shortly after his father died in 1859, his mother moved to Portland, Maine where Peary was raised. He then attended Bowdoin College and graduated in 1877 with an engineering degree. He joined the United States Navy in 1881 and was commissioned a civil engineer. He then began surveying for a canal route through Nicaragua during the mid-1880s and made his first journey to the Artic aboard the whaling ship, Eagle, in 1886. In 1888 he married Josephine Diebitsch. Prior to returning to Nicaragua, he met and hired an African-American store clerk with sailing experience, Matthew Henson, to be his field assistant. Henson would accompany Peary on all his subsequent journeys to the Artic.
In 1891, Peary, accompanied by his wife and Henson, returned to Greenland and determined that it was, in fact, an island. Peary and Henson would then make numerous expeditions to the Artic throughout the 1890s and into the 20th century taking him away from his family for years at a time. It was during his 1909 expedition that Peary claimed to have reached the North Pole. However, this claim is in doubt due to lack of verifiable proof. Regardless, Peary and Henson provided invaluable information on the Artic and the peoples he encountered there. 
After his famous 1909 expedition he never returned to the Artic and was promoted to the rank of rear admiral in the Navy Civil Engineer Corps. In 1911 he retired to Eagle Island, but remained active, serving as the president of the Explorers Club and chairman of the National Aerial Coastal Patrol Commission, an organization that proposed using aircraft to patrol the coast for enemy warships. He also helped organize Naval Reserve aerial patrols during World War I and helped established the U.S. Postal Service's airmail system. Peary died in Washington D.C. in 1920 and is buried in Arlington National Cemetery. In 1988, Matthew Henson's remains were exhumed and re-interred in Arlington, near Peary's grave site.
By the time Peary retired to Eagle Island in 1911, the small home he built had been expanded several times, to include the addition of a small kitchen and dining area and new fieldstone foundation with concrete piers. Peary expanded it again in 1912-13 when he added a new wing with porch on three sides and two large, semi-circular stone bastions and retaining wall to stabilize the house. Access to the bastions was through the basement and Peary used one to store artifacts from his numerous expeditions. Josephine died in 1955 and the Peary children, kept possession of Eagle Island until it was donated to the state in 1967.
The state then undertook an extensive restoration of Peary's former home, caretakers house and Josephine's gardens which were completed by 1972. The state also added a long wooden pier to accommodate visitors to the new state park. In 2012, the Friends of Eagle Island helped raise funds to build a new Welcome Center on the site where Robert Peary Jr. built a workshop. In it, tourists can view a ten-minute video entitled "Admiral Robert E. Peary: A Man and his Island," and obtain an audio wand for a self-guided tour of his former home and the islands 1.4 miles of hiking trails. Eagle Island is only accessible by personal watercraft or via tours from the mainland. It is open daily from June 15 through Labor Day.   
Sources
Pafundi, Jason. "Exploring Eagle Island." Portland Press Herald. August 10, 2018. Accessed December 10, 2019. https://www.pressherald.com/2018/08/10/exploring-eagle-island/
Briggs, John. "National Register of Historic Places Nomination Form: Eagle Island State Park." United States Department of the Interior/National Park Service. December 24, 1969. Accessed December 10, 2019. https://npgallery.nps.gov/NRHP/GetAsset/NRHP/71000069_text
Stephenson, Vance. "Eagle Island, Maine, USA - A Soar Point." Suja Travel. Accessed December 10, 2019. http://blog.sujatravel.com/2019/05/30/eagle-island-maine-usa-a-soar-point/
Hobbs, William. "Encyclopedia Arctica 15: Biographies - Robert Edwin Peary." Dartmouth.edu. Accessed December 10, 2019. https://collections.dartmouth.edu/arctica-beta/html/EA15-55.html
Additional Information