Pat Tillman Statue and Tunnel
Introduction
The Pat Tillman Statue and Tunnel is located in the north end zone of Sun Devil Stadium. The former Sun Devil was a star on the field and in the classroom. After Tillman was done at Arizona State he did not have to go too far when he was drafted by the Arizona Cardinals. After a couple of years of a successful NFL career, he retired and decided to join the army after what happened on 9/11. Even though Tillman is known for his heroic decision and giving up his career to helping his country he was still just as big of a star and leader on the field.
Images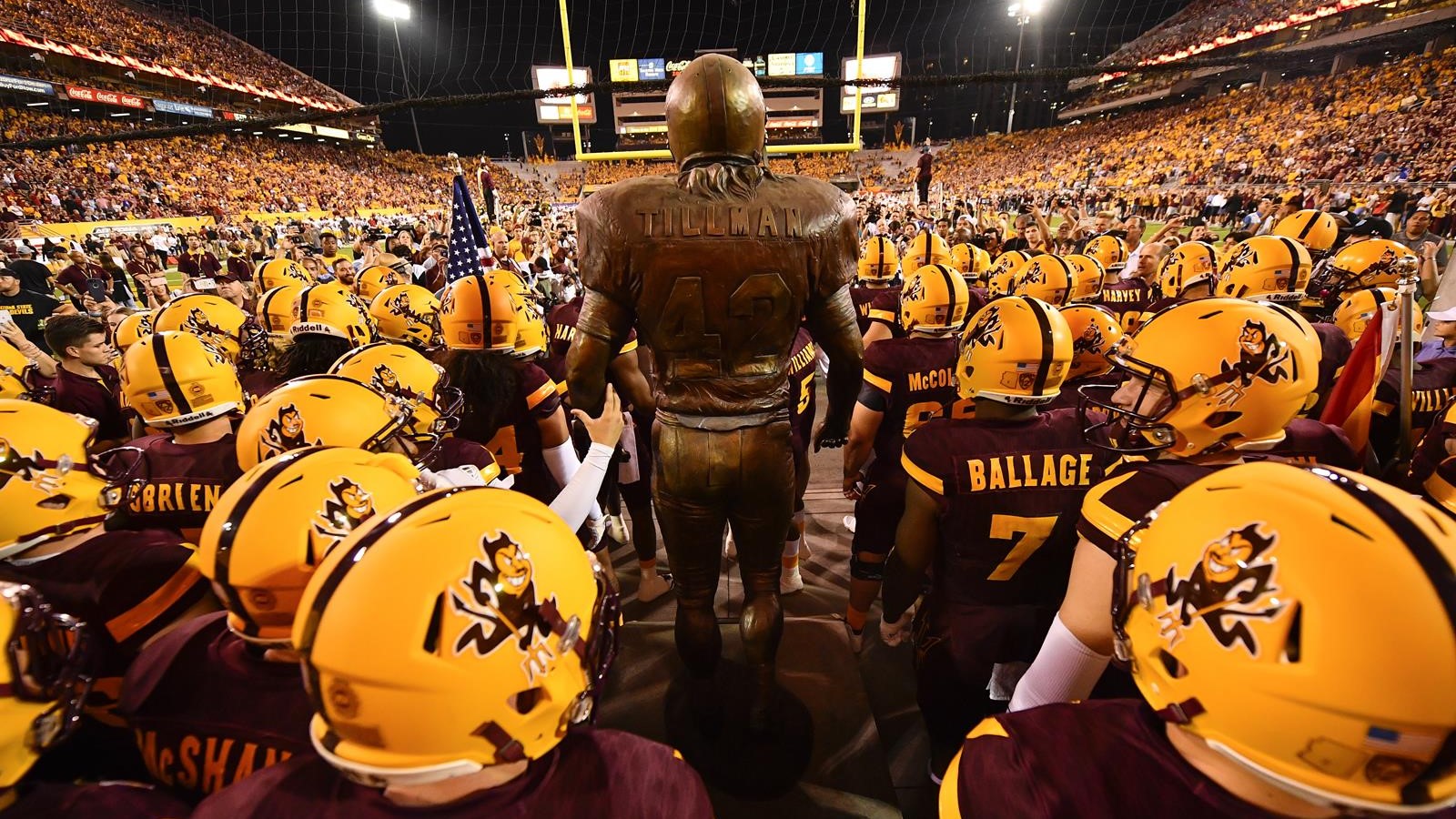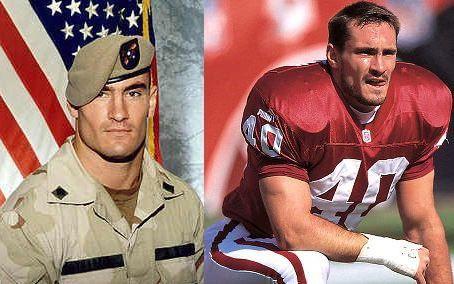 Backstory and Context
Pat Tillman was born on November 6, 1976 in San Jose, California where he was the oldest of three sons to his parents Patrick and Mary Tillman. Pat Tillman attended Leland High School. Tillman helped lead his high school team to championship which helped him land a scholarship to attend Arizona State University. During his time at Arizona State Tillman was known for his on field success but still took pride and excelled in the classroom. In 1997 Tillman won Pac-10 Defensive Player of the Year and the ASU MVP of the Year in 1997. Tillman was also rewarded three different academic awards during his time at Arizona State. In the 1998 NFL draft Pat Tillman was selected to the Arizona Cardinals. Tillman was a very successful player for the Cardinals during his short time with the team. Tillman in 2000 set a new team record for tackles in a season. After that season he was offered a much larger contract by the St. Louis Rams and he humbly turned it down to stay loyal to the team that drafted him.
After the 2001 season he enlisted into the army after the incident that happened on 9/11. In 2002 Tillman was shot dead. At the time his family was informed that it was enemy fire. Finally after days the family found out the truth that he was killed by friendly fire. It is a shame that this controversy happened, it seems that it has taken some of the light of his story. Even until this day Tillman's mother still does not believe she knows what really happened. She works hard with support from law to look over and the files relating to Tillman to hope to find the truth. Also some the members of the team were interviewed and the story seems sketch. The team was spilt up and some how the enemy got caught in between the two teams. The story that was told to the family was described as an accident but some of the teams story does not sound so. One man talks about how he could hear Tillman after being shot once screaming his name hoping to stop the fire. Also it is described that he had three gun shoots in the head. Seems like the friendly fire could have been prevented to just a wound. Before his death it is told that Tillman was worried that they might use his name as propaganda due to his fame. While that might be the case the fact that Tillman had a worry to the time close of his death is interesting. It was a shame how the whole deal was handled but at least Tillman has a positive remembrance.
Tillman legacy lives on a couple different ways. First is this statue that was put up in August 30, 2017. The Tillman tunnel has been around the team for years but was not nearly as nice as the new one. The statue gets to be honored by all the fans at the football and is something Arizona State fans have pride in. But for the players the statue has a deeper meaning. Former head coach Todd Graham use to talk about how Tillman was the prime example of what a man is. Tillman plays a role of role model and is a standard for the football team. The team honors Tillman with different jerseys and patches on their jerseys. The Pat Tillman Foundation also carries on his legacy. They help military families with scholarships and a leadership program. The main event they do is the Pat's Run which is the second biggest military organized run. This run takes place in Tempe and the finish line is at the 42 yard line as you run by the statue. Pat Tillman will always be remembered as a hero and it is nice to see that people work hard to do that. His was not a man who lead by words but example. While the shine was mostly on his football career he still excelled in school and even showed loyalty in the NFL. Tillman is an example of a true American.
Sources
Press, Associated. Arizona State unveils Pat Tillman statue at Sun Devil Stadium, ESPN. August 31st 2017. Accessed December 9th 2019. https://www.espn.com/college-football/story/_/id/20513781/arizona-state-sun-devils-unveil-pat-tillman-statue-sun-devil-stadium.
"Pat Tillman." Biography.com, A&E Networks Television, 15 Apr. 2019, https://www.biography.com/athlete/pat-tillman.
Pat Tillman's Story. 7 May 2019, https://veterans.asu.edu/pat-tillman.
Tillman, Pat. "The Foundation." Pat Tillman Foundation, https://pattillmanfoundation.org/the-foundation/.