The Hermitage
Introduction
The Hermitage is a one and a half story wood-frame house that was constructed in three stages. In 1699, John Thoroughgood built a house on property he inherited. When the Moseley family acquired the house ca. 1820, they doubled the size of the dwelling, added a federal-style crown molding and recessed panel wainscoting throughout the house, and a central passage. More modern additions accompanied the house in 1940 when indoor plumbing and a kitchen was added. There are also three outbuildings and a subterranean brick cistern that is a part of the basement. The original property remained a working farmhouse until the mid-1950s, when it then transitioned to more modern residential development.
Images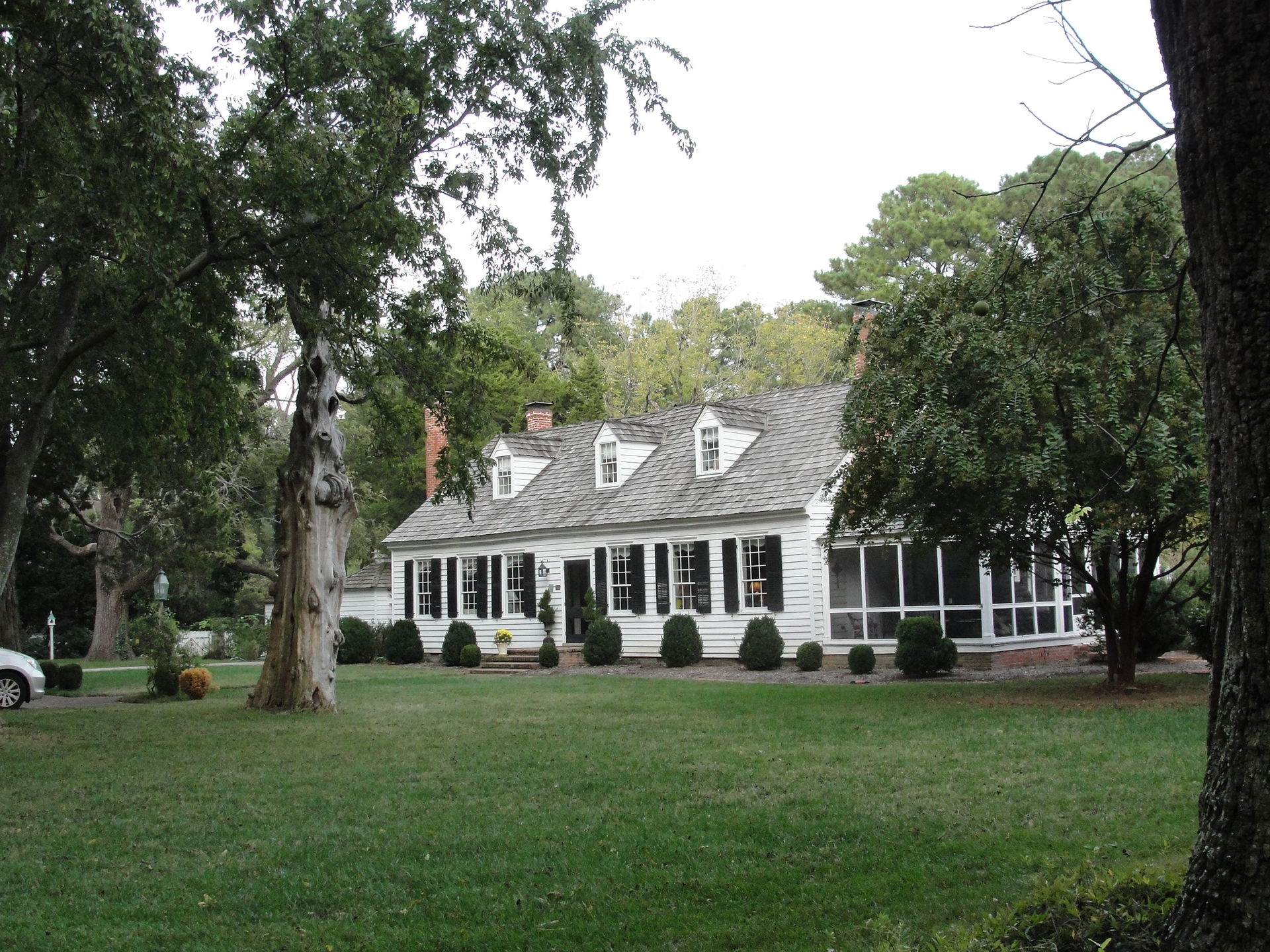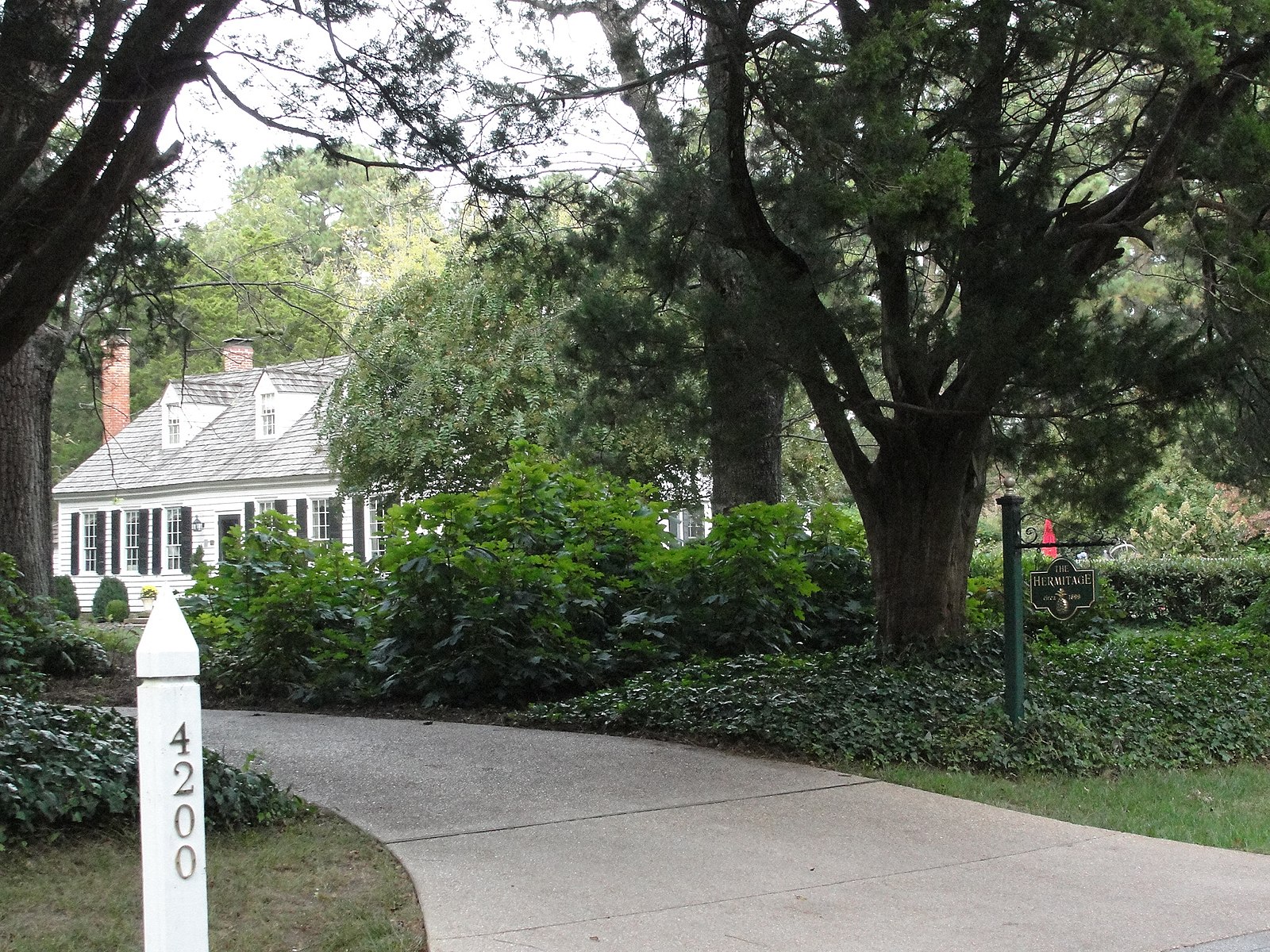 Backstory and Context
On June 24, 1635, Adam Thoroughgood's land patent was granted by the Privy Council of England for a piece of land near the western branch of the Lynnhaven River. He served in the House of Burgesses and Governor's Council, dying in 1640. His son, Lt. Col. Adam Thoroughgood 2 inherited the land and estate. The inherited land was then divided among his six sons in the 1670s. His oldest son, Argall, received the manor house and lands. His second oldest son, John, received the Hermitage property and built his own house.
Sources
"The Hermitage (Virginia Beach, Virginia)." Wikipedia, Wikimedia Foundation, 22 Aug. 2018, en.wikipedia.org/wiki/The_Hermitage_(Virginia_Beach,_Virginia).
2003 Comprehensive Plan Technical Report, City of Virginia Beach, 2003. 
Cavaliers and Pioneers, Patent Book No. 8, p. 400. 
Creecy, John Harvie, Thorowgood Family Genealogical Chart, 1971. 
Deed and Will Books, Princess Anne County, VA. 
The Defence of Norfolk in 1807, as told by William Tatham to Thomas Jefferson, edited by Norma Lois
Peterson, Norfolk County Historical Society of Chesapeake, VA 1970, p. 57.
Dorman, John, Adventures of Purse and Person, Virginia, 2007. 
Farrar, Emmie Ferguson and Emilee Hines, Old Virginia Houses, Delmar Publishing, 1984. 
Frazier Associates, Reconnaissance Level Phase I Architectural Survey Report, 1992. 
Kellam, Sadie Scott and V. Hope Kellam Old Houses in Princess Anne Virginia, Portsmouth, VA 1931. 
Kyle, Louisa Venable, The Hermitage, Another Thoroughgood House, is One of Most Attractive Colonial.
Homes, A Country Woman's Scrapbook, 3/27/55. 
Mansfield, Stephen S., Princess Anne County and Virginia Beach, Donning Company, 1989. 
Marriage Records, Princess Anne, Virginia.
O'Keefe, Carol, History Lived at This Site in the 1600's, Virginian-Pilot, 11/14/98.