Krohn Conservatory
Introduction
The Krohn Conservatory in Cincinnati, Ohio's Eden Park features plants from around the world housed in an Art Deco style glass greenhouse. Greenhouses have been a part of the Eden Park area of Cincinnati since the 1880s and in 1902, the Park Board began offering plant and flower shows in a new public greenhouse. By 1904, 300,000 people had seen the displays. (Cincinnati Parks 2018). Expansion was needed, but it wasn't possible until Federal dollars became available during the Depression. The construction funding – designed to put Americans back to work – allowed the Park Board to build a glass and aluminum conservatory which opened on March 26, 1933. In 1934, the Conservatory instituted an annual holiday display that remains a beloved tradition for many Cincinnati families. The conservatory was officially named the Irwin M. Krohn Conservatory in 1937 to honor Irwin Krohn's twenty-five years as a Park Board Commissioner (Shidler n.d.).
Images
Krohn Conservatory entrance 2019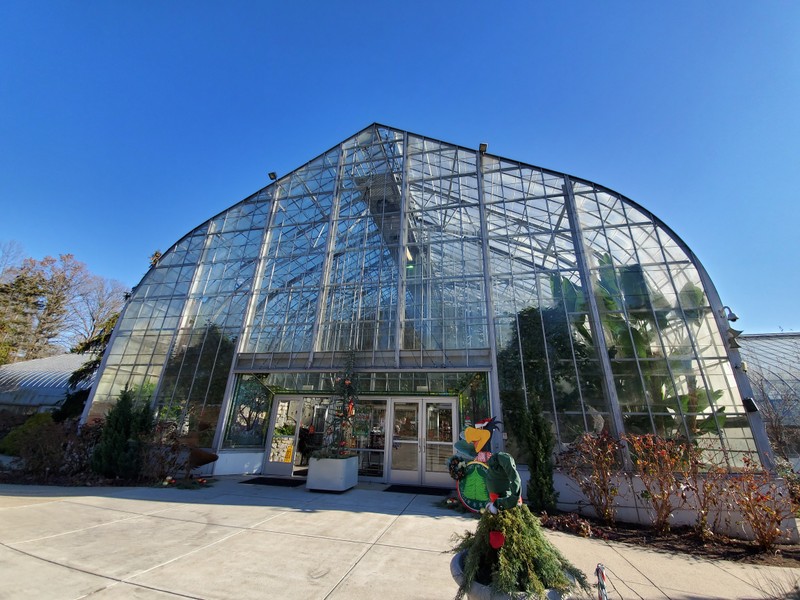 Krohn Conservatory during construction circa 1932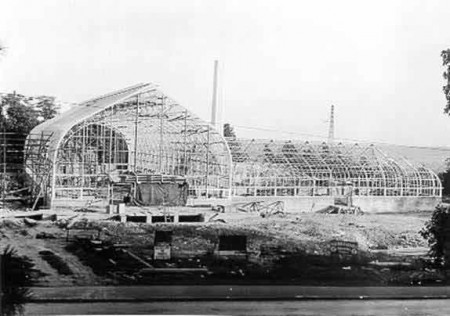 Krohn Conservatory Palm House 2019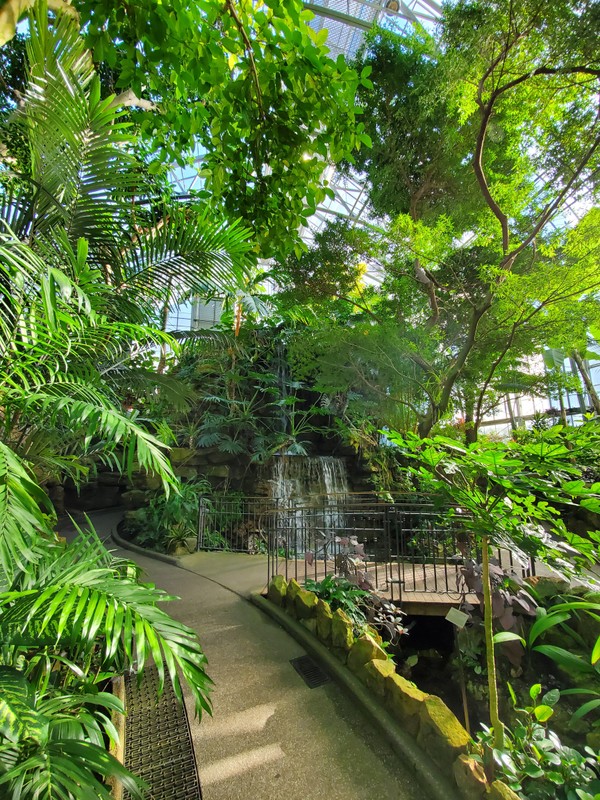 Krohn Conservatory circa 1950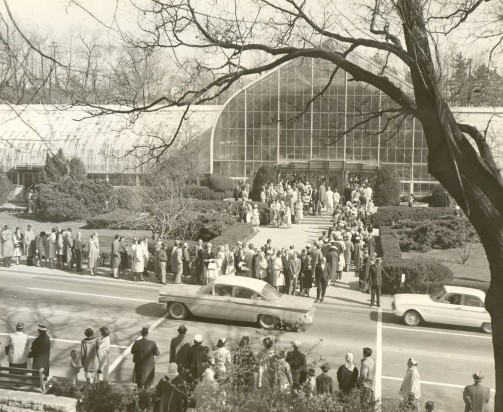 Krohn Holiday Show Display 2019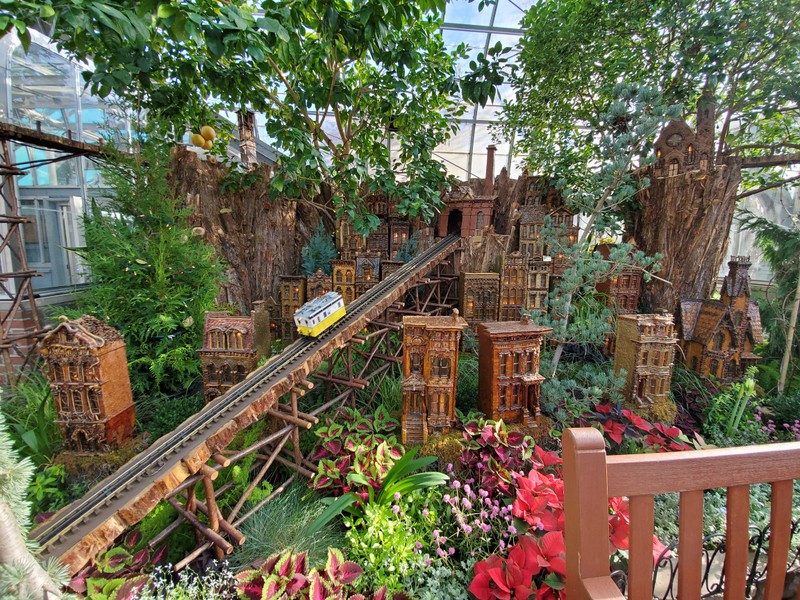 Backstory and Context
Elaborate glass conservatories showcasing exotic plants had become desirable features in public and private gardens during the late 19th and early 20th century. The glass and aluminum Krohn Conservatory began with the Palm House built in 1933 featuring Sago palms, Traveler palms, and a 20-foot waterfall (Vonada 2018). Today, the Art Deco style Conservatory houses over 3,500 different plant species within its glass walls (Cincinnati Parks 2018).
Art Deco had been introduced to the world in 1925 at the Paris Exposition Internationale des Arts Décoratifs et Industriels Modernes and was soon a fashionable architectural style in cities around the world. Architectural Digest describes the style as "gleaming lacquered or veneered surfaces, geometric forms, and far-flung influences from Egypt to antiquity" (Stamp 2016). Keeping with the times, Krohn architect Walter Rapp and his son-in-law Standish Meacham of Rapp & Meacham (1931-1958) chose an Art Deco design incorporating a Gothic Arch at the entrance (Langsam 2018). The Conservatory joined a variety of Art Deco buildings in Cincinnati including Union Terminal (1929) and the Carew Tower built in 1930 (Tweh 2014).
Conservatories have been popular since modern glass-making and structural metals became accessible in the eighteenth and nineteenth century. European royalty and aristocratic classes began adding glass houses to their private gardens as architectural focal points during the 1800s. Industrialist Jay Gould brought the fashion to the United States in 1880 with the construction of a conservatory at Lyndhurst, his New York estate. The extravagant glass and steel structure modeled after London's Kew Garden inspired other wealthy Americans to build private conservatories. American cities sought conservatories to beautify their public gardens as well and began building structures across the country during the early twentieth century (Cunningham 2000). Cincinnati's Krohn was planned, but not fully funded until federal money came during the 1930s as part of the government's plan to get Americans back to work during the Depression.
The 20,000 square foot Krohn Conservatory is in Cincinnati's Eden Park near the Cincinnati Art Museum, Cincinnati Playhouse in the Park, and Mirror Lake (McPherson 2009). The Cincinnati Park Board purchased the Eden Park property from the heirs of Nicholas Longworth, 1783-1863 (Ohio History Central n.d.). Longworth, a local banker and horticulturist had used the hilly property to cultivate grapevines for wine production. He gave the area its name calling the vineyard his "Garden of Eden" (Vonada 2018). Eden Park became a popular recreational area due to its location above the heat and pollution of downtown Cincinnati.
The Krohn Conservatory continued to grow over the years with new wings, exhibitions, and events. The Desert House was added in 1939 to showcase exotic cacti, succulents, and blooming desert plants. A 1970s expansion included a gift shop and a larger entrance. A bonsai display was donated by the Bonsai Society of Greater Cincinnati in 1995 and an Orchid House was added in 2004. A Cincinnati holiday tradition was created in 1934 when the Conservatory displayed a Christmas tree decorated with ornaments crafted by conservatory horticulturists. The holiday display returns every year with miniature trains, models of well-known Cincinnati buildings, and a large tree decorated with handmade ornaments created from natural materials found in the garden.
Sources
Cincinnati Parks. 2018. History. Accessed December 6, 2019. https://www.cincinnatiparks.com/about-us/history-2/.
Cunningham, Anne. 2000. Crystal Palaces, American Garden Conservatories. New York: Princeton Arcitectural Press.
Hobson, Laura. 2016. AEQAI. April 23. Accessed December 6, 2019. https://aeqai.com/main/2016/04/the-irwin-m-krohn-conservatory-finding-nature-in-the-middle-of-walnut-hills/.
Langsam, Walter E. 2018. Biographical Dictionary of Cincinnati Architects, 1788-1940. Accessed December 11, 2019. http://oldsite.architecturecincy.org/dictionary/M.html#meacham.
McPherson, Alan. 2009. Botanic Gems Indiana Public Gardens: Including Greater Chicago, Dayton, Cincinnati & Louisville. Bloomington, IN: AuthorHouse.
Ohio History Central. n.d. Nicholas Longworth. Accessed December 11 , 2019. https://ohiohistorycentral.org/w/Nicholas_Longworth.
Shidler, Amber. n.d. History of Krohn. Brochure, Cincinnati Park Board.
Stamp, Elizabeth. 2016. Architectural Digest. July 21. Accessed December 11, 2019. https://www.architecturaldigest.com/gallery/worlds-most-beautiful-art-deco-buildings.
Tweh, Bowdeya. 2014. Cincinnati.com. July 25. Accessed December 11, 2019. https://www.cincinnati.com/story/money/2014/07/25/banks-skyline-iconic-buildings/13179129/.
Vonada, Damaine. 2018. Ohio Icon: Krohn Conservatory. February 2. Accessed December 11, 2019. https://ohioec.org/ohio-cooperative-living/ohio-icon-krohn-conservatory/.
Image Sources
Donna M. Harris

ÆQAI

Donna M. Harris

http://cincinnatihistorichomes.com/a-new-beginning-for-an-old-pump-station-and-other-eden-park-tidbits/

Donna M. Harris

Additional Information