Houston Military Entrance Processing Station
Introduction
Around the united states there are approximately 65 Military Entrance processing stations. However, the city of Houston has the most historic Military entrance processing station due to one specific highly touted athlete by the name of Muhammad Ali. Mr. Ali's famous refusal to join the united states services at this specific location sets this location apart from the 64 others.
Images
The day Ali denied service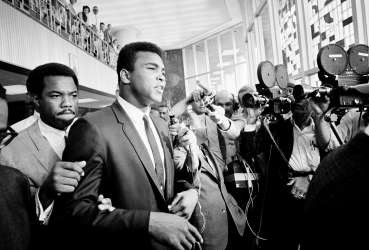 Backstory and Context
Cassius Clay was well known for his superstar skill in the boxing ring. He was easily one of the greatest boxers of all time and at this specific time in 1964 he earned the World Heavyweight Champion title after defeating Sonny Liston. Shortly after his victory things took a religious turn for Clay as he converted his faith to Muslim after being accepted in by Elijah Muhammad. Elijah Muhammad gave Cassius Clay the waiting name of "Cassius X" in his early stages of beginning his Muslim faith. Cassius X thereafter picked up the name "Muhammad Ali" which he is most famous for as of today. Ali's new religious beliefs would only result in his refusal to join the services after being selected for the draft. However, Ali stood strong on his word which resulted in plenty of controversy and also what would be the final military draft on December 7th 1972.
Ali was introduced to the nation of Islam in 1962 just a couple of years before his faith was converted over and his beliefs grew stronger for his religion. He closely followed Malcolm X's lead as Malcolm X was considered to be Muhammad Ali's spiritual and political mentor. In 1967 things took a turn for Muhammad Ali as his faith and beliefs were being questioned by the United States Forces. Mr. Ali was Draft eligible and he was indeed selected to go serve time for the United states of America. With Ali being Muslim, he said that he would not fight in a Christian war or a war that is not supported by Allah.
The Nation of Islam is an African American religious and political movement that started on July 4th 1930 by Wallace Muhammad. The main Goals of this religious movement were to better the social, spiritual, mental and economic conditions of the African American Communities all around the united states. Cassius Clay was first introduced to Malcolm X at a rally that Sam Saxton took Clay to knowing that Clay was seeking religious help and interest. At this specific rally Malcolm X lead at the podium with his strong voice and knowledge. The guidance and leadership from Malcolm X amazed Clay and his younger brother Rudolph and their bond grew from then on.
Ali's Refusal at the Houston Military Entrance Processing Station only resulted in him being stripped of his World Heavy Weight boxing title and his boxing license. This put Ali in a bit of a financial bind as he had to search for a source of income during his time away from his sport. He had to make his money stretch from going to Colleges and Universities and speaking to students and staff. He was so low on money that he was forced to break into his Wife's piggy bank and use her $135 for gas money to make it to these universities to speak to them. As time carried on his case would eventually reach the supreme court in 1971 and be overturned due to them not giving Muhammad Ali a valid reason for denying his application. Shortly after in 1972 the United States had its final Military Draft.
Sources
Accessed December 9th 2019. https://theundefeated.com/features/the-cleveland-summit-muhammad-ali/.
Accessed December 9th 2019. https://www.khou.com/article/news/local/muhammad-ali-refused-military-service-while-in-houston/230892191.
Accessed December 9th 2019. https://www.chron.com/news/houston-texas/article/48-years-ago-today-Muhammad-Ali-refused-the-5435356.php.
Accessed December 17th 2019. https://www.npr.org/sections/codeswitch/2016/02/25/467247668/muhammad-ali-and-malcolm-x-a-broken-friendship-an-enduring-legacy.
Accessed December 17th 2019. https://www.noi.org/.
Image Sources
https://www.google.com/search?q=muhammad+ali+at+houston+meps&source=lnms&tbm=isch&sa=X&ved=2ahUKEwja06fXuanmAhXnmq0KHVGQBTAQ_AUoAXoECA0QAw&biw=1280&bih=617&dpr=2#imgrc=cRchCDLgFnx1gM: