Rapidan Camp
Introduction
Located in the "blue ridge mountains of Virginia, 100 miles from Washington", there is a wildlife area within Shenandoah National Park called Camp Rapidan that was a presidential retreat for Herbert Hoover (Tresee). Being president during the start of the Great Depression, Hoover, who established the nation's first presidential retreat, needed an area away from Washington to relax from the stress of this point in history. We know that "Within days after the Republican moved into the White House in March of 1929, word of the leading location leaked out: an eastern slope of the Blue Ridge seven miles west of this village, where Laurel Prong and Mill Prong merge to form the Rapidan River" (Weaver Jr.). Not too long after, hoover made the decision to go ahead with this land for his retreat. This area fit Hoover's standards because "the place had three criteria: within a hundred miles of Washington, D.C., at least 2,500 feet in elevation, and on a trout stream" (Hawn). All of these standards are important because it is far away from Washington but not significantly far, the elevation provides relief from hot summer days, and nature is an important factor in this president's life.
Images

Hoover's Patio with Log Cabin in Background
Waterfall near Rapidan Camp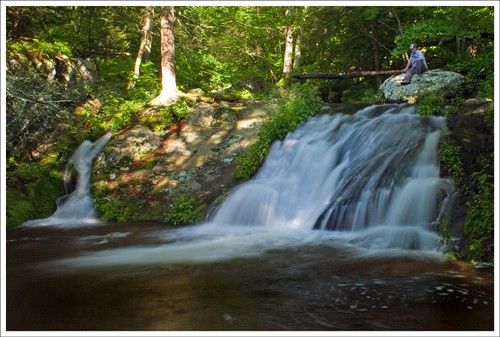 Hoover and his Wife Sitting on the Deck of his Cabin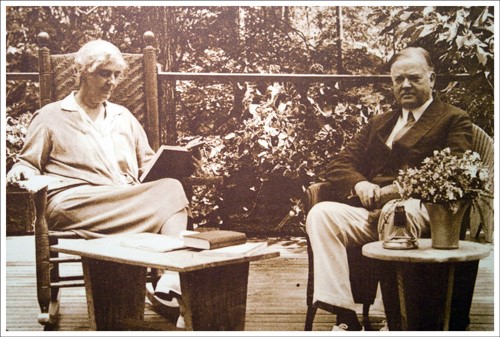 Backstory and Context
Hoover established a social precedent of the president of the United States that extended beyond the White House. He constantly invited guests up to Rapidan as part of his friendly hospitality and social personality. Looking back, "the guest-register reads like a 'Who's Who' of the era, including such notables as Charles and Anne Morrow Lindbergh, Mrs. Thomas A. Edison, the Edsel Fords, Henry Luce, and Mr. and Mrs. Theodore Roosevelt, Jr" ("President Herbert…"). His extrovert-like personality helped him, as an outdoor enthusiast, later as Lindbergh helped improve fishing conditions by building dams within the grounds. He was even so accommodating to arriving guests that "On rainy days a sizable cabin with stone fireplaces, jokingly called the 'civic center' or 'town hall,' provided guests with a chance to listen to the radio, and play ping-pong and make jigsaw puzzles" (Treese). This shows how prepared the Hoovers were for visitors to their retreat and how often these people make the trek up towards what is part of the modern day Shenandoah Park.
Hoover allowed outside parties to benefit from the establishment of Camp Rapidan. Firstly, the Marine Corps got essential training from not only constructing the initial parts of the retreat but also later renovations and additions. This was evident as it is noted "there was constant building and many changes during the four-year period that the Hoovers occupied the camp" ("President Herbert…"). This exercise helped with their training that the Marine Corps needed in the event their services were needed. Also, "when the Hoovers learned that local children in the area had no school, the president and some friends paid to have one built in 1930 and also paid the salary of its (experienced) teacher, Christine Vest" (Treese). He did this as a need to help out the local area and increase his public image at a time where his reputation was plummeting. This was important because it showed that even the president, often deemed as the most powerful man in the world, was concerned with America's general welfare.
Hoover also set the precedent for future presidents to have an area to escape Washington when needed. One instance where it was necessary was for developing "a site for meetings where Hoover and his associates could discuss national and international policy with few interruptions" ("President Herbert…"). This allows the land Hoover bought to have multiple uses besides retreating from the attention of Washington. It also "provided an idyllic reprieve from Washington's summer heat" for those presidents who are not fans of warmer weather (Tresee). Some presidents after Hoover might not have used it but have given the site a look such as when Richard Nixon "expressed enough interest in the place so that a helicopter pad was built at nearby Big Meadow, but he never used it" (Weaver Jr.). He considered using the land but ultimately elected not to for unknown reasons. We also know that "Jimmy Carter, a fisherman, made two visits, and his Vice President, Walter F. Mondale, was snowed in there once" (Weaver Jr.). Carter used the place as a one-time getaway spot, escaping the stressful life living in Washington could offer. Being an outdoorsman, he enjoyed the scenery that Camp Rapidan provided, hence why Hoover ultimately chose that spot for his camp in the first place.
When Hoover's term as president had concluded, he donated Camp Rapidan to be used as a future site for presidential retreats. Franklin Delano Roosevelt, Hoover's predecessor, decided that he "couldn't navigate the rugged terrain and instead established Camp David as the country's official presidential retreat" (Sklarew). Part of this was because Roosevelt, who was diagnosed with polio, was paralyzed from the waist down and found the terrain of the camp too dangerous to mobilize, leading to a need of a different camp. FDR also had "the therapeutic waters of Warm Springs, Ga…build(ing) the six room 'Little White House' on the resort grounds" (Brockwell). This was an alternative that provided better mobility for Roosevelt, who ultimately complained about how dangerous Camp Rapidan was for its terrain. He, unlike Hoover, needed an area where mobility was easy for people of all walking abilities.
Richard Nixon used a San Clemente, CA retreat called 'LaCasa Pacifica' to get away from the Watergate Scandal and his sudden downfall. George W. Bush "built a 4,000-square-foot house well suited for hosting dignitaries and holding meetings" (Brockwell). There were even some complaints that Bush escaped too much to this Crawford, Texas estate but nevertheless, it was a place to escape presidential duties. Bush had the tough task of being American president during some of the worst modern times, including September 11, 2001 attacks and the beginning of the burst of the housing bubble that caused the most recent recession. All of these other presidents besides Hoover have one idea in common: their presidential retreats stemmed from Hoover's and came as a result of Calvin Coolidge urging the president to have a summer home.  It is not so much the idea of Camp Rapidan being the presidential retreat center that Hoover left as his legacy but more so of the idea that there needs to be a presidential retreat center.
Sources
Sources:
Brockwell, Gillian. "The history of presidential retreats". The Morning Call, The Washington Post. 27 May 2017. https://www.mcall.com/travel/mc-presidential-retreats-20170527-story.html
Hawn. Tyler. "Rapidan Camp Reveals Forgotten Stories of President Herbert Hoover". CBS19 News Gray Digital Media. 2 July 2018. https://www.cbs19news.com/content/news/Rapidan-Camp-reveals-forgotten-stories-of-President-Herbert-Hoover-487153151.html
"President Hebert and Lou Henry Hoover's Rapidan Camp, Virginia". National Park Service U.S. Department of the Interior. https://www.nps.gov/nr/travel/presidents/hoover_camp_rapidan.html
Sklarew, Renee. "Where our President Escaped to Before Camp David". The Washingtonian. 12 October 2017. https://www.washingtonian.com/2017/10/12/where-our-president-escaped-to-before-camp-david/
Tresee, Joel H. "Hoover's Retreat: Rapidan Camp". The White House Historical Association. 5 August 2016. https://www.whitehousehistory.org/hoovers-retreat-rapidan-camp
Weaver Jr., Warren. "WASHINGTON TALK: PRESIDENTIAL RETREATS; The Camp That Was Hoover's". The New York Times. 14 August 1987. https://www.nytimes.com/1987/08/14/us/washington-talk-presidential-retreats-the-camp-that-was-hoover-s.html
Image Sources:
Log Cabin and Hoover in Picture:
"President Hebert and Lou Henry Hoover's Rapidan Camp, Virginia". National Park Service U.S. Department of the Interior. https://www.nps.gov/nr/travel/presidents/hoover_camp_rapidan.html
Patio Set on the Log Cabin, Hoover on the deck, and Waterfall pictures:
Virginiatrailsadam. Mill Prong- Rapidan Camp Trail. Virginia Trail Guide. 31 May 2009. https://virginiatrailguide.com/2009/05/31/mill-prong-rapidan-camp-trail/
Image Sources
"President Hebert and Lou Henry Hoover's Rapidan Camp, Virginia". National Park Service U.S. Department of the Interior. https://www.nps.gov/nr/travel/presidents/hoover_camp_rapidan.html

Virginiatrailsadam. Mill Prong- Rapidan Camp Trail. Virginia Trail Guide. 31 May 2009. https://virginiatrailguide.com/2009/05/31/mill-prong-rapidan-camp-trail/

Virginiatrailsadam. Mill Prong- Rapidan Camp Trail. Virginia Trail Guide. 31 May 2009. https://virginiatrailguide.com/2009/05/31/mill-prong-rapidan-camp-trail/

Virginiatrailsadam. Mill Prong- Rapidan Camp Trail. Virginia Trail Guide. 31 May 2009. https://virginiatrailguide.com/2009/05/31/mill-prong-rapidan-camp-trail/