Butler Greenwood Plantation
Introduction
This historic plantation dates back to the late 1700s. At its peak in 1860, it was home to nearly 100 slaves who produced sugar, as well as indigo and cotton. After the war, two dozen former slaves continued to produce agricultural staples for meager wages. Today, the home is operated as a bed and breakfast and is renowned for its antebellum art and furnishings.
Images
The plantation is surrounded by 50 acres of ancient live oaks as well as a formal garden filled with antebellum charm.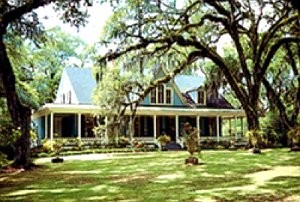 Backstory and Context
The plantation was created by Dr. Samuel Flower, a Quaker physician who emigrated from Pennsylvania in the 1770s when the area was British territory. Later, when Spain gained control, he treated with Governor Manuel Gayoso. When Dr. Flower died in 1813, his eight heirs would divide the land. The family residence was left to Dr. Flower's 20-year-old married daughter Harriett.
Harriett Flower's husband, Judge George Mathews, was a superior court judge in the Mississippi Territory and then the Territory of Orleans, appointed by President Thomas Jefferson, and would become the chief justice of the Louisiana Supreme Court once Louisiana became a state in 1812. His father, General George Mathews, was an American Revolutionary War hero who survived being bayoneted nine times to become a US Congressman, military general and two-term governor of Georgia.
Harriett and Judge George Mathews lived at Butler Greenwood and raised indigo, cotton, sugarcane and corn, shipping the crops from their own dock on Bayou Sara and extending their landholdings to include a productive sugar plantation in Lafourche Parish that, according to Lewis Gray's figures, placed them among the top 9% of sugar planters in the state in the 1850s. After the death of Judge Mathews in 1836, his widow continued to run the plantations with help from her son Charles.
In the census of 1860, both Harriett and her son list their occupations as planter, their household including Charles' wife Penelope Stewart, their children, an Austrian music teacher and an Irish gardener, with 96 slaves living in 18 dwellings and their personal estate valued at $260,000.
Additional Information