Tropical Sun Supermarket (Imported Caribbean and International Goods)
Introduction
Tropical Sun is a West Indian supermarket located in East Orange, NJ on Main street. This supermarket is a place where people can go to get their West Indian products. The products are not only imported from the Caribbean but you can also find products from Spanish speaking countries. Tropical Sun is run by a Jamaican family who had a mission of bringing people together with the food of their homeland. This supermarket allows Jamaicans to feel at home, especially when they are inside looking at all the products they want to buy. Caribbean people are known for using home remedies and this supermarket provides it. The supermarket has a great Caribbean atmosphere for you and your family to experience on a lovely Sunday morning after church. Also, there is amazing fresh seafood every day to choose from.
Images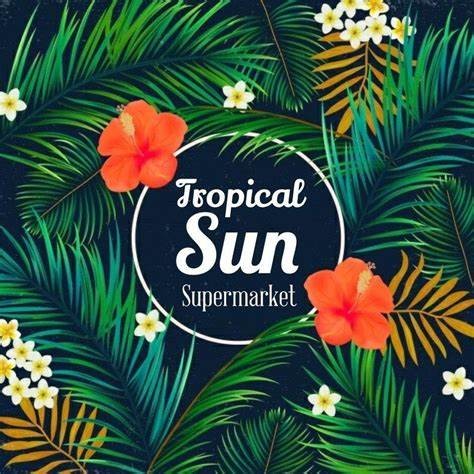 Breadfruit- This is a fruit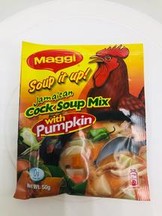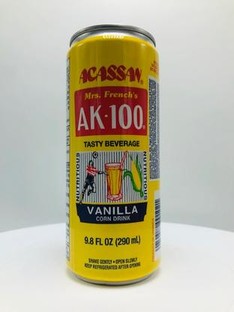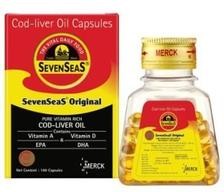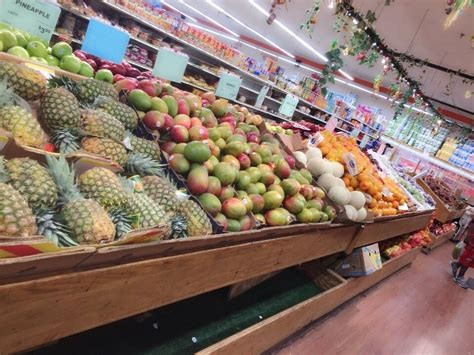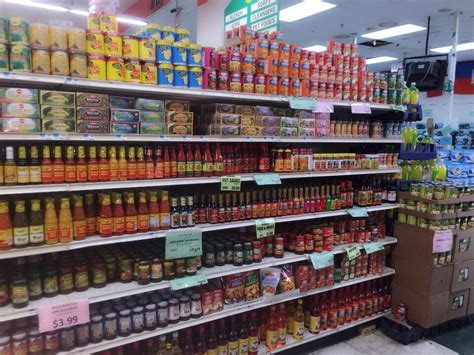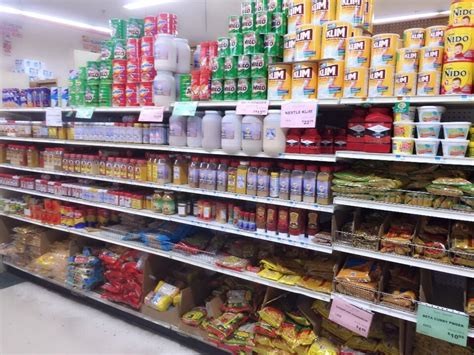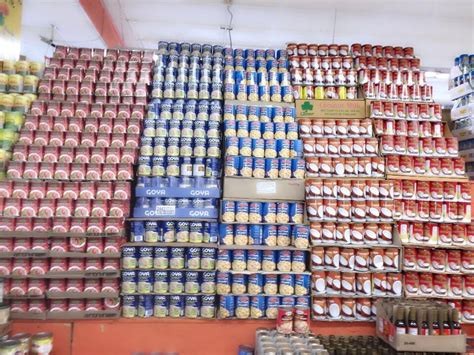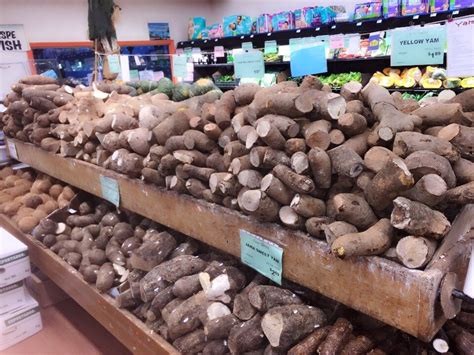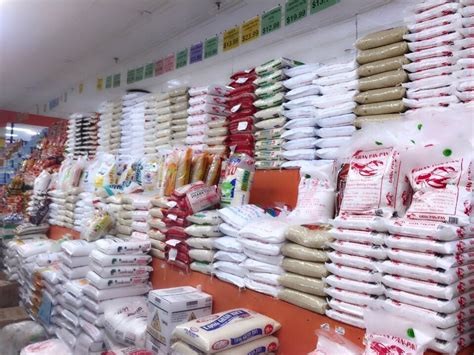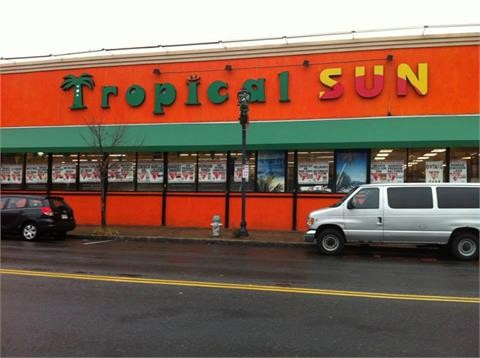 Backstory and Context
People from the Caribbean are constantly migrating to the United States in hopes of a better life. Many of these immigrants who migrate to the United States tend to feel homesick because of the change in weather, social interaction, politics and culture. Tropical Sun provides a haven for these immigrants and locals as well.
Moreover, Tropical Sun is a West Indian supermarket that provides people in the area with products from the Caribbean, Africa, and some Spanish speaking countries. The supermarket is located in the region of Essex County in North Jersey consisting of areas such as Newark, Bloomfield, Belleville, Montclair, Clifton, East Orange, etc. Daily, this supermarket has some of the healthiest non-GMO produces for sale such as Jamaican yellow yam, pumpkin, cassava, green plantains, sweet peppers, onions, etc. What differentiates Tropical Sun from many other supermarkets is it's very own fish market in the building next to the supermarket. Freshly caught fish are brought in every couple of days for those fish lovers out there. The separation of the fish market and the supermarket helps prevent any lingering fishy smells on the products in the supermarket. 
To the Jamaican population, the overall West Indian and African populations are also very high in neighboring towns such as Belleville, Bloomfield, Irvington, and Newark. Having a very similar culture in regards to food, the high Latinx population also provides a lot of business for the supermarket. The high concentration of immigrants looking to purchase food native to their homeland is one of the main reasons why Tropical Sun is still in business to this day. The overall service they provide is not only directed to Caribbean folks but more so directed to the general public or anyone looking for an escape from traditional American food. 
Furthermore, Tropical Sun is providing this service to these people because it wants to make sure Caribbean immigrants can have access to the food they grew up eating. Tropical Sun does this by importing goods from all over the Caribbean. Tropical Sun is significantly important to immigrants and locals because it looks to help these people adjust to a new life in America. It does this by providing a place for people to go to and feel as if they were back in their country shopping for products to make their Sunday dinner. The effort to help homesick immigrants feel at home is one of the many jobs Tropical Sun has been exceptional at doing. They are constantly striving to offer great customer service as well as being one of the few international supermarkets that are always fully stocked with treats from your childhood growing up in the Islands. They provide a soft and friendly environment that reminds you of how welcoming people from the Caribbean are. Tropical Sun supermarket is a well-staffed and well-managed business that everyone in the local north jersey and Essex county should check out. 
Sources
John Rashford. "Jamaican Food: History, Biology, Culture." Ethnobiology
       Letters 1 (August 1, 2010): 12–13. 
Writer, Staff. "Julie, East Indian & Other Jamaican Mangoes to Be Exported to the United States."  
         Jamaicans.com, October 20, 2018. 
        https://jamaicans.com/julie-east-indian-jamaican-mangoes-united-states/.
Zong, Jie, Jeanne Batalova Jie Zong, and Jeanne Batalova. "Caribbean Immigrants in the United
         States." migrationpolicy.org, February 28, 2019.    
         https://www.migrationpolicy.org/article/caribbean-immigrants-united-states.
Image Sources
https://www.bing.com/images/search?view=detailV2&ccid=k5MfZxeQ&id=6849C81B495D3A430E2BAF60D21484BFECD52DAA&thid=OIP.k5MfZxeQQbfr_l0g7jT7zwHaHa&mediaurl=https%3a%2f%2flookaside.fbsbx.com%2flookaside%2fcrawler%2fmedia%2f%3fmedia_id%3d1733503043336808&exph=960&expw=960&q=tropical+sun+supermarket+east+orange+nj&simid=608028688200565612&selectedIndex=1&ajaxhist=0

https://www.bing.com/images/search?view=detailV2&ccid=RTg%2fERft&id=6849C81B495D3A430E2BD2812A978A21E2D470BE&thid=OIP.RTg_ERftA2DSJzsiViMrbgHaNd&mediaurl=https%3a%2f%2flookaside.fbsbx.com%2flookaside%2fcrawler%2fmedia%2f%3fmedia_id%3d1140716425948809&exph=960&expw=528&q=tropical+sun+supermarket+east+orange+nj&simid=608021434052117723&selectedIndex=3&ajaxhist=0

https://www.thetropicalsun.com/collections/maggi/products/maggi-jamaican-cock-soup-mix-50-g

https://www.thetropicalsun.com/collections/beverages/products/acassan-ak-100-vanilla-290-ml

https://www.thetropicalsun.com/collections/cod-liver-oil/products/seven-seas-cod-liver-oil-100-capsules

https://www.bing.com/search?q=tropical+sun+supermarket+east+orange+nj&FORM=HDRSC1

Additional Information